With Free Getaways, She Helps Families Facing Breast Cancer Make Memories That Outlast Tragedy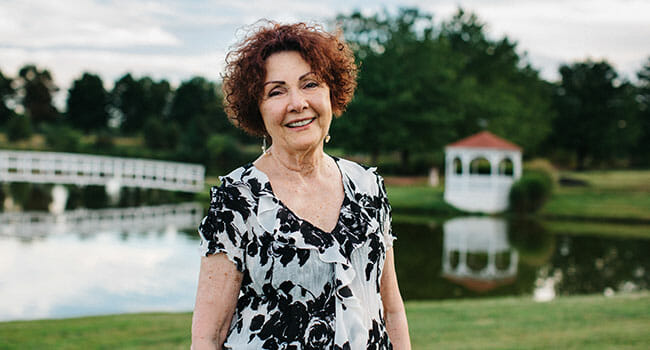 Each year, L'Oréal Paris and Points of Light recognize, celebrate and support Women of Worth who make a beautiful difference in their communities. For exceptional commitment to service, 10 honorees each receive a $10,000 grant to support their most cherished cause. One honoree, selected during the open online vote, receives an additional $25,000 grant.
"The last time we had lunch with Leslie, she said to us as she departed, 'Give me a big hug and a kiss. This may be the last time you see me.' She drove away, waving, as we stood in sorrow. Soon afterwards, she entered into hospice care," said Sandra Gunn.
Listening to Gunn share the poignant story of seeing her friend, Leslie Twohig, for the last time makes you realize that the loss is still painful. Twohig passed away on April 2, 2011, after a raging war with inflammatory triple-negative breast cancer that had metastasized to her bones. Gunn set out to honor the life and memory of her beloved friend and to dignify all women who have been told, "You have stage 4 breast cancer" by founding Leslie's Week.
Vivacious, energetic and passionate, Gunn gave up a successful career as the owner of a high-end interior design firm in order to oversee Leslie's Week. A stage 1 breast cancer survivor herself, Gunn met many stage 4 women when she was undergoing treatment and heard their heartfelt stories of hopelessness. "That's why we work so hard to make memories that outlast cancer for these families," she said.
Leslie's Week provides donated vacation homes for one week to families with wives and mothers who are diagnosed with stage 4 metastatic breast cancer. "Leslie's Week brings families together in a serene environment to join in a celebration of life," said Gunn. "This is a time for a family whose mother is slipping away to create memories that outlast cancer."
Stage 4 breast cancer is the final stage; there is no stage 5. While many breast cancer organizations focus on research to discover a cure, Gunn concentrates on compassionate care filled with "fun and happiness."
"These families are financially devastated," said Gunn. "All of their available resources are devoted to sustaining their loved one. It is a profound experience to work with families to secure a week in their lives when they can relax, connect, and make memories that last a lifetime."
When she began in 2011, Gunn used her home in the Smoky Mountains of Tennessee as the vacation destination for the women and their families. Through the years, more homes have been donated to Leslie's Week. Five-star accommodations now include Napa Valley, Ocean City, the Poconos, New Mexico, and Ft. Lauderdale, with more in the Smoky Mountains. "We want to gift as many families as we can, so we are always searching for additional vacation accommodations," said Gunn.
Gunn works tirelessly to ensure that women and their families have all-inclusive vacations. She and her volunteers coordinate family activities, meals out, spa services for the women, entertainment venues, gift baskets, and other amenities to make Leslie's Week as special and unique as possible.
Eligible families are nominated via the website and through corporate and nonprofit sponsors.
Gunn has assembled a community of volunteers, nonprofits, and corporate partners who have embraced Leslie's Week, such as Gilda's Club of Nashville, Dollywood, Antique Limousines, and the B Ocean Resort. Nationally known cancer institutes that support Leslie's Week include Massachusetts General Hospital Breast Cancer Center, John Hopkins Cancer Center, the DeCesaris Cancer Institute, and others.
To date, 23 families have received vacations through Leslie's Week. The greatest impact can be felt from families who reap the benefits of the experience. Chris Burke experienced Leslie's Week in the Smoky Mountains in the summer of 2015, along with his wife, Melissa, and their three sons.
"Sandra is a relentlessly thoughtful person who works hard to coordinate a beautiful trip for a family that will soon have their world shattered," said Chris. "Families, though they know what's ahead of them, have no idea what reality really means. Sandra swoops in, briefly takes their minds off of the constant stress and worry, and provides a gift that never expires: memories." Melissa passed away in January 2016.
"It is the mother who gives life, and it is her children who sustain it after she is gone," said Gunn. That's why, as an offshoot to the vacation experiences provided by Leslie's Week, Gunn created an educational assistance fund to ensure the future of surviving children. By maintaining a database of these youngsters, Gunn monitors children who are graduating from high school and considers their need for financial assistance. "The number one concern a mother with stage 4 breast cancer has is for the future of her children," said Gunn. "Through the educational assistance fund, we offer peace of mind at the end of life."
Gunn has been recognized for her advocacy of women with stage 4 breast cancer. She was named one of 100 Everyday Amazing Individuals by Massachusetts General Hospital, received the Fire & Soul Award from DeCesaris Cancer Institute, and a Daily Point of Light Award.
As recipient of the L'Oréal Paris Women of Worth funds, Gunn would support more vacations for families and add to the educational assistance fund for surviving children.
Show your support for Sandra Gunn by voting for her, and learn more about the other extraordinary L'Oréal Women of Worth honorees.
Share this post