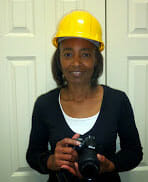 At Habitat for Humanity events, most volunteers can be found with a hammer in their hand, creating homeownership opportunities for low-income families by building, renovating and repairing homes. But Yvonne Alston can be found on the scene holding a different tool: a camera.
Volunteering with Habitat for Humanity Susquehanna in Maryland, Yvonne chronicles in pictures the heartfelt moments when low-income families in Harford and Cecil counties break the cycle of poverty and receive the keys to a home of their own. She has helped with event photography for Habitat events since 2010, shooting everything from home builds to fundraisers.
"Everyone has a hobby that they love to do for fun," Yvonne says. "There are organizations right in your community that would love to have your skills, your time and your enthusiasm. It often starts with someone asking, 'Can you help?' That's how I began."
Yvonne has had a camera in her hands since she was 8 years old. She has even worked alongside other photographers who volunteer their time, patiently showing them how to shoot from an optimal angle or how to best capture the whole range of human emotion.
"I love to capture the magic of a family realizing the dream of a home of their own which is made possible by the families and all of the volunteers at Habitat for Humanity," says Yvonne. "The photographs I take preserve that magical moment forever."
Share this post