After Hurricane Sandy, Real Work Continues

Friends,
In a parking lot in Far Rockaway, New York, a school bus is the volunteer staging site.
Volunteers check in and get their assignments. Then, with computers and maps of the neighborhood, they fan out to "muck out" homes, a critical first step to restoring power and starting the rebuilding process after Hurricane Sandy. Wearing protective gear and facemasks, they tear out the flooring and remove the debris and paneling in homes to eradicate mold.
A few weeks ago, I witnessed volunteers stacking all the ruined belongings of 82-year-old Maureen Gallagher in front of her modest home in the Belle Harbor neighborhood, which sustained extensive damage in the storm. The widow of a police officer, Maureen is staying with her daughter for the time being, but when she heard volunteers were at her home, she made a trip to thank them.
As tears ran down her cheeks, Maureen hugged the volunteers, who shielded her from seeing her beloved player piano added to the pile of debris.
Maureen is one of hundreds of homeowners helped by New York Cares, a Points of Light affiliate. In the past few months, New York Cares has deployed more than 12,000 volunteers, including President and Chelsea Clinton, to muck out homes, distribute supplies, and conduct food and clothing drives.
In addition to New York Cares, nine other HandsOn Network and Points of Light affiliates are actively engaging volunteers in the disaster response and the long process of rebuilding: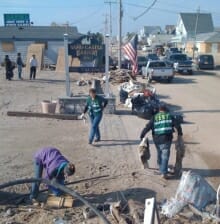 Serve Rhode Island.
Although the television coverage has faded away, the suffering and frustration of our many fellow Americans in the wake of Hurricane Sandy has not. Just in Maureen Gallagher's neighborhood, there are 400 homes on a waiting list, needing repairs.
But as thousands of displaced residents across the region want only to move back into their homes, the number of volunteers is dwindling.
As you get ready for the holidays, please take a moment to help Points of Light bring the power of people to bear where it matters most. Volunteer with a HandsOn Action Center or donate to Hurricane Sandy Relief today.
Thank you and best wishes for a happy holiday season.
In service,

Michelle Nunn
CEO, Points of Light
Share this post