After Seeing the Disadvantages of Homeless Children, She Took Matters Into Her Own Hands
Meet Daily Point of Light Award honoree Alisha Zhao, who was a Top 10 finalist for the L'Oréal Paris Women of Worth Award in 2018. Each year L'Oréal Paris and Points of Light recognize and celebrate Women of Worth who make a beautiful difference in their communities. Ten honorees each receive a $10,000 grant to support their most cherished cause, and an online vote determines one honoree who will receive an additional $25,000 grant. Nominations for 2019 are now open! If you know a woman who works to create lasting and significant change in her community, nominate her to be one of the 2019 Women of Worth.
Alisha Zhao founded Kids First Project to bridge the gap between a child experiencing homelessness and the resources they need to help them reach their full potential.
"I think that obviously housing is a human right," said Alisha Zhao. "But even the right to extracurricular activities should be a human right because everyone should be entitled to the different services and critical resources that allow a person to become their full potential."
When Alisha, now 20, first volunteered at a family homeless shelter five years ago, she expected to mostly see adults. She was surprised to discover that many of the shelter's clients were homeless children. During her time as a volunteer, the children shared their hopes of becoming dancers, doctors, or even the president of the United States. While their dreams inspired Alisha, they also saddened her because she realized they were at a major disadvantage when it came to reaching their full potential.
"Childhood development is most critical around the time that these kids are experiencing homelessness," Alisha said. "When they're not given programs and are not given structural activities, it can affect them for the rest of their lives."
After seeing the lack of nonprofits in her area that provided homeless youth access to extracurricular activities, Alisha took matters into her own hands.
She started the Hope for Homeless Club during her freshman year in high school. It has now grown into the Kids First Project, a nonprofit serving 10 locations with more than 400 volunteers in the Portland, Oregon, and San Francisco Bay areas. With the help of her board of directors, advisory board and volunteer leaders, Alisha estimates that her program serves about 500 families experiencing homelessness each year.
Unlike other extracurricular programs that make parents bring the children to them, Alisha and her volunteers bring the programs directly to the children. Kids First Project's primary programs include peer mentoring, physical activities, arts and crafts, tutoring, life skills classes, monthly field trips, and a variety of themed programs like puzzle or poetry night.
While the organization is called the Kids First Project, it's not just kid-oriented. During the hour that the volunteers play and work with the kids, the adults are given time to relax, find housing or focus on themselves. The program also provides civic and government classes for the parents, which teach them their rights as people experiencing homelessness.
Alisha believes there is still discrimination and stigma surrounding people experiencing homelessness, because they are perceived to be homeless due to drug or alcohol addiction. However, many people become homeless because of a difficult economy or a lack of affordable childcare, health care, housing and more.
Norena Arias and her family are an example of this. After struggling to keep their small food court business alive, the family fell behind on bills and lost their apartment. Eventually, they ended up at the Goose Hollow Family Shelter, where Norena met Alisha.
Norena was struggling with math in school, but her family couldn't afford a tutor. Alisha gave her the tutoring she needed and showed that she cared. With Alisha's help, the assistance of Portland Homeless Family Solutions and her counselor at school, Norena and her family have been able to transition out of homelessness. She will be a freshman at Portland State University this year.
Many big corporations, including T-Mobile, Prudential and Disney, have sponsored Alisha's organization, but what really makes a personal difference in the lives of these children are the volunteers who come out every week to help.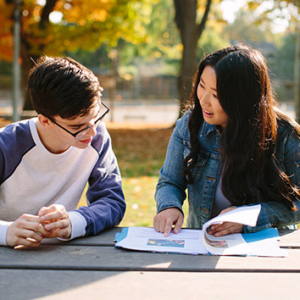 "What's so important with working with youth experiencing homelessness is that you can't always have random people coming into their lives, forming relationships and then leaving," said Alisha. "It's been really valuable to see volunteers come in and become recurring volunteers with us. They're able to create and sustain relationships with the kids."
Even with the burden of schoolwork and her own extracurricular activities, Alisha continuously finds ways to better her organization and help homeless youth. The Kids First Project is starting a scholarship program for the upcoming school year and summer to provide one-time educational assistance for students experiencing homelessness in the Portland metro area. Title IX only covers educational recreational programs related to public schools, which might include funding for after-school clubs, but it does not include summer camps or various conferences and events. The scholarship will provide funding for youth experiencing homelessness to participate in the summer camps, conferences or events that they want to take part in.
Alisha realized that while direct services like the ones her nonprofit provide are definitely needed, they only hit the surface. Advocacy and policy change are needed to get to the root of the problem, and those who are affected should be at the forefront of such movements and decisions. Kids First Project is launching its first Summer Advocacy Program in June 2019, in which a cohort of youth currently or formerly experiencing homelessness will participate in a two-day civic education workshop in Portland to learn skills such as how to engage in effective advocacy and craft a pitch. The program will culminate in a four-day trip to Washington, D.C., where they will have the opportunity to share their stories and biggest needs with legislators on Capitol Hill.
Alisha said she is able to see how big of an impact her organization makes when kids who were able to find housing come back to the homeless shelter to volunteer, and help kids who are in the same situation they were once in themselves. She is currently majoring in political science and human rights at Stanford University, and she is president of the Stanford Housing Justice organization.
"It can be difficult to balance everything," Alisha said. "But Kids First Project is one of my biggest passions and so when I'm doing it, I don't feel like its work. Everything I do is because I want to work on the issue of youth homelessness and human rights for my entire life."
Share this post