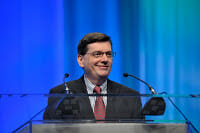 Outstanding volunteers, institutions and corporations were honored at the National Conference on Volunteering and Service for their commitment to service and civic engagement.
Congratulations to the following award winners:
Corporate Engagement Awards of Excellence
▪▪ Cisco
▪▪ IBM
▪▪ McKesson
Corporate Volunteer Council Awards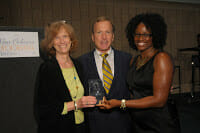 ▪▪ The Corporate Volunteer Council of Central New Mexico
▪▪ Trident United Way's Corporate Volunteer Council
President's Higher Education Community Service Honor Roll
▪▪ Augsburg College
▪▪ Rollins College
▪▪ San Francisco State University
▪▪ Loyola University Chicago
▪▪ St. Mary's University
▪▪ California State University Monterey Bay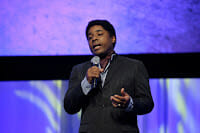 2011 Eli Segal Award
▪▪ Hope Grows Farm
2011 Service Impact Award
▪▪ Experience Corps
▪▪ Juliana Chosana Ko
▪▪ The Cesar Chavez Foundation – Si Se Puede Learning Center
The George W. Romney Excellence Award 2011
▪▪ Center for Volunteer and Nonprofit Leadership of Marin
2011 Champion of Inspiration Award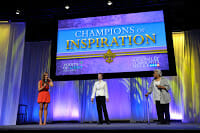 ▪▪ generationOn Youth Advisory Council
▪▪ Chip Chappelle
▪▪ HandsOn Tokyo
▪▪ Natalie Snider
▪▪ Brendon Barclay
▪▪ Camo Quilt Project
2011 Service Impact Award
▪▪ The Red Cross Ready! Tennessee Rural Initiative
▪▪ Norman Moeller Missoula Aging Services RSVP
▪▪ Resource Youthbuild Burlington, Vt.
▪▪ Earl Millet, Jr. Civic Works
▪▪ Grace Hill Settlement House AmeriCorps Ranger Project
▪▪ RSVP Members at VFW Post 1739, Belleville, Il.
Share this post