Boston Cares Wins Romney Award for Giving Kids in Need Beds of Their Own
Thousands of Greater Boston school children do not have a bed, which affects their self-esteem, ability to learn and likelihood of graduating from high school. This year's George W. Romney Award winner, Boston Cares, decided to tackle this problem by creating the Bed Project, through which volunteers build beds for kids who need them.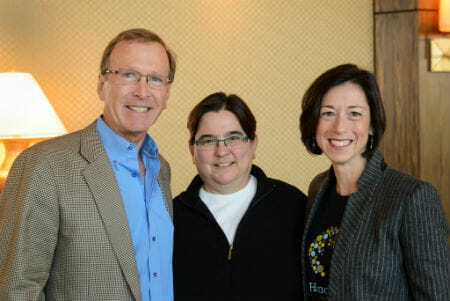 From left, Neil Bush, chairman, Points of Light; Patrice Keegan, executive director, Boston Cares; and Amy Smith, Points of Light chief strategy officer and president, Action Networks
Each year during the Points of Light Conference on Volunteering and Service, HandsOn Network honors the outstanding work of an affiliate through the George W. Romney Award. The award is the pinnacle of excellence, presented to honor the collective success of an affiliate in making a meaningful difference through volunteering and service in their community and across the sector.
Boston Cares, which received the award in Houston on Sunday, sought to help children who have no choice but to share beds with family members, sleep on the couch or sleep on the floor.
In creating its Bed Project, Boston Cares located skilled woodworkers – Nick Roulleau of Mansfield Fine Furniture and Eli Cleveland of The Rough Cut – who donated their time to develop a toddler bed prototype that is easy for volunteers to replicate.
"One of the most exciting things about Boston Care's Bed Project is that it can be replicated by our global network of over 250 affiliates, so they are not only helping children in Massachusetts, but around the world," said Alison Doerfler, executive director of HandsOn Network, an enterprise of Points of Light.
The nonprofit built a partnership with the New England Regional Council of Carpenters, through which apprentices have handled much of the advance work of cutting, milling and fabricating the lumber – although volunteers can handle this stage of the Bed Project if need be, using a series of customized "jigs" designed by Roulleau and Cleveland.
On Martin Luther King, Jr. Day 2014, Boston Cares launched the Bed Project with a goal to build 500 beds for kids in 2014. Since then, close to 1,400 volunteers have produced 700-plus beds for children served by 22 community partners in Boston, Somerville, Lynn, Lowell, Worcester and other nearby communities. The goal is to hit 1,000 beds by the end of 2015.
"We truly appreciate the beds the Boston Cares Bed Project has made and donated in the past and look forward to receiving and distributing many more to families in need thanks to this amazing program," said Donna Hunnewell, executive director of The Wish Project, a recipient of Boston Care beds. "What a unique and effective way to use volunteers to help families."
The George W. Romney Excellence Award was established in 1996 to honor Gov. Romney of Michigan and his personal commitment to volunteer service. Romney was chairman and CEO of American Motors, a three-term governor and U.S. Secretary of Housing and Urban Development. He was also founding chairman of the National Volunteer Center and a founding member of the board and executive committee of Points of Light.
"It is a great honor to be recognized for our work," said Patrice Keegan, executive director of Boston Cares. "We have been so inspired and motivated by other affiliates and past Romney Award winners. Boston Cares is excited to move the Bed Project forward and thanks HandsOn Network and Points of Light for this honor."
Share this post