Celebrate AmeriCorps Week with AmeriCorps Alums!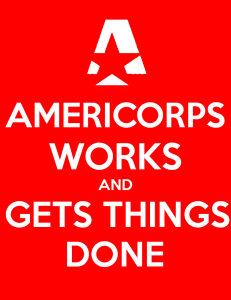 With AmeriCorps Week (March 10th – 18th) quickly approaching, AmeriCorps Alums, the national network for all AmeriCorps Alumni,  is actively partnering with the Corporation for National and Community Service to help celebrate how this year's theme of AmeriCorps Works  is making positive contributions throughout the country.
As AmeriCorps Alums, we have seen time and time again how AmeriCorps Works in our lives and in our communities. AmeriCorps worked when disaster relief was needed in Joplin. AmeriCorps worked when we were interviewing for that first job right after our service. AmeriCorps worked when we networked with our fellow Alumni in our Life After AmeriCorps.
We want to celebrate and connect with current and non AmeriCorps members to share our stories as Alums and how we continue our Lifetime of Service.
AmeriCorps Alums will be celebrating AmeriCorps Week in these three ways:
AmeriCorps Week Events – We anticipate our national network of chapters to engage in specific AmeriCorps Week activities and programs.  These local events range from AmeriCorps Night at the minor league hockey rink, to community service projects, to outreach as mentors to current AmeriCorps members. Through AmeriCorpsWeekEvents.org, you can find an event or register your own for others to sign up for.
AmeriCorps Works Here – With our photo storytelling campaign, Alums will take pictures at their place of current employment to demonstrate the diversity of career paths and instances of leadership that Alums are pursuing.  These photos will be shared through our social media properties (primarily on Facebook and Twitter), with the hastag #AmeriCorpsWorksHere, as a way to profile the diversity of AmeriCorps alumni after their service year. Click here to learn more about the campaign and how you can participate!
AmeriCorps Online Townhall – Titled, "Inspirational Pathways of Service and Leadership", this Townhall will take place on Tuesday March 13th from 3 to 4:30PM ET. AmeriCorps Alums will host a webinar featuring a townhall-style conversation with Five AmeriCorps alumni, who have followed five different career paths from their service year.  Click here for more information and to register for the webinar.  The alumni panelists featured will be working in the fields of higher-education administration, fundraising, AmeriCorps program management, education reform, and social media consultant and share how national service has guided them into their current career paths.
Follow Twitter and Facebook to keep up with #AmeriCorpsWeek Events throughout the country!
Comment and share: how do you plan on celebrating AmeriCorps Week in your local community?
Share this post