Change Notes: Japan One Year Later

Friends,
Sunday will mark one year since Japan was hit with a devastating earthquake and tsunami. Nearly 16,000 people lost their lives. The natural disaster damaged or destroyed more than 139,000 buildings and 2,000 roads – taking with it the physical and cultural infrastructure in towns and cities in the northeast and eastern regions of Japan.
Over the past 12 months, thousands of volunteers – from within Japan and abroad – have come together to not only rebuild structures, but also renew communities.
Points of Light's affiliate, Hands On Tokyo, has been organizing volunteers to help with recovery since the immediate aftermath – initially delivering supplies to more than 37 shelters and now helping restore community life by creating safe spaces and opportunities for people to connect and convene as a community.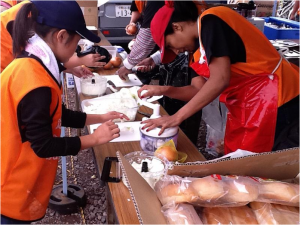 Points of Light has built a partnership with the Major League Baseball Players Association and Trust and partnered with Ebay Giving Works to use individuals' generous donations to help HandsOn Tokyo expand its mobile Community Café model that provides the opportunity for those living in temporary housing to come together as a community and share experiences, activities and a spirit of hopefulness. The cafe serves as a hub of connection, inspiration and action, and fosters well-being, collaboration and sustained volunteer commitment.
This support is also helping Hands On Tokyo begin construction of a community center with the help of volunteers in Ogatsu-cho, one of the most-impacted communities, this spring.
Corinne Johnson, chair of the Hands On Tokyo Board of Directors, explained that prior to the disaster, Ogatsu-cho was a thriving community. The city lost most of its public facilities in the tsunami and now has only 900 residents. To rebuild the community, materials and supplies have been donated to be used to build a community center and Hands On Tokyo will organize and manage volunteers to help build out the facility – including bringing volunteers in from Tokyo and collaboration with local residents. The completed facility will serve 165,000 people.
"Seeing the power of volunteers to create change and rebuild the community has been enormously inspiring," said Corinne.
The reasons behind volunteers' commitment to rebuilding in Japan are varied. Corinne shared the story of one woman who has lived in Japan for 17 years. Since the disaster, she has made 17 trips to the remote Tohoku community – a six-hour drive – to assist in the rebuilding effort to thank the country she said has been so welcoming to her. Another woman, Naho Hozumi, was a housewife before the disaster and found her passion to help led her to become Hands On Tokyo's full-time program manager for disaster services.
While Corinne said there is still a lot of work to be done, she said the "impact possible when volunteers come together to help communities recover, and to significantly improve the lives of hundreds of thousands of people" has been wonderfully illustrated in Japan.
Points of Light Disaster Services – like those deployed in Japan – focus on three primary areas: emergency preparedness, response and recovery. Annually, our HandsOn Network volunteer centers engage more than 100,000 volunteers in disaster response activities. These volunteers contribute more than two million hours of service with an economic impact of more than $40 million to communities recovering from disaster. In 2011, Points of Light was awarded Member of Year by National Voluntary Organizations Active in Disaster (VOAD).
Time and time again, we see the amazing response of individuals across the globe to helping their neighbors (across the street or across the globe) recover from devastating disasters. In the process they not only physically rebuild but restore precious hope. We encourage you to learn more about how you can help or make a donation to our disaster recovery efforts.
Yours in service,

Michelle Nunn
CEO, Points of Light

Share this post