Change Notes: Parade All-American Service Team

Friends,
From aiding Haitian earthquake survivors to feeding the hungry in local communities to educating peers about environmental issues, young people across the country are helping shape their communities through service. Fifteen of these young heroes have been named to PARADE's 2011 All-America High School Service Team, selected in partnership with Points of Light Institute's generationOn.
For the second year, PARADE Magazine is lifting up the stories of inspiring high school students who are changing the world. The PARADE All-America High School Service Team showcases the entrepreneurial spirit of these young people and shows how individuals – regardless of age, resources or experience – can create real change. You can read more about these young people and their impact in this Sunday's PARADE Magazine that will reach 47 million people.
On Aug. 9 in Washington, D.C., these extraordinary young people were honored in special ceremony hosted by PARADE and generationOn, the youth service division of Points of Light Institute. Each honoree had the opportunity to tell the story of how they are marking their mark on the world and each energized those in attendance with their enthusiasm, passion and drive.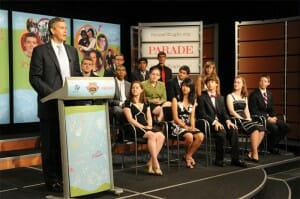 During the ceremony, U.S. Secretary of Education Arne Duncan encapsulated the honorees' impact, saying, "By helping solve problems and meet needs in communities near and far, these students enrich their own lives, strengthen our country and improve conditions all over the world."
Joining the celebration were a wide range of leaders including former Sen. Harris Wofford, former Washington Redskins player James Thrash, Steve Culbertson, president and CEO of Youth Service America, president and CEO of Parade Publications Jack Hare and Maggie Murphy, editor of PARADE Magazine.
The students were nominated in five categories: community, economics, education, environment and health. All the winners will be showcased on www.parade.com.
Community

: Joe Burgum, 18, of Fargo, N.D., believes that no one should ever go hungry. For four years, he has worked on the city's annual Fill the Dome food drive. The effort has brought together students from local schools to collect 300 tons of food and $225,000 in donations for North Dakotans.

Economics

: After learning there were 29,000 homeless youth in Indiana who do not have basic necessities including food, clothing, and shelter, Amber Kriech, 16, of Carmel, Ind., managed the construction of a spiritual life center for Outreach, Inc. which works with 600 homeless youth each year.

Education

: Seeing horrifying footage of the aftermath of the Sichuan earthquake inspired Grace Li, 16, of Pearland, Texas, to offer assistance. She co-founded We Care Act, through which students and teachers at 80 schools have given funds, supplies and comfort to young survivors of disasters.

Environment

: Benjamin McMullen, 17, from Chesterland, Ohio, knows it is critically important to actively preserve his community's natural environment. To sustain it for the long term, he started two local groups that have taught kids about area wetlands, created outdoor classrooms at three schools, built nesting platforms for ospreys and planting 1,000 trees.

Health

: Born with a facial birthmark, Evan Ducker, 17, of Kingston, N.Y., wrote a book centered on a character who also has one. He has helped organize an annual read-along – 6,000 students took part in May – to increase tolerance.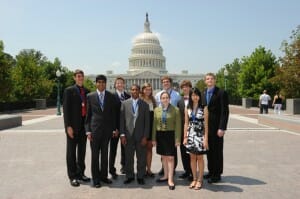 The awards ceremony was followed by a forward-looking discussion with the PARADE All-America High School Service Team about the critical role of youth service as a force for changing the world. The discussion, facilitated by Juan Williams of Fox News, proposed ideas to inform a set of policies and priorities to support service in schools and empower youth as change agents.
These young people remind us of the power of idealism, passion and seeing the possibilities before us rather than just the obstacles.
When adults told Mary Grace Reeves, 16, of Pensacola, Fla., there were no resource, no money and nobody to create reading programs for young girls in the Gulf Coast, she responded simply, "I will do it." And she did. She started American Girl book clubs that have touched 900 girls. She and the other 14 award winners remind us that we all can answer challenges of our day – we simply have to respond "Yes, I will do it."
Yours in service,

Michelle Nunn
CEO Points of Light Institute

Share this post