Changemaking in Action: Highlights From The 2022 Youth Summit
The 2022 Points of Light Conference was filled with memorable moments, but one that stood out in particular was this year's Youth Summit. In case you missed it, here's a recap of what went down… Don't forget to mark your calendar for June 14-16, 2023 so you can be in attendance at next year's Conference.
The Youth Summit opened with a welcome from Points of Light President and CEO Natalye Paquin and Points of Light Board Chair Neil Bush. After sharing about his father's founding of the Daily Point of Light Award program, Natalye and Neil awarded Michelle Song of Greenville, North Carolina, with the day's Daily Point of Light Award for her efforts in environmental conservation. 
"With the right support, young people, you are changing the world," Natalye said, before handing things off to President and Board Chair of KPMG Foundation Anita Whitehead. Anita introduced the various ways the KPMG Foundation has revitalized its mission and poured funding into equity and diversity efforts, committing millions of dollars to this focus.
Anita then interviewed the keynote speaker, Orion Jean, 2021 Time Kid of the Year and Ambassador for Kindness, who spoke about his personal journey and gave helpful advice to any young person looking to make a change. 
"Sometimes, I have to admit, it's not easy seeing a problem so large and figuring out how to go out there and make a big impact on that problem," shared Orion. "But I think that with a little determination, perseverance, courage and compassion, you can really do anything."
He encouraged young people who see problems they want to fix to be proactive, reaching out to adults who can help them secure the resources they need to contribute their talents and energy to that issue. He also encouraged adults with resources to support kids with a vision, as the power to change the world lies in this type of collaboration.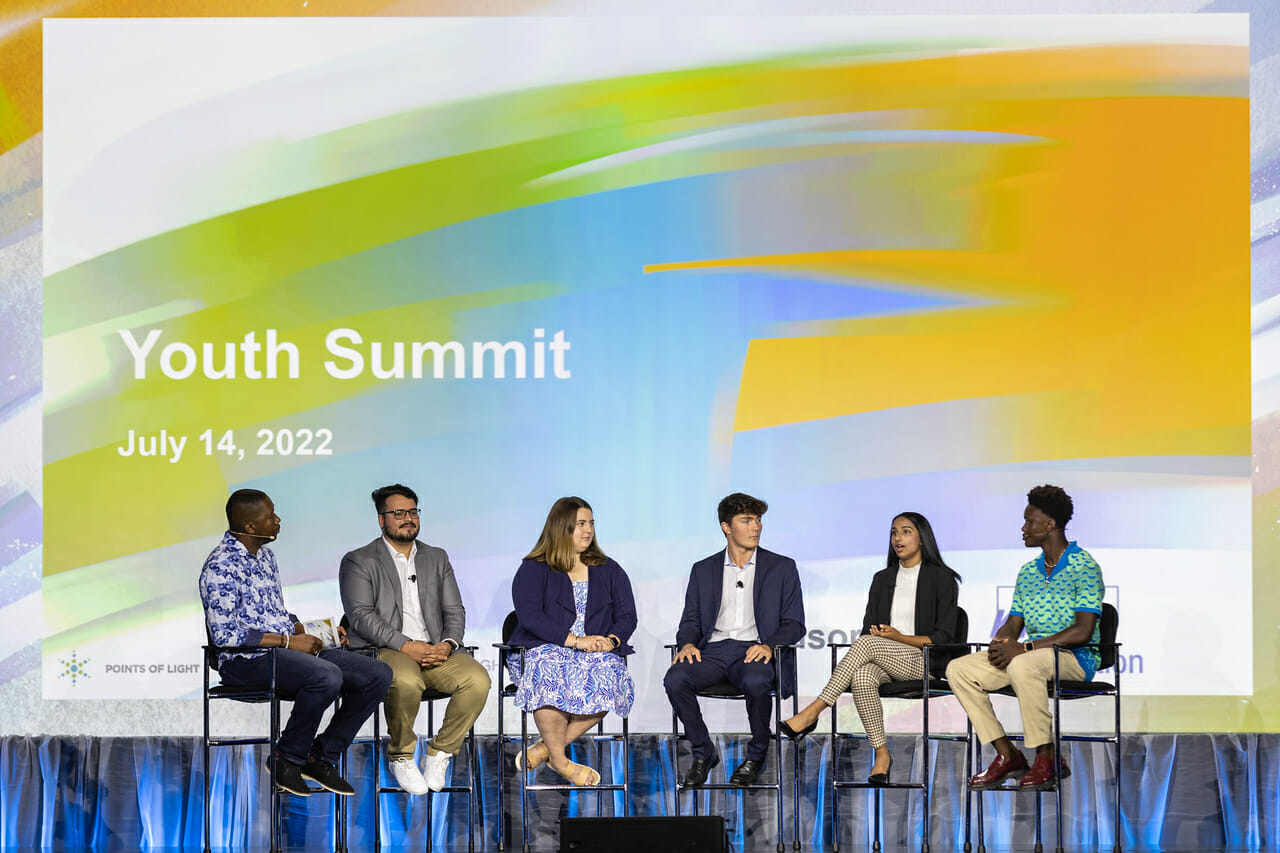 Following Orion's chat with Anita, four members of the Points of Light Youth Council—Esha Venkat, Chase Hartman, Eleanor Ann Schoenbrun and Adom Appiah—and Generation Amazing Youth Advocate Sayed Alam—joined a moderated panel discussion. Each spoke about their individual civic journeys and shared touching moments from their experiences. 
From fostering hope in communities through uplifting words and gestures… to reinforcing the message that we are never alone, but supported… to releasing one's ego in volunteering and learning to be a team player… these five leaders passed on a wealth of knowledge and encouragement for all the civically engaged youth in attendance. "Embrace the vulnerability of not knowing what you're doing," shared Adom Appiah.
One theme highlighted again and again was the importance of listening and learning before acting. Several Points of Light Youth Council members spoke about how their nonprofits or initiatives had changed as the leaders themselves continued to learn and grow.  
Eleanor Ann Schoenbrun talked about "allowing the experience to evolve" with her – changing what she was doing as she continued to learn more and more, and honoring the people sitting across the table from her, even if she disagreed with them.
Hearing from community members about what would help them most, instead of assuming that they already knew what was most supportive, was illuminating for these leaders. Many times, they made strategic decisions for their volunteer projects or even revamped the structure of their nonprofits based on the feedback they heard from those they were directly working with. 
While this year's Youth Summit featured a powerful group of young leaders, Points of Light is committed to uplifting youth voices every single year at the Points of Light Conference. So don't miss next year's conference in Chicago June 14-16, 2023—save the date now so you can join us in person.
Share this post
---