Chase's Commitment to Service Helps Bring Together One America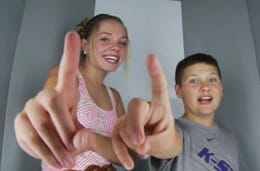 One of the most exciting elements of this year's Conference on Volunteering and Service was a little hideaway where people laughed, danced and cheered in the name of service: the One America booth.
The booth, a tall cylinder outfitted with a video camera, let attendees record their suggestions for One America, a nationwide Points of Light campaign with founding support from Chase. The campaign poses the question – What if some of our nation's greatest rivals could put aside their differences and unite in volunteer service? Perhaps they could inspire millions of people to do the same.
"What really matters to our nation's future is not what divides us, but what brings us together," notes Peter Scher, executive vice president and head of corporate responsibility at JPMorgan Chase. "And we know we are stronger when we are together as one nation – as One America."
One America is reaching out to folks for suggestions on which rivals in politics, entertainment and sports to bring together. The yearlong campaign launched June 19 at the conference in Washington, D.C., with some unlikely pairings, including conservative talk show host Bill O'Reilly with liberal pundit and political strategist Donna Brazile, along with Karl Rove, former adviser to President George W. Bush, and David Plouffe, former adviser to President Obama. (Brazile and Rove even shared a little dance onstage.)
The conference attendees who stepped into the One America booth came with plenty of playful, and noteworthy, pairings of their own, including Google and Apple; Red Sox and Yankees; Rosie O'Donnell and Donald Trump; "Good Morning America" and the "Today" show; and Hillary Clinton and Sarah Palin.
Watch a short compilation video here.
Thanks to Chase's commitment to supporting volunteer service, the One America campaign will reach millions of potential volunteers through celebrity videos, social media, local service events and more. People wanting to make a difference will learn about ways they can help improve education, fight hunger and protect the environment. This campaign is about engaging people, about showing them the power they have to connect others and to improve lives. (Click here to find out more.)
"Acts of service can indeed cross boundaries, bring together the most unlikely allies, and build stronger communities," said Michelle Nunn, CEO of Points of Light "Recognizing that people in communities are tackling tough challenges every day, One America will showcase volunteer ideas that are working, and present them in a way that others can then implement in their own communities."
Share this post