Clif Bar & Company: Sustaining the Environment Through Service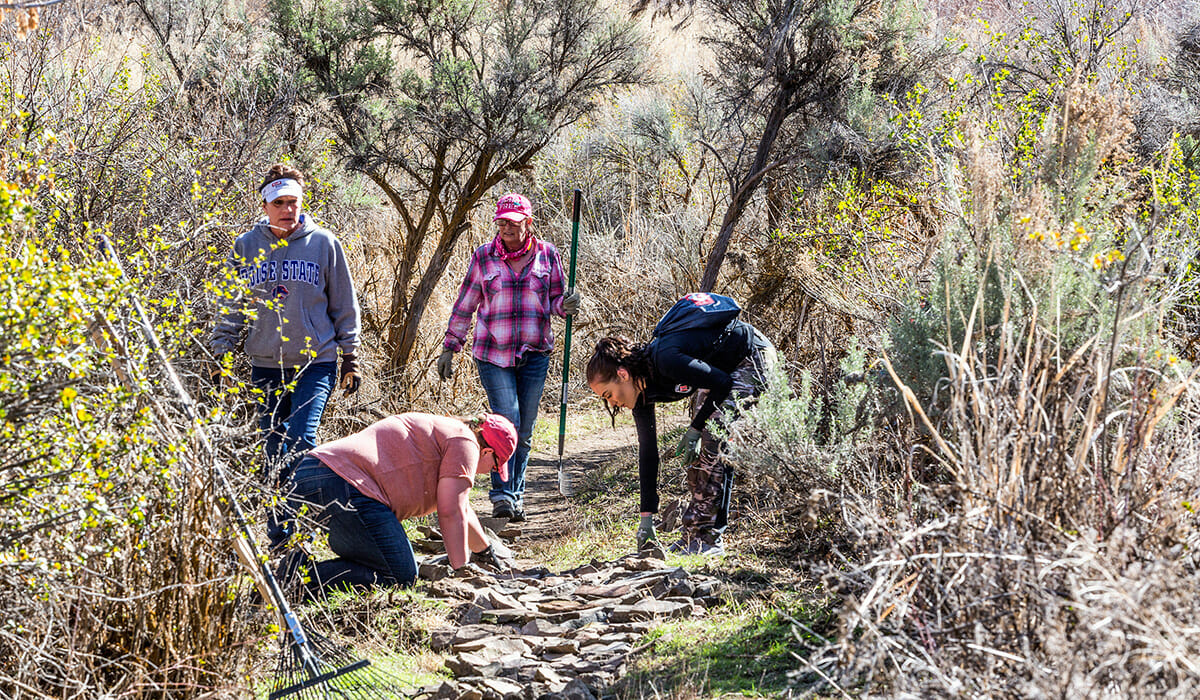 By Cassie Cyphers, Community Programs Manager, Clif Bar & Company
Giving back is built into our DNA at Clif Bar & Company, and our volunteer efforts largely focus on giving back in ways that help the planet. That's probably not surprising, since we're a company that relies on a clean and healthy environment to grow the ingredients we use in our food, and on the outdoors as a treasured place for us and our adventure-loving consumers to play.
Whatever your company's volunteer focus, the benefits of community service are numerous. "Through the simple act of extending a hand, not just once in a while but as a regular part of life, we are changed as individuals and as a company," said Kit Crawford, Clif Bar's co-owner and co-chief visionary officer.
Kit and her husband, Gary Erickson, Clif Bar founder, co-owner and co-chief visionary officer, have built community service into everything we do. Clif Bar's business model is comprised of five bottom lines, or Aspirations, as we call them – sustaining our business, brands, people, community and the planet.
CLIF® CORPS, our employee giving and engagement program, enables our employees to support communities in three ways, via service, funding and food. We encourage employees to volunteer in the community on company time — and do they ever, with a participation rate of more than 98 percent and nearly 117,000 hours volunteered since the program began in 2001. In 2017 alone, our 1,200 employees volunteered nearly nearly 20,000 hours.
Given our commitment to food and the outdoors, nearly 40 percent of employee community service is devoted to environmental causes. Pick a day at our California headquarters, or one of our two bakeries in Idaho and Indiana, and you're likely to find a few employees or an entire department volunteering in the community, often on behalf of the planet. They might be restoring community gardens, clearing trails in a public park, planting trees, cleaning up beaches or building birdhouses.
Once a year, we shut our doors and send everyone off on a day of service. A few years ago, our headquarters employees — then more than 300 strong — spent the day volunteering at two local urban gardens to benefit Urban Tilth, a nonprofit that cultivates agriculture in West Contra Costa County. "Clifsters" weeded, planted and built raised garden beds, picnic tables and a pollinator habitat.
We're happy to share our recipe for community service because we think it can work for a lot of companies, no matter what your cause or focus. Build it authentically into your company's DNA, encourage employees to take part, make it easy for them to participate, and let them choose the causes that interest them.
While we've won awards for our community service, that's not what drives us. It's doing the right thing for us, for others and for the planet, which is under siege and deserves a special nod here in April (and beyond), home of Earth Day, Earth Week and Earth Month. And the best part is hearing from the people we touch with our service — people like Brandy, a grandmother in Twin Falls, Idaho, who recently sent us this note via Facebook:
"Huge Rave – With the weather so nice today I decided to take my 2 grandsons walking (the trail at Centennial Park). There was a huge mass of Clif Bar employees working down there clearing the trails, picking up trash, trimming bushes and fixing the bridges. Not to mention the shopping carts and other trash they loaded onto a boat and hauled off. Everyone we passed was so polite and kind. I just wanted to say THANK YOU, not only for what you did for our community but for being awesome examples to my grandchildren."
Now that is reward enough!
An advocate for community service and environmental conservation, Clif Bar & Company is just one example of the corporate citizens that make up the Points of Light Corporate Service Council. Does your company exemplify corporate citizenship, have an incredible team of employee volunteers or make a strong impact in the community? Consider joining the Corporate Service Council today.
Share this post