Confronting Stigma With Kindness
Volunteering at a psychiatric hospital can be challenging, even unsettling. New volunteers can get overwhelmed by stares from excited patients or abrupt changes in a patient's behavior.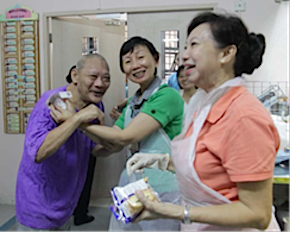 As a volunteer manager and a former psychiatric nurse with 40 years of experience, Catherine Chua knows how to put both patients and volunteers at ease.
"Being a volunteer manager enables me to pursue my passion in helping these patients through more meaningful and fulfilling ways," says Chua, who since 2010 has worked as a volunteer manager at the Institute of Mental Health, a hospital in Singapore, maintaining a close relationship with Singapore Cares, a HandsOn Network member.
Part of Chua's job is to help people have positive volunteering experiences, so they want to return. Chua always conducts briefings and debriefings for volunteers' first sessions, so they can have a better understanding of the patients and safety issues. She also observes the interactions between volunteers and patients so that she can offer prompt assistance or guidance when issues arise.
Managing expectations is key. The expectations of a volunteer may differ from those of a patient or the hospital – which can lead to conflict or disappointment. Chua also looks into the personal development of the volunteers by organizing talks or seminars for them. She invites them to annual events, such as the Volunteers' Retreat and Volunteers' Appreciation Day, which allow them to interact with fellow volunteers.
Though the job is demanding at times, Chua says she's gratified when she sees volunteers reaching out to patients with genuine interest.
"Stigmatization against people with mental illness is a common reality in our society," she says. "It affects not only them and their loved ones, but even those who are working or helping them. It is heartening to know that volunteers sincerely want to care for these people. This action in itself is powerful as it signifies societal acceptance for the patients, which they greatly need."
Share this post