Creativity Pays Off for Innovative Nonprofit Programs
With spectators clapping blue thunder sticks together, jumping out of their seats, cheering for their favorite teams, the gathering looked more like a pep rally than a bid for nonprofit grants.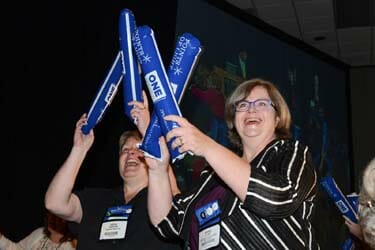 Zelda Magnuson, left, and Karen Delaney cheer at the forum with thunder sticks.
The pitches fueled the excitement – four innovative programs attracting volunteers and serving communities in creative ways.
At the HandsOn Network Innovation and Social Impact Forum June 17, part of Points of Light's Conference on Volunteering and Service in Atlanta, four organizations won a share of $100,000 in grant money, with funding made possible by JPMorgan Chase & Co.
JPMorgan Chase and Points of Light have a history of collaborating to find new ways to support and facilitate volunteer service. At last year's Conference, they kicked off a nationwide One America tour focused on uniting unlikely allies to help students succeed, alleviate hunger and improve the environment.
The innovation and social impact forum at this year's Conference – a celebration of the One America campaign – gave HandsOn Network affiliates a chance to showcase how they are uniting people through service for good.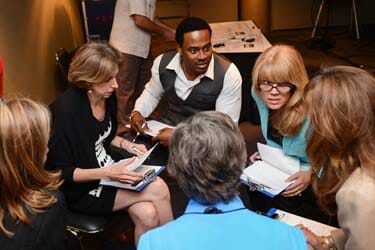 The innovation forum judges confer to decide which organization will receive the $50,000 grant.
"One America really represents what we're here at this Conference to talk about: Service unites," said Points of Light Chairman Neil Bush.
Lois Backon, head of corporate partner marketing for JPMorgan Chase, welcomed forum attendees on behalf of the 250,000 JPMorgan Chase employees who have themselves logged more than 1.5 million hours of volunteer service over the past four years, including 56,000 skills-based hours in 2013 alone.
Backon said the forum was a great opportunity for JPMorgan Chase to combine two core values: service and innovation. "JPMorgan Chase is committed to investing in service innovation," she said. "We know that when we harness what our best and brightest have to offer, we can make a tangible difference in every local community we touch."
Then it was pitch time.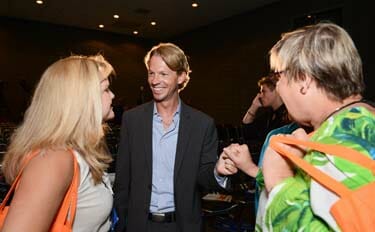 Brian Williams, center, of Hands On Nashville receives words of congratulations after the forum.
The four competing nonprofits – part of Points of Light's HandsOn Network of 250 volunteer centers – showed video presentations of their work and answered questions from a panel of judges. The panel picked which organization would take the top grant of $50,000, included Lamman Rucker from "Tyler Perry's Meet the Browns"; Laura Turner Seydel of Captain Planet Foundation; Taproot Foundation President and CEO Liz Hamburg; and Coxe Curry & Associates Senior Consultant Ann Cramer. Joe Sibilia, CEO of CSRWire, served as moderator.
Hands On Nashville came out on top for its work mobilizing volunteers to make homes in low-income neighborhoods more energy efficient, saving homeowners as much as $500 a year on their utility bills.
Hands On Nashville launched the program in the wake of the city's historic flooding in 2010. Since then, nearly 1,000 volunteers have repaired 311 homes, including 156 damaged by the flooding. Volunteers install attic insulation, replace traditional light bulbs with compact fluorescent bulbs and more.
Brian Williams, president and CEO of Hands On Nashville, said the $50,000 grant will allow his organization to add program components that will further reduce energy consumption and engage donors in ways Hands On Nashville hasn't done before. Hands On Nashville can also use the funds to start working with the city of Nashville to "expand service in a very thoughtful way and within a much quicker timeline than we imagined."
Each of the three runners-up took home $15,000 to invest in their own innovative programs:
Volunteer Center of Santa Cruz (California) Senior Tech Day – a program that invites teen volunteers to help seniors navigate the digital age by teaching them how to use e-mail, how to view and share photos electronically and more.
HandsOn Twin Cities (Minnesota) Skills-Based Summit – an event that brings together skills-based volunteers who facilitate workshops exploring topics from marketing and social media to leadership development and finance.
HandsOn Genesee (Michigan) Community Service for Success – a three-week program that connects clients receiving cash assistance from the state of Michigan with volunteer opportunities that help sharpen life and job skills.
Emily Gilliland, HandsOn Network's executive director, said the programs featured at the forum reflect the creativity, commitment and passion of HandsOn Network affiliates across the country.
"They have perspective and vision about what is needed and how to get it done," Gilliland said. "And they each are doing it in unique, creative, incredible ways that are inspiring their communities."
The grant program, which Backon called an extension of JPMorgan Chase's "commitment to innovation and to helping communities and cities thrive," is the kind of support that Williams said helps service organizations have a greater impact.
"JPMorgan Chase encourages organizations to be very thoughtful about their programming and then they reward those organizations for doing so," Williams said. "It's a very productive path for donors to take."
Share this post