Employee Spotlight: Getting Creative to Empower Refugee and Youth Communities
Each month, we shine a light on a Points of Light employee who is making a difference in their community. These stories of service highlight the individual volunteer efforts of our dedicated staff, what motivated them to get involved and how service has inspired them. Christian Rincon volunteers his design skills to support Atlanta-based organizations Friends of Refugees and Soccer in the Streets.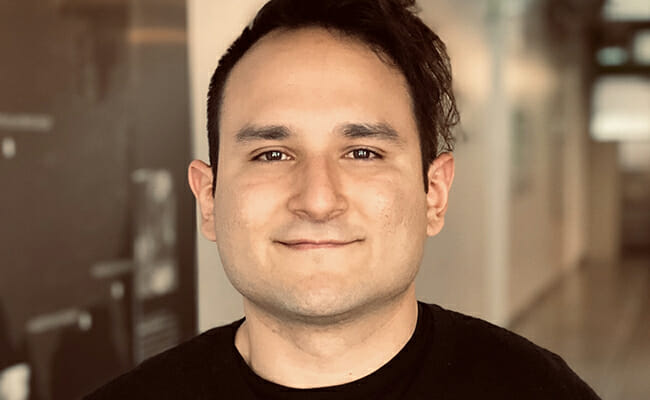 For graphic designer Christian Rincon, volunteering is a way to stay connected with the community. When he is not creating beautiful visuals as Points of Light's senior graphic designer, Christian is passionate about using his creative skills to help local organizations serving Atlanta's refugee and youth communities. As a skills-based volunteer with Friends of Refugees and Soccer in the Streets, he has found an unconventional, yet impactful way to support the causes he cares about.
We spoke to Christian about how he uniquely engages his design skills and passions for good, and his commitment to leveling the playing field for refugees and youth.
What was your first volunteer experience?
My first volunteer experience was with Friends of Refugees, within their career hub. I helped the refugee community find employment and fill out the necessary job application paperwork.
How did you get involved with Friends of Refugees and Soccer in the Streets? What is your volunteer role with each organization?
I was initially involved with Friends of Refugees through their career hub, but I quickly transitioned to volunteering my time as a pro bono graphic designer. I've started working on some of their environmental design needs.
I'm also very involved in the soccer community in Atlanta, via the MLS team and the pickup soccer scene, so I ended up meeting the management at Soccer in the Streets. The organization gives kids of all backgrounds access to quality soccer clinics and leagues. I volunteer with Soccer in the Streets as a pro bono graphic designer as well.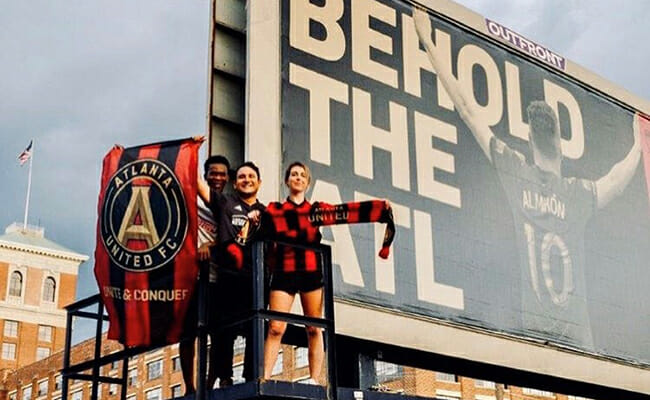 Tell us more about the design volunteering you do, and the organizations you work with.
For Friends of Refugees, I have started helping them with some environmental design – most recently for their brand new career hub building. I also recently was tasked with designing their annual report which gave me an intimate look into the impact they have in the refugee community.
For Soccer in the Streets, I helped by creating soccer tournament promotional signage as well as branded merchandise for the core brand. My role was to help build awareness through polished brand design.
What has been the most rewarding part of your volunteer experience? Do you have any favorite memories or stories of your service from the organizations or individuals you volunteer with?
The most rewarding part of my volunteer experience with both organizations is who they serve, and indirectly who I get to serve. The refugee community and children from lower-income homes are the demographics served by Friends of Refugees and Soccer in the Streets – two of the most marginalized groups in our society. To help them even the playing field is a huge honor for me.
What have you learned from your experience as a volunteer?
I've always been involved in the community and it comes from having grown up impacted by the work of volunteers. Volunteering my time not only satisfies my sense of purpose but it also keeps me connected to my community – all of my community.
Has your experience with volunteer service influenced and/or affected your career? If so, how?
Volunteering has been complementary to the work I do. Giving my design work away is a different dynamic than making a paycheck from my craft. I feel like it has kept me grounded and not caught up in my day-to-day. It also polishes up my style and benefits the quality of my work in the office.
What advice do you have for others who are looking to turn their passion into action to make a difference in their communities?
My advice for those looking to get involved is the same advice I would give for someone who feels they are in a rut professionally: Find a cause you're truly passionate about and give it your all. Perhaps that cause exists within an organization already. Don't feel like you're limited to joining something already in progress. Feel empowered to come up with your own solutions and get to work!
Want to make a difference in your community? Visit www.allforgood.org to find local opportunities to get involved.
Share this post