GenerationOn Has Provided Me With An Amazing Experience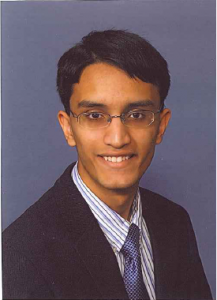 Today's guest post is written by Mohit Jain, a 17-year-old from Omaha, Nebraska and a member of the inaugural generationOn National Youth Advisory Council. He was inspired by his grandfather's battle with Alzheimer's and is now leading his community and state to a healthier tomorrow. He is actively involved in medical research and is a member of the American Red Cross National Youth Council, the Live Well Omaha Youth Advisory Council and the Nebraska Governor's Advisory Council.
The generationOn Youth Advisory Council is made possible through the generous support of the Hasbro Children's Fund. Today is the final day to apply. The application period closes at 5pm EDT. To learn more or to apply, click here.

One of the first things that I received during my journey with generationOn was a Mr. Potato Head toy from Hasbro. Even as a 16-year-old, I derived a great deal of joy from the simple design of the toy — maneuvering the different pieces to make the whole. Little to my knowledge, generationOn would soon become the many different pieces of the Mr. Potato Head toy, shaping my involvement in service and connection to the nonprofit community.
My experiences with generationOn started during our inaugural National Youth Advisory Council (YAC) leadership training event where I was inspired by the role that youth continue to play in organizations and the power and potential we have when we band together to address issues in our communities. I sat at the same table as Michelle Nunn, Neil Bush, and Brian Goldner, President and CEO of Hasbro, and learned about the time and energy that these leaders take to involve youth in their work. Hearing from them gave me the sense that there is support for my generation to tackle issues through service in a way that I've never experienced anywhere else before.
After I learned about the innovative projects being conducted by my peers and heard of the successes of these great leaders, I decided to take my own action. I opened up a website which helps connect students in Omaha to new opportunities in the area and nationally. The website is a network of several community partners in Omaha that present new volunteer opportunities, scholarships and awards on both the local and national scale that are updated on the website, primarily through social networks.
Through generationOn, I've also been given numerous opportunities to both share and listen to other peoples' ideas and initiatives. I traveled to New Orleans as a representative of generationOn at the National Conference for Volunteering and Service, where I was impressed by the sheer number of people in the network of volunteers and the vitality of youth nationally. One of the features of the conference was a youth summit where two of my peers gave a presentation on how organizations can further involve young people in their events.
Furthermore, I traveled with generationOn to the World Youth Volunteering Summit in Barranquilla, Colombia, where I interacted with more than 900 participants from six continents. There, I found that the same principles that guided my community of service in Omaha also bonded people in countries like Somalia, China, Canada, Mexico, Peru, Ghana, Scotland, Northern Ireland, Colombia, Brazil, Venezuela, France, Russia and Germany (just to name a few). Service is an international phenomenon. There, I presented a workshop along with my YAC colleague, Clay Hurdle, on the importance of including social media in the work of nonprofits and service initiatives to mobilize people to action, especially our generation.
From meeting prominent leaders to collaborating with my peers to being able to share ideas and brainstorm with volunteers nationally and internationally, generationOn has provided me with an amazing experience where I have learned so much about myself and the abilities of my generationOn to make their mark on the world.  It has truly been a phenomenal experience!  The generationOn YAC opened doors, and introduced me to a new world that I instantly fell in love with. It shaped my ideas, my goals, and the field I plan to pursue at a professional level. I urge you to start your journey by applying today!
Share this post