Here's How to Find Volunteer Opportunities – When You Want, Where You Want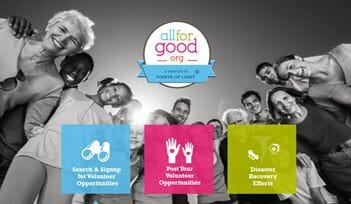 Let's say you love animals and want to volunteer your time helping abandoned pets in your community. Or, you're looking for a way to give back this holiday weekend, to recognize the Martin Luther King, Jr. Day of Service.
In seconds you can have a list of options, as The Huffington Post reports in "13 Websites That Will Match You With The Perfect Opportunity To Make A Difference."
Two of those sites – AllforGood.org and generationOn.org are brought to you by Points of Light.
Try them out today to find volunteer opportunities near you that are meaningful to you. At AllforGood.org, you can search by your area of interest, keywords, and your city, state or zip code. The Huffington post writes, "The largest database of volunteer opportunities online, All for Good is the ultimate platform for finding ways to make a difference. Each month, the site hosts 150,000 local volunteer listings in major cities."
And generationOn.org "gives young people the tools and know-how to create change in the world," The Huffington Post says. "From veterans to the environment to bullying, generationOn gives young people concrete concepts and a how-to for ideas, such as recipes to make for families in need or holding a park cleanup." See a list of projects here.
Check out AllforGood.org and generationOn.org to make volunteer plans this weekend and whenever you have time to give.
Share this post