Here's How You Can Fight Hunger
Hunger affects people in urban centers, suburbs, rural areas – and communities like yours.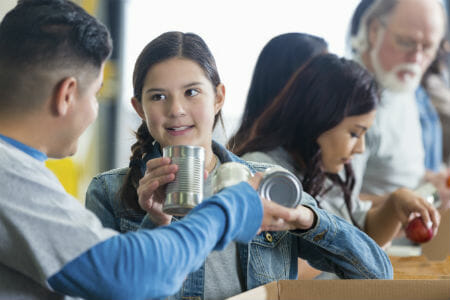 Putting your skills and passions to work, you can help.
Maybe you're a terrific cook who can make meals for those who can no longer cook for themselves. Or a digital expert who can help a hunger-focused nonprofit improve its website.
Check out the volunteer project search at HungerVolunteerConnection.org. You can narrow your search by your location and the issues that interest you. The site sorts through service opportunities that match your schedule and skills, and there are even virtual projects you can do from your computer.
In partnership with the ConAgra Foods Foundation, Points of Light and five other leading volunteer organizations have collaborated to bring you HungerVolunteerConnection.org, which works to inspire and engage more people to dedicate their time, talents and voice to the fight against hunger.
And if you work at a nonprofit centered on hunger, check out these resources designed to help your organization enhance and expand its volunteer program and rethink the possibilities of volunteer engagement.
Through HungerVolunteerConnection.org, volunteers like you have pledged more than 115,000 volunteer hours so far. Become one of them today – see how you can get involved and help end hunger for good.
Share this post