How to Build and Grow a Successful Cross-Sector Partnership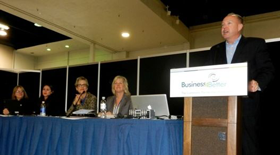 Today's Post is written by Jeff Hoffman, an accomplished corporate executive who has served on the global stage in the areas of corporate philanthropy, human resources, operations, special projects and events. Through board and commission leadership roles, he has a distinguished history working with non-profit, civic and government agencies on strategic direction and innovative programs. Jeff is president of Jeff Hoffman & Associates, a global philanthropy and civic engagement firm that enables businesses, organizations and individuals re-imagine a world full of hope, promise and opportunity.
Business professionals and not-for-profit directors often have very different perspectives. There are inequities in power and differences in resources. Building a good working relationship is critical to success. Differences can be worked through by developing strategies, including setting clear expectations and goals, based on achieving mutually beneficial results. This is the description of, Partnerships That Work, the panel I moderated at the Business4Better conference last week. To illustrate the best attributes of partnerships, I choose two that demonstrate the positive impact to both parties when there are shared goals and defined outcomes; Disneyland Resort and CHOC Children's, The Boeing Company and Inside The Outdoors.
Inside The Outdoors is a unique entity as it is part of the Orange County Department of Education and is not taxpayer supported as they raise their own funds. They are an environmental education organization where they "make the world your classroom." This partnership with Boeing has been in existence for more than five years and is an excellent example of skills-based volunteering. Volunteers from Boeing worked with students to create a new shade structure at the Outdoor Science School. These volunteers were engineers and paired with groups of students who competed against each other for the winning design. Each team designed a structure, determined what materials and skills were needed, developed a budget and then pitched their idea. The winning team's design was then actually built at a later date by Boeing volunteers. This effort demonstrated to the student's real world applications, to the disciplines they learn, such as science and engineering. It now provides the school with a new shade facility replacing one that had burned.
The Disneyland Resort partnership with CHOC Children's (Children's Hospital of Orange County) spans 50 years. Walt Disney was part of the committee of Orange County leaders who worked for the creation of the hospital. This partnership is based on alignment, the complimentary audience of children and families. It truly is a two way partnership with both organizations receiving value. Components include cash contributions, in-kind support, product donations, board participation, Disney VoluntEARS and character visits. The new CHOC building's lobby was designed with the help of Disney Imagineers and has an under the sea theme including elements from "Finding Nemo." The big annual CHOC Walk in the Park actually takes walkers through Disneyland Resort.
These two examples showcased are from large global companies, yet they are local Orange County based divisions paired with local organizations. While every company doesn't have Mickey Mouse, most of the examples can be translated into smaller enterprises. It's about using the core competencies of the company, the skills of its employees and matching with organizations where a partnership is organic and mutually beneficial. This was the purpose of the Business4Better conference, helping a community partnership movement that fosters strategies, practical guidance and inspiration for businesses that want "to do better." What particularly intrigued me about this conference is their focus on midsized companies. This is a category that has long been doing good, but without the resources afforded to their larger counterparts. This is the first B4B conference to take place in the U.S. with the first three being in Brazil, India and the United Kingdom. The sponsor, "UBM, is a global live media and B2B communications, marketing service and data provider." They are a producer of conferences and conventions. This is an example of utilizing one of their core competencies, that of convening, to bring together businesses and NGOs to tackle serious problems more effectively. There plan is to produce B4B annually and they already have scheduled conferences in London, Sao Paulo and Mumbai through 2013.
Points of Light, along with its local HandsOn affiliate OneOC, were part of the advisory board for the conference. Neil Bush, Chairman of Points of Light, gave an inspiring closing keynote address. Many of the principals of Reimagining Service were evident in the presentations such as making volunteering a core strategic function, not an add-on.
There is much momentum around companies providing pro-bono services using their core competencies such as web design, human resources, marketing, finance and program design to help nonprofits be more effective in achieving their mission. Many of these companies, including ours, are taking the Billion + Change pledge as part of the largest commitment of pro bono service in history. Business4Better is exactly what it says and hopefully more businesses of all sizes will learn that creating societal value is also a good business strategy. http://www.business4better.org/
http://www.reimaginingservice.org/
This is a reprint of an article that originally appeared on Reimagining Service's website
Share this post