How to Help Communities Affected by Hurricane Harvey
This is a developing post, and will be updated as more information and opportunities become available.
Make a donation to help Points of Light and our affiliates support the mobilization of volunteers in ongoing response and recovery efforts.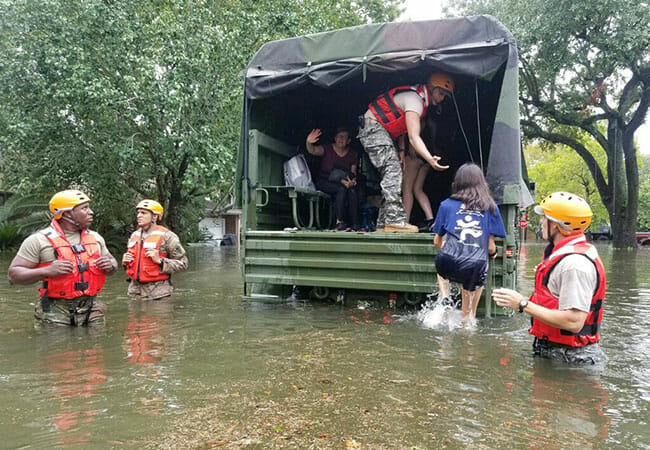 Texas National Guard soldiers arrive in Houston to aid citizens in heavily flooded areas from the storms of Hurricane Harvey.
Hurricane Harvey is the first Category 4 storm to strike the United States since Hurricane Charley in 2004, and the first major hurricane since the record-breaking 2005 Atlantic hurricane season, which saw such devastating storms as Katrina and Wilma. The slow-moving system is virtually unprecedented, forecasted to maintain tropical storm strength for five days as it moves along the Texas coast. While Harvey's winds have weakened following landfall on Friday night, catastrophic flooding and life-threatening hazards continue to arise. In this current situation, with tropical storm Harvey still producing a lot of rain over the Gulf Coast, safety is our top concern. At this time, it is critical that people who want to volunteer, especially those outside of the immediate area, do not self-deploy.
Points of Light is currently supporting first responder organizations, like FEMA and the American Red Cross, connecting with Voluntary Organizations Active in Disaster chapters across the United States to assess the situation, and coordinating with our affiliates and partner organizations in the affected areas. All disasters are local; the members of the Points of Light HandsOn network are the local experts in volunteer management, and are often the lead organization in managing spontaneous unaffiliated volunteers throughout the response and recovery effort.
Texas is still in response mode and, until the storm has stopped, we will not have a clear sense of the damage or when it will be safe to begin recovery efforts. If you would like to support the recovery effort, here's what you can do now to help:
Please don't:
Don't self-deploy at this time. The situation is still critical, highways and secondary roads are underwater, and travel is extremely difficult or unsafe throughout much of the affected area.
Don't bring supplies or donations to fire stations, police departments, etc. First responders need to focus on immediate needs and emergency situations.
Please do:
Make a donation to help Points of Light and our affiliates support the mobilization of volunteers in ongoing response and recovery efforts.
If you are in the Houston area, volunteers are encouraged to contact Volunteer Houston, a Points of Light HandsOn Network affiliate, for opportunities to get involved. Nonprofits requesting assistance from volunteers can register their needs with the Volunteer Houston Virtual Volunteer Reception Center.
It's been remarkable as a Houstonian to see the uprising of benevolent, kind-hearted points of light in our community that are trying to help each other, neighbor helping neighbor…it's amazing to see this community come together to help people in their greatest time of need.
Neil Bush, Points of Light Chairman, on KPRC TV
Other Media Coverage
Points of Light is communicating and coordinating a humanitarian response with our affiliates and corporate partners. As the storm dissipates and a more clear assessment of the crisis and need is available, we will provide updates on how to get involved.
Learn more about Points of Light's disaster services program.
For the latest, please sign up for Points of Light email news and announcements, follow us on Twitter and check out our updates on Facebook.
Share this post
---