How Serving in AmeriCorps Led to Working for Google
Today's post is by AmeriCorps Alums member Ben Weaver, who served as a member of AmeriCorps VISTA with Points of Light, in partnership with HandsOn Network and Google. He's now an administrative assistant with Google's Site Reliability Engineering team in Pittsburgh.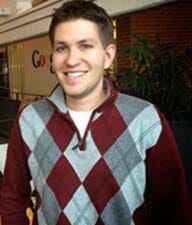 In 2011, I spotted a tweet from @iheartpgh that simply said "Like technology? Like helping nonprofits?" with a link to a blog post. The link eventually lead me to the application for HandsOn Tech, an AmeriCorps VISTA program created by Points of Light in partnership with HandsOn Network and Google.
At the time, I had a full-time job and I was somewhat worried about the very small AmeriCorps stipend, but it seemed like a great opportunity to use my talents and experience with technology to help local nonprofits fulfill their missions. The opportunity to work with the local Google office in Pittsburgh was an added bonus. I knew that Pittsburgh had one of the highest numbers of nonprofits per capita and an ever-growing university landscape and technology sector; I felt that the potential to match these two was huge. I was fortunate enough to be accepted into the program.
At the beginning of our service year, we visited Google's headquarters in Mountain View, Calif., for training on nonprofit technology solutions. In addition to the support of HandsOn Tech itself, the trip gave me a lot of insight into Google's nonprofit outreach, employee volunteering and community affairs teams. It was great to see the involvement they had in the communities where each office was located.
Our Google mentors at the Pittsburgh office were incredibly helpful in providing meeting space, guidance with technology questions and – most importantly to AmeriCorps members tasked with living at the poverty line – free lunch every two weeks. Googlers, along with volunteer staff from Microsoft, LinkedIn and local Pittsburgh technology consultants provided training for nonprofits and onsite support on several occasions.
A VISTA member's service term is limited to one year, but I saw great potential in the program and wanted to remain involved and expand upon it, especially in matching skills-based volunteers from Pittsburgh's many technology companies and universities with local nonprofits.
Pittsburgh Cares worked with me to create a full-time staff position in order to continue this mission locally. In the new role, I helped to bring onboard a second group of VISTA members and was able to participate in their training in Mountain View. As community programs and technology coordinator at Pittsburgh Cares, I supervised the VISTA team, sharing knowledge acquired the year before, and continued working with Google Pittsburgh on general Pittsburgh nonprofit initiatives.
A job became available in Google's Pittsburgh office, and I jumped at the chance for a role at Google, especially one that would allow me to continue to work with the HandsOn Tech team, Pittsburgh Cares and the local nonprofit community as a whole. I became an administrative assistant with the Site Reliability Engineering team in Pittsburgh.
Recently, I helped HandsOn Tech Pittsburgh present a social media strategy workshop to more than 40 nonprofit staff members, one of several dozen workshops that I've helped with before, only this time as a Googler.
Do you have a similar story of how your current position is rooted in your AmeriCorps service? Tell us how you were Made In AmeriCorps here.
Share this post