I Was Lucky To Come From A Family Of Volunteers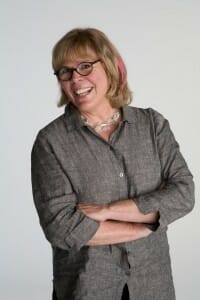 Today's turning point post from guest writer, Peggy Flynn, a Project Director at ETR Associates, who is her spare time is on the Board of The Volunteer Center of Santa Cruz County (CA), and through them a volunteer literacy tutor. She also volunteers with United Way of Santa Cruz County and with Planned Parenthood Mar Monte.
I am very fortunate to have come from a family where I saw both parents volunteer in our community, mostly in church activities, but also with sports. It's especially admirable that both of my parents had the energy to do much besides raising seven children! Of course I didn't fully appreciate all the work and management that it took to raise, feed, and nurture us until I was an adult and had step-children. My mind still boggles at how my mother planned, shopped and prepared three meals a day for nine people. They also made time to read to us, help us with our homework and finish all the school projects that we left to the last minute. "Good Gravy!" as my mother used to say. How did they do it all?
But even with this great modeling as a child, I was a young adult before I became involved in a meaningful way in my community. I was lucky that I also come from a family of readers; in fact, reading was one of the ways we could escape from each other—living with eight other people can sometimes be confining. I majored in journalism at George Washington University and was surrounded by people who were voracious readers and interested in all aspects of life: politics, economics, culture, etc. We all read. In fact, I didn't know anyone who couldn't or didn't read. Reading meant understanding, exploring and led to intellectual, emotional and even psychological attainment as new ideas were explored or different perspectives pondered. I couldn't imagine not reading, not being able to read.
A few years after undergraduate school I saw an ad for volunteer literacy tutors for our local Vietnamese and Cambodian community. I signed up, received some training and started meeting with families. Their children were learning English in school, but the parents and other adult family members weren't. It opened my eyes to so many things, like the difficulties of learning a new language as an adult, the stress of having to rely on children as interpreters and the isolation of being in a new culture without the language skills to negotiate it. I also wasn't prepared for how I would be treated. In one family there was only one chair, and they insisted I sit on it, even though I would have been more comfortable sitting on pillows on the floor with everyone else. "No, no," they all cried, "teacher gets chair." It was another insight for me into how much education and teachers were revered within their culture. It was also humbling for me because in my eyes I was "just a volunteer" coming to their homes a few hours a week, but to them I was the conduit to information and skills that they needed and wanted. I was humbled and thrilled to share their successes, like the first time a young mother was able to call school and report that her child would be absent: in English and all by herself.
I've been involved in many other volunteer activities since, but 30 years later, I am still a volunteer literacy tutor, working through my local volunteer center in Santa Cruz County, Calif.  I still am thrilled when I see someone gain language skills, knowing that it means they are on the road to experience so much. Once you can read, the world opens up to you in so many ways; you don't have to rely on others for translations or interpretations and you can participate in the larger community around you.
Share this post