Improving Lives Through Technology and Mentorship, Volunteer Supports Rural Education and STEM Initiatives for Youth in India
Naveen Prathapeneni is committed to changing the world in small, impactful ways. A lifelong volunteer from Hyderabad, Telangana, in India, who began giving back to others at an early age, he focuses on skills-based volunteering and works with multiple organizations to support rural education and STEM workshops for students.
Naveen believes that education is a fundamental right for everyone, and that a person's background should not affect access to quality, affordable education. Outside of his job as a cloud solution architect with IBM India, he helps nonprofits and organizations scale their operations through technology, mentors high school and college students and has developed a mobile application to help small-scale farming businesses.
Reaching more than 10,000 students annually, Naveen is devoted to improving lives through education, mentorship and technology. He believes in the power of people, and understands that it is the actions of individuals that have the power to change the world.
In recognition of his dedication to service, Naveen received the "Volunteer Hero" award from iVolunteer, a Points of Light Global Network affiliate in India that brings together volunteers and organizations to share time, skills and passion to promote social development. We spoke with Naveen to learn more about his work in rural development and education.
What inspires you to volunteer?
I come from a rural background where most of my schooling was done at rural schools that had minimal access to information and less exposed to career opportunities. After schooling, I could not choose a career path to align with my interests and passion. I had to face several challenges in positioning myself in the market in align to my interests. This experience had motivated me to focus on rural education and helping students.
Tell us about the organizations you volunteer with, and how you are involved.
I work with several nonprofits and schools. I have been working with Nirmaan since 2011, helping them scale up their operations with technology adoption. I adopted one primary school and work with 12 rural high schools, one junior college and one degree college in Andhra Pradesh, Telangana.
Nirmann Education Helpline: I am considered a social ambassador, and motivate rural students and connect corporations. I have participated in several initiatives and flagship programs and have mobilized volunteers and conducted train-the-trainer workshops.
Remote Volunteering: I have been a service lead and remote mentor at a college in the Khammam, Telangana, district. I initiated remote mentoring programs and conducted career workshops, code camps and spoken English classes.
Old Alumni Alum Lead: I Initiated alumni setup at 12 high schools located in Mamidikuduru Mandal, East Godavari, Andhra Pradesh. I worked to improve rural schools, conducted career counseling, led train-the-trainer workshops, science fairs, science and engineering workshops and STEM sessions.
How did you become interested in education and sustainable agriculture? Why are these causes so important to you?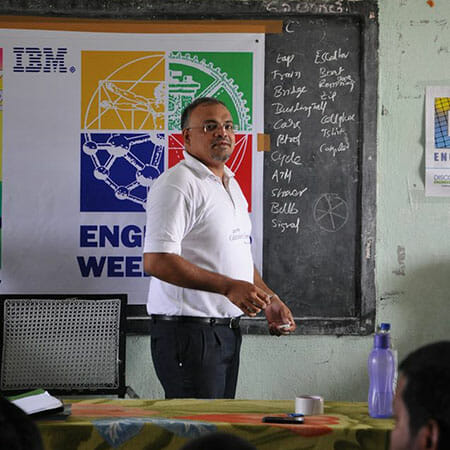 My primary work areas are focused on rural education, improving schools and livelihood support. I also worked extensively in sustainable agriculture, promoting STEM careers, disaster management support and supporting people with disabilities.
Education is a fundamental right and everyone in society needs to have access to quality and affordable education to fulfill their aspirations
I strongly believe that a "do2Learn" orientation works better for students in rural areas, hence I focus on STEM education and conduct STEM workshops and prepare reusable kits. Every year I conduct STEM works workshops for 500+ students, and so far I have addressed more than 10,000 students.
I got an opportunity to work with nonprofits focusing on rural development while working with rural schools. This has created interest to explore the agriculture field. Voluntarily, I have developed a platform and mobile application to help small business and small-scale farmers to connect supply and demand, and access advisory support with minimal cost.
Tell us about the mobile application you developed, and how it helps users.
I proposed and initiated the development of the mobile/kiosk based app to help the Nirmaan Education Helpline to scale up their operations in disseminating career information to students, teachers and even counsellors with minimal effort.
This kiosk is touch-based and allows students to connect to the Education Helpline through a toll-free number. Student can register and complete the pre-assessment form and choose two careers choice of interest. The system asks a few questions – a psychometric test – and based on certain parameters, suggests a preferred career. Student can browse the careers and see videos related to the career, know about the path to achieve that career and other information like availability of hostel, total cost of the course, scholarships, etc., including list of colleges and entrance exams.
I was responsible for architecting, designing the solutions, training interns, day-to-day interactions with the development team, and conducting the pilot. I also made further enhancements to add cognitive features like a chat bot to answer career-related queries.
How are you involved with iVolunteer?
I participated in mentoring workshops conducted by iVolunteer and worked closely with the iVolunteer team in conducting STEM workshops as part of a STEM campaign organized by my organization.
What has been the most rewarding part of your volunteer work? Do you have a favorite memory or story to share?
Of course, there are many. In one incident, one student who studied in a rural school contacted me two years ago to express her gratitude for motivating her to pursue engineering, and mentoring her to overcome her career challenges. She updated me that she joined in a start-up company in Gujarat.
What have you learned from your experience as a volunteer?
Volunteering is not just a giving process or just giving. As I mentioned, it is both giving and receiving. I have learned how to face social issues, challenges, and some solutions and how technology can help in solving some of those. Lastly, often people tend to change the world, but my experiences made me stay focused on one of two areas where I can work long-term and see the benefit and impact that I can bring,rather than trying to address every problem of the world. This approach has given me an opportunity to apply my skills in specific societal problems and work at a grassroot level.
Why do you think it is important for others to volunteer in their community?
Enjoy in giving back to society, you will get a lot in return, like satisfaction, network, new learnings, new skills, new people, new relations, new stories, different dimensions in thinking … a lot.
What do you want people to learn from your story?
Always do what you like and like what you do. Choose your area of interest and stay focused.
Honestly, what you are going to gain will be more than what you give.
Time management and work-life-balance used to be a big challenge. I started involving my family members in my activities, and they started enjoying the work. I tried to pair some of my field activities with family trips so that they are also engaged and feel the difference.
What's next for you as a volunteer?
Continuing my focus on education in rural areas, my key projects are:
Study Circle at Government Degree College Khammam: I will strengthen the study circle by strengthening alumni and motivate them to be part of this initiative and help more than 600 students to achieve their dreams and goals. I will also help empower them with livelihood skills and work-readiness aspects. When I started working with this college, 80 percent of the students expressed fear, lack of guidance and moral support as major challenges.
Extend classroom at Government Primary School, Pochammabasti: This school is operating in 2.5 class rooms with 140 children from first to fifth grade. There are several proposals to government officials but, no progress. I am planning to crowdsource funds along with my contributions to set up temporary classrooms by the beginning of next academic year in 2020.
Operational Efficiency at Nirman Vidya Helpline: Continuing my support to Nirman Educaiton Helpline, I plan to enhance the mobile application with psychometric tests and cognitive capabilities. This will help counselors to quickly access information and learn the processes at call centers, and students can access information by asking queries in natural language.
Do you want to make a difference in your community like Naveen? Find your local Points of Light Global Network affiliate to get involved.
Share this post