Joining Forces Anniversary Tour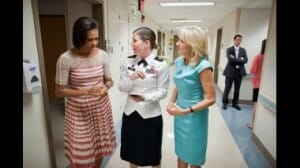 Michelle Obama and Jill Biden launch Joining Forces in 2011
Yesterday marked the start of First Lady Michelle Obama & Dr. Jill Biden's Joining Forces Anniversary Tour. They kicked off a two-day tour celebrating the one-year anniversary of Joining Forces, their initiative to recognize, honor and serve military families. Since launching Joining Forces on April 12, 2011, significant progress has been made to rally Americans around military families. Communities all around the country have joined forces to  take action to support veterans and military families as they serve our country and throughout their lives. The Joining Forces two-day tour will highlight examples of organizations and companies that have made significant commitments to support military families.
The initiative focuses on key priority areas – employment, education, and wellness – while raising awareness about the service, sacrifice, and needs of America's veterans and military families.
In partnership with Joining Forces, Points of Light has committed to mobilizing service leaders across the country to leverage the Community Blueprint, a new tool and initiative, to help local service leaders improve their communities' support for veterans, service members and their families in the areas of education, employment, mental health, reintegration, and financial and legal services.
Read more about Joining Forces accomplishments this past year in the Joining Forces Fact Sheet.
Find out more information about the Joining Forces anniversary tour in our News.
Share this post