Leaning Toward Leadership? Consider a Nonprofit Board
Once involved, volunteers often see they can make a difference – and want to do more. Feeling that pang, longtime volunteer Anne Fisher considered serving on a nonprofit board of directors to make more of an impact on her community.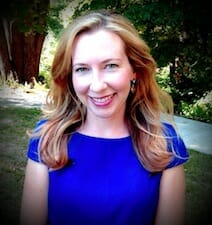 Anne Fisher
"I thought joining a board might be a great way to do that, but I wasn't quite sure where to start," Fisher said.
Having no prior board experience, Fisher decided to take part in The Bridge, a Seattle Works program that prepares people for board service.
About 10 years ago Tara Smith, the executive director of Seattle Works, saw the organization's method of placing people on boards for a yearlong trial period wasn't ideal. "We wanted to connect people more quickly to boards," Smith said.
So The Bridge was born. During the one-day program, participants learn from experts in different fields about fundraising, finance, leadership development and different board structures. The program also includes an interactive board simulation. The goal is to help participants figure out whether board service is right for them. (If you're not in the Seattle area but would like to find out more about serving on a nonprofit board, check out these resources from The Bridgespan Group.)
"The Bridge was a helpful introduction to board service," Fisher said. "It helped me understand what questions to ask when considering an organization and how to articulate both what I had to offer and what I wanted out of the experience."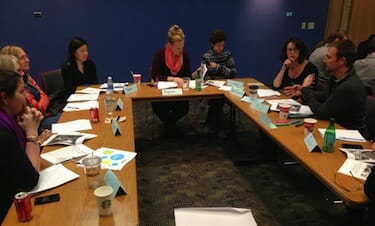 Prospective nonprofit board members participate in a Bridge session at Seattle Works.
Aside from training participants how to be board members, Seattle Works – part of Points of Light's HandsOn Network – helps program graduates meet and get paired with different boards.
These Board Speed Dating nights, as Seattle Works calls them, bring together Bridge graduates and prospective nonprofits looking for board members.
Ben McCarthy, who heads The Bridge, says Seattle Works partners with more than 40 nonprofit partners focused on such issues as community engagement, the environment, health and wellness, the economy, the arts, education and more.
Following Fisher's graduation from The Bridge she became a board member for Youth in Focus in 2011 and is currently the board's president. Youth in Focus, now celebrating its 20th anniversary, uses photography to help at-risk youth see the world in new ways so they can make positive choices in their lives.
"I've found my board service to be an incredible learning experience," Fisher said. "It's been a chance to take on new challenges, build my leadership skills and feel like I'm making a meaningful impact. It can be a lot of work at times, but it's very rewarding."
Trina Gadsden, executive director for Youth in Focus, acknowledges how The Bridge has helped Fisher and in turn Youth in Focus: "The Bridge program prepared Anne for the role of board president because it gave her the necessary tools and experience to navigate and lead positive change."
Seattle Works runs The Bridge four times a year for the public in addition to holding private sessions for corporations, such as Microsoft and Boeing. Since its first year The Bridge has prepared approximately 1,500 people.
Because of The Bridge's success and in response to feedback from people who wanted more training and support, Seattle Works created Bridge 201 – a six-hour advanced training session designed for current board members to become more effective leaders.
For those thinking of board service Fisher has some advice: "I believe that having a passion for the organization's mission is essential. … Spend time understanding an organization's missions and goals, what they need from their board, their greatest challenges and opportunities, as well as the time and financial commitment required from their board members. Clear expectations and the right fit help to create a fulfilling and valuable experience."
Share this post