A Memorial Day Challenge – Will You Accept?
This post is by My'Kah Knowlin, 13, of Lincoln, Neb., founder of Boxes of Love. The organization provides care packages to people in need, including disaster victims and military members serving overseas. My'Kah inspires other young people to get involved in volunteer service as a generationOn Hasbro Community Action Hero.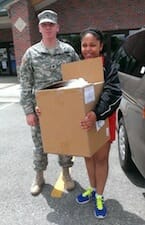 My'Kah Knowlin makes a care package delivery.
I am a 13-year-old, soon-to-be eighth grader from Lincoln, Neb. In 2011 I started my own foundation called Boxes Of Love, after hearing about the Joplin, Mo., tornado. I was 10 years old and thought that this would be a one-time service event.
I am proud to say that since that time three years ago I have had Operation Afghanistan, Operation Sandy Hook and Operation Moore, Oklahoma, and I am currently working on Operation Tanzania. I have been honored to be able to help so many people in this past three years.
On my birthday in March, I learned that I was chosen as a Hasbro Community Action Hero. What a shock – I never expected to receive such an honor. I was flown to New York City to meet with the amazing people at generationOn and Hasbro. I got to attend an event that would honor not only myself but many other amazing people, adults and kids alike who also give back to their communities.
I look forward to what my year as a national award winner has in store. I plan on hosting numerous service events and I hope to be able to travel back to NYC and across the USA to speak to youth about the importance of giving back. You can see what we've been up to lately by visiting my website www.boxesoflove.net.
One my favorite projects was Operation Afghanistan. I had just finished packing boxes for Joplin, Mo., when I learned from a family friend, whose grandson was in Afghanistan, that our soldiers do not always have dry or warm socks, toiletry, hygiene items or things to keep them busy and their minds off of home. I was surprised and humbled to realize that the men and women who serve our country do not always have support from home.
It made me want to do everything I could to make their time in Afghanistan easier. I started by asking for donated items to fill boxes – word games, dog toys, socks, cards, snacks and items that would remind them of home or that they could use while on or off duty. After filling the boxes with these items I shipped them with the help of donations that were given to my cause. I hope that the Marines enjoyed their little surprises from home.
I challenge everyone that reads this to grab a box and some friends this Memorial Day and fill the box with items you know you would want if you were away from home. You can take the box to a military base near you and ask that it be given to a family that may be struggling or a Veterans' hospital.
If we all fill just one box we could be the difference in many military lives, after all, they have all worked hard to make a difference in our lives. It's a small way to show our appreciation for all they do or have done. Remember they are our true heroes!
Share this post
---