Points of Light Conference to Feature Models of Service from Across the Globe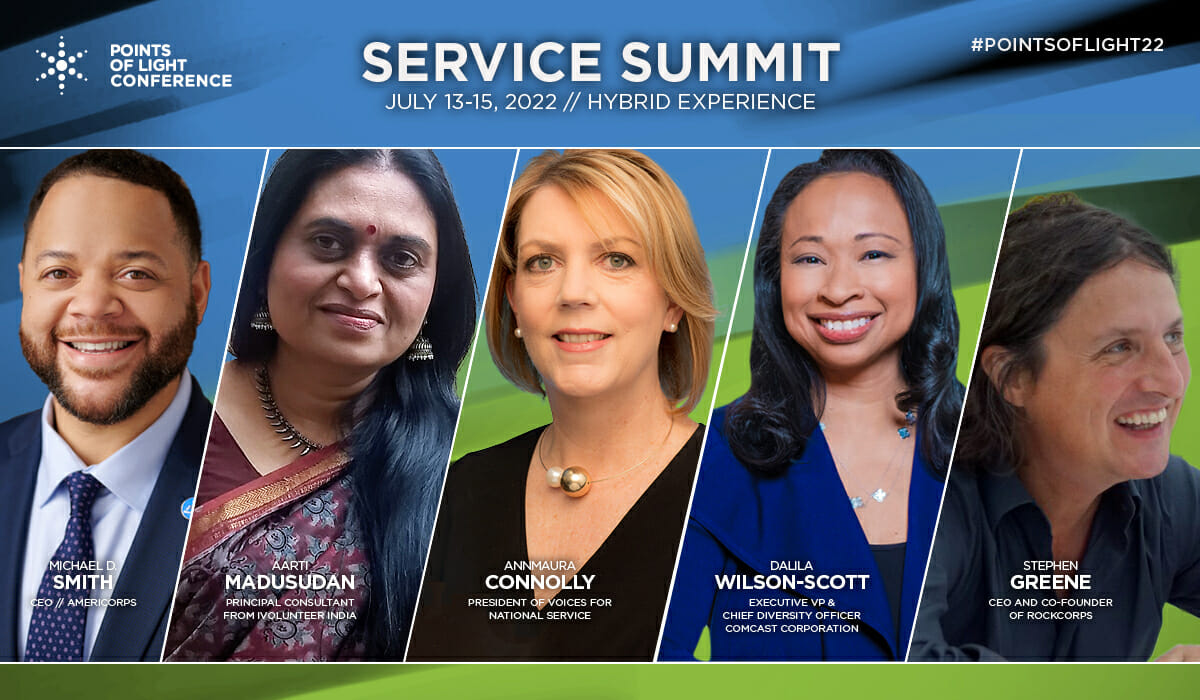 Each year, the Points of Light Conference brings together global nonprofit, government, business and civic leaders for inspiration, education and connection. And each year, we work tirelessly to host conversations that will truly empower Conference attendees and equip them with tools and strategies to bring their respective missions and CSR goals to life.
This year's conference will include a Service Summit Luncheon, a time for global perspective that explores models of national service in the United States, United Kingdom and India. From the AmeriCorps shared agenda to creating pathways to employment in the public sector, our speakers will dive into the countless shapes and forms that national service takes throughout the world. 
What the Research Says

Points of Light's Civic Life Today: The State of Global Civic Engagement research yielded some interesting statistics regarding perspectives on civic engagement from around the world. Among them:

Individuals stated their highest priority issue is education in India (59%) and Brazil (70%). 

Individuals stated their highest priority issue is environment/climate in the U.K. (52%).

Individuals stated their highest priority issue is healthcare in the U.S. (48%).

 

Volunteering was the activity ranked third or fourth by every country as important.

 

Nearly every respondent in India and Brazil and two-thirds of those in the U.S. and the U.K. said they expect companies to address social challenges.
The Service Summit will open with a fireside chat with Michael Smith, CEO of AmeriCorps, and Dalila Wilson-Scott, executive vice president and chief diversity officer at Comcast Corporation.  
Smith is the eighth CEO of AmeriCorps and was nominated by President Biden in June 2021, confirmed by the U.S. Senate in December 2021 and officially started in January 2022. Smith has dedicated his career to social justice and public service in underserved communities like those where he grew up.
 He previously served as director of the Social Innovation Fund for the Obama Administration. Through his work on this key White House initiative and program of the Corporation for National and Community Service, he reinvigorated the program, managing its largest funding competition, introducing its first Pay for Success grant program and overseeing a portfolio of more than $700 million in public-private investments in support of more than 200 nonprofits. Prior, Smith served as senior vice president of Social Innovation at the Case Foundation, where he oversaw the foundation's domestic giving and program strategy, and guided numerous global public-private partnerships.
Wilson-Scott oversees all Diversity, Equity and Inclusion initiatives and philanthropic strategy for Comcast, including the company's $100 million commitment to advance social justice and equality. She also leads Comcast's community impact initiatives, working across the organization to provide strategic leadership throughout all aspects of its corporate social responsibility programs, including employee engagement and volunteerism. 
In addition, Wilson-Scott oversees efforts to utilize Comcast's world-class media platforms to bring greater attention to the work of its philanthropic partners. In 2020, Comcast provided nearly $500 million in total support to 4,500 nonprofit partners sharing Comcast's commitment to creating a more connected and equitable world.
Additional Service Summit speakers will include AnnMaura Connolly, president of Voices for National Service, Aarti Madhusudan, principal consultant from iVolunteer India and Stephen Greene, CEO and co-founder of RockCorps. These leaders will participate in a panel discussion.
Points of Light is honored to host these global changemakers and share their insights. They bring unparalleled perspective on the power of national service to address urgent needs in healthcare, public services and the environment. They instill a spirit of service in children through school-based volunteerism. They are developing the next generation of leaders. We're thrilled for Conference attendees to have the opportunity to hear from them and gain key takeaways from this session. 
Are you registered for Conference yet? Don't wait! Head over to the Points of Light Conference page for all the details, and join us July 13-15, 2022.
Share this post