Service Unites a Divided Nation
By Natalye Paquin, CEO, Points of Light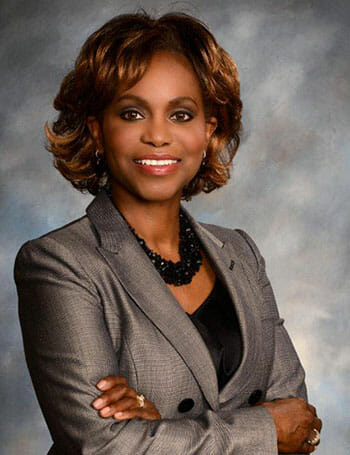 There is a steady drumbeat of stories that focus on our differences. No matter how you consume your news, you'll see or hear stories about intolerance in our daily lives and political stalemates at every level of government. At the beginning of the year, the Pew Research Center released a poll and said that Americans predicted the country's deep political divisions to persist – with 86 percent saying the country is more politically divided than ever.
Shortly before that poll was released, however, Points of Light affiliate New York Cares reported that, just a week after one of the most divisive national elections in our country's history, there was a 137 percent increase in people who came to them with an interest in volunteering.
As we approach the end of 2017, the two sides of this story continue to play out. Yes, we are still seeing rallies of hate and intolerance and our elected officials still don't agree on solutions to some of the toughest challenges we face. But on the other hand, people are seeking out ways to do something that makes their community better or helps an individual in need. It's the inclination to help in times of need. It's what Americans do. And it binds us together as a nation.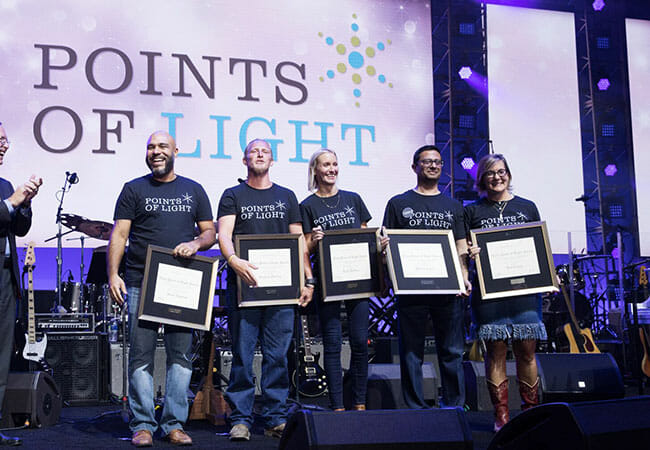 Photo Credit: Paul Morse
Daily Point of Light honorees Derek Auguste, Zachary Dearing, Leah Halbina, Murad Ajani and Kat Creech are recognized on stage at the "Deep From the Heart: One America Appeal" hurricane relief benefit concert.
The recent series of natural disasters has offered a striking visual – a national story about the power and impact of volunteers. Communities darkened by flood damage ultimately shine with the bright light of neighbors helping neighbors.
Some people walk out of their front doors to help others in their community. Some drive across the country to volunteer. And those who aren't able to deploy, organize relief efforts from home.
The truth is, people committed to serving others unite around our common humanity.
When it comes to helping – whether it's rescuing people from flooded homes or pulling up damaged floors after a storm – it doesn't matter if you are a Democrat or Republican; rich or poor; black or white; religious or not. Volunteers unite in service. And, strength, resiliency and generosity flow from those simple acts of service.
This ability of service to others to unite us was most visible on stage at the recent "Deep From the Heart: One America Appeal" concert to support hurricane relief efforts in Texas, Florida, Puerto Rico and the U.S. Virgin Islands. How often do you see pop icon Lady Gaga share a stage with the legendary country band Alabama, R&B "Soul Man" Sam Moore and gospel sensation Yolanda Adams? How about President Barack Obama sharing a stage with President George W. Bush, President Bill Clinton, President George H. W. Bush and President Jimmy Carter?
This group of musicians gave their time and talent, and this bipartisan group of former U.S. presidents stood together to recognize volunteers with Daily Point of Light Awards for their efforts to help their neighbors and fellow Americans in the wake of these devastating storms.
What may seem like fleeting moments of unity in response to major disasters, actually take place all the time. Just this past weekend, thousands of people created or joined volunteer projects in communities across the country for Make A Difference Day – one of the largest single days of service in the United States.
During Hands On Atlanta Day in October, organized by Points of Light affiliate Hands On Atlanta, more than 3,000 people rolled up their sleeves to participate in 64 volunteer projects across the city. Members of one community spent the day building a playground for children in their neighborhood. In another community, they planted trees. Parents of students at a downtown Atlanta school came together for a school revitalization project. And in the 48in48 hack-a-thon, skills-based volunteers gave their time and talent to build 48 customized websites for local nonprofits, in 48 hours.
In the collage of photos from these days of service you will see hackers, neighbors, parents and strangers – each freely giving of their time, talent and light. They represent a rich diversity of humanity where service really does unite.
Share this post