ServiceWorks Graduate Goes from Hollywood to the White House
By Jason Meucci, vice president of communications for programs at Points of Light.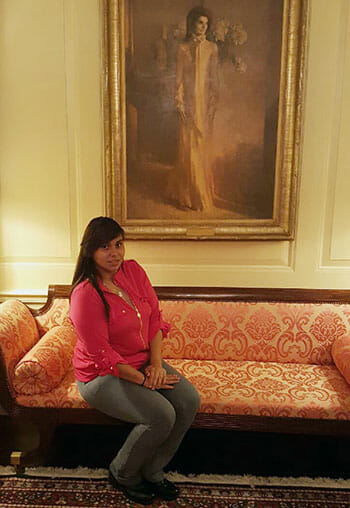 Sandy Aguirre during her visit to the White House.
By her own admission, Sandy Aguirre's story is unbelievable. Some would say it's the stuff of Hollywood. And in this case, it literally is. Only this fairy tale is a true story.
Actually born in Hollywood, California, this 18-year-old recent graduate of ServiceWorks at the Youth Policy Institute in Los Angeles, was with her family in Central America, struggling just to get back into her own country.
Yet there she was, in late February, sitting in the State Dining Room of the White House – just a few feet away from Michelle Obama and a panel of celebrity recording artists she'd admired for years. She admits, "It never passed my mind in a million years that I'd ever be at the White House."
So, how does such an improbable thing happen?
It starts with a key theme of the message the First Lady delivered that day: hard work. And working hard has been a core value to Sandy for a long time. Her family worked hard to get back to the U.S. after being robbed of their passports in Honduras, leaving them stranded outside the country during the years she should've been in high school. So when she finally got back home, she was ready to work hard to get her GED.
By October of 2015, she was doing just that at ServiceWorks partner YPI – which sits within view of the world-famous sign marking her birthplace. It was there that Cruz Solis, an AmeriCorps VISTA supporting ServiceWorks, noticed Sandy's determination and yes, work ethic. He asked her if she'd be interested in furthering her development by participating in the program.
A young lady with big goals, ambition and a passion for helping her community, she was excited to enroll in ServiceWorks. It was a decision that immediately led to personal growth – and eventually, the trip of a lifetime. On Tuesday and Thursday evenings last fall, Sandy would join her cohort at YPI for sessions and service projects designed to improve her college readiness and expand her professional development.
"I changed a lot because I was shy. I wouldn't say anything. Now if I have an idea, I'll speak out about it. And my family noticed a big difference, because I talked more often. I was always talking about what I learned in ServiceWorks."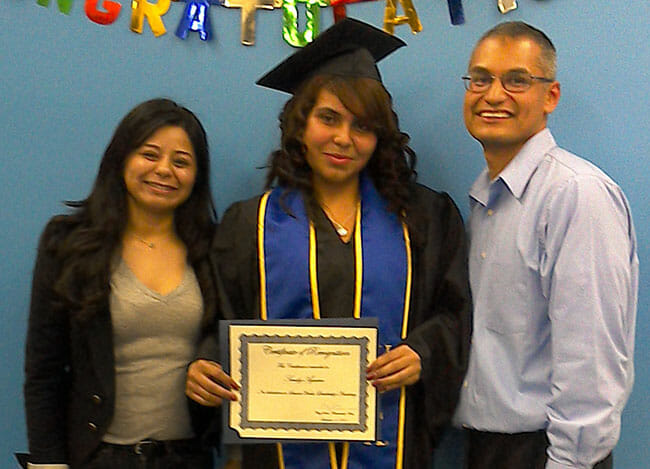 Sandy and Cruz Solis (right) at her ServiceWorks graduation.
Solis saw a similar transformation happening: "She got more confident within herself. The program made her comfortable to stand in front of a room and speak."
But there was something else he noticed about Sandy – she was always going above and beyond in her assignments, always responsible and dependable. Juggling the demands of working towards her GED, while taking part in ServiceWorks – and working as an assistant, teaching English to adults at a local school, Solis was impressed by her commitment to better herself and her community.
So when YPI asked him if there was a Service Scholar that might be deserving of trip to Washington to attend a White House event honoring Ray Charles for Black History Month, he chose Sandy.
"It was a good opportunity for her because she hasn't been to DC and I wanted to broaden her horizons. I know bigger and better things will come her way if she stays on this path. And I want to instill in all kids that opportunities will present themselves if they do so."
You can imagine her reaction to getting the news, which came as a total surprise. "I thought it was a joke. Words couldn't come out of my mouth. I was really proud of myself because I'm a student that didn't go to high school, trying to get her GED, working … I never thought I'd get such an opportunity."
Her parents were just as shocked. "At first they didn't believe me. But then they were so proud because they said I earned it."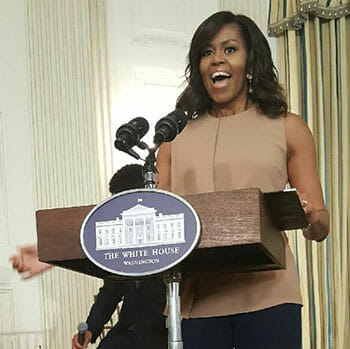 First Lady Michelle Obama speaks about the importance of an education.
And "earning it" is exactly what Sandy got to hear Michelle Obama speak about. Sitting just one row away from the First Lady, she listened intently about the importance of an education and how it's something you have to work hard to earn.
She came away from the experience more motivated than she's ever been. "It was a big impact on me because of my story. It changed me a lot to be at that event. Now I want to accomplish my goals and work even harder. And I want to motivate others to do the same."
While her visit to the White House was the highlight of a nearly weeklong trip, a stop at the Lincoln Memorial fulfilled a dream she's had since childhood – thanks to pop culture.
"You see the Reflection Pool on so many TV shows and movies. When I was there I actually touched the stairs at the Memorial because so many people have been filming there, like Forest Gump. I would always say to my mom that I wanted to be there. And she'd said 'one day if you work hard and earn it.'"
Back in Southern California, that's exactly what she intends to do. After earning her GED, she plans to go to Los Angeles Community College, then on to USC or Cal State so that she can be a special education teacher.
The confidence gained through Sandy's participation in ServiceWorks, combined with the inspiration the program gave her to help others, comes through when she talks about her future. "I want people to say 'she went from getting a GED to making a world change.'"
And Sandy's doing some inspiring of her own. Cruz Solis, the AmeriCorp VISTA member who suggested her for that life-changing trip to the nation's capital says people like Sandy are what make his work so worthwhile.
"You work with them, meet them at a point in their life when they're very impressionable and you can plant a seed. I can step away and feel confident she's going to achieve what she wants to achieve."
This Hollywood ending feels like it's just the beginning.
ServiceWorks, managed in partnership with the Citi Foundation and the Corporation for National and Community Service, is a national program that combines service learning, volunteerism and success coaching to help Opportunity Youth (low-to-middle income, ages 16-24) develop the skills and connections they need to prepare for college and career.
Share this post