Share Our Strength Celebrates National Volunteer Week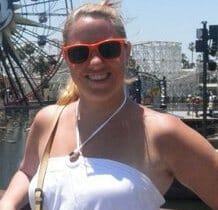 This week we are highlighting National Volunteer Week and celebrating the extraordinary impact volunteers have through service. Today we highlight Share Our Strength and their work to help fight childhood hunger.

Today's blog comes from Jessica Bomber, manager of Great American Bake Sale, involved in grassroots fundraising and youth engagement at Share Our Strength. GenerationOn and Share Our Strength work together through a national partnership to engage the generationOn network in the Great American Bake Sale.
I recently wrote a blog post for Points of Light about Share Our Strength's Great American Bake Sale, a national campaign that mobilizes Americans to host bake sales in their communities to help end childhood hunger, and how kids can host bake sales and make a huge difference. But the Great American Bake Sale is just one of the ways that kids can get involved with Share Our Strength.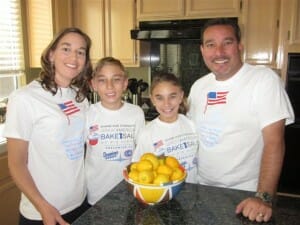 We're mobilizing youth of all ages through our new website, www.NoKidHungry2.org, recently launched with the help of the Sodexo Foundation. It's a place where a new generation of anti-hunger advocates can come together, learn about the issue and find exciting ways to get involved. I recommend each of you check it out and share with your friends, classmates and families. Share Our Strength has volunteers across the country planning culinary events, teaching Cooking Matters classes, hosting bake sales and so much more. We provide our volunteers with the knowledge and resources needed to represent Share Our Strength in their communities and bring a voice to an issue that is often overlooked: childhood hunger.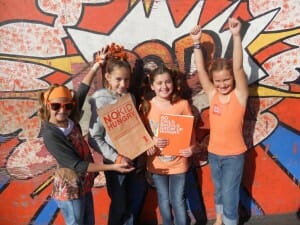 Remember, there are more than 16 million kids in America who struggle with hunger. It's a huge problem, but we have a solution. And one person, no matter their age, can play a big part in that solution. I could spend days telling you about some of our amazing volunteers. Like Jackie Price, a 17- year-old from Rockville, Md. who has been hosting a bake sale at a town festival for the past five years and has raised more than $10,000 in that time. Or Dylan and Caitlin Fitzpatrick, 10-year-old twins from Folsom, Calif. who have been hosting bake sales with their parents since 2005. As they've gotten older, Dylan and Caitlin have taken on more and more of the bake sale responsibilities, each finding their strengths and focusing on what they like best. And I would tell you all about the students from Alpine Elementary School in California who wore orange to school, had a crazy hair day, sold No Kid Hungry2 pencils and other swag and collected coins and other donations. Led by the student council and their teacher, Aleta Greer, Alpine Elementary raise almost $3,000 in just one week!
But now it's your turn to find your strength; it might be educating your school or local official about childhood hunger in your state or it might be planning an amazing event that raises vital funds to end childhood hunger.  Share YOUR strength with us on NoKidHungry2.
Share this post