Sitting Down Led this Teen to Take a Stand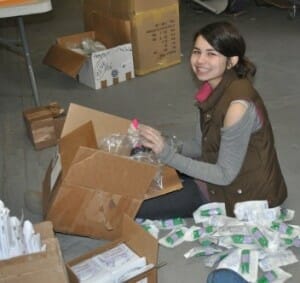 Today's Turning Point comes from guest writer, Charlotte Bilski a senior at Horace Greeley High School in Chappaqua, N.Y. She is the co-president of her school's community service club, SHARE and co-founder of her school's AFYA club.
Sitting among the remnants of a house that had been destroyed by Hurricane Katrina, in Saint Bernard Parish, La., I gently ran my fingers across the worn tile floor. The jagged tiles, all different hues of red, were the only pieces of the house to remain intact. The house had been stripped of its roof, its walls, and its steps; however, an undeniable presence of its spirit remained. This house used to be a home, I thought. I could feel it.
Now trembling, I continued to run my fingers alongside the edges of the tiles. An overpowering surge of energy shook my core as a profusion of ambiguous memories, of this family's past, flooded my mind. Like a tragic apparition, I could feel what this family had lost: everything. I started to cry. Prior to this moment in my 12-year-old life, I had never witnessed something so real and so scary. This could happen to anyone, I thought. This could happen to me. Nobody is safe from a natural disaster.
As it was unrealistic to expect everyone in my comfortable, Northeastern suburb to understand the dire need to rebuild after natural disasters, I knew that I had a big job ahead of me: to advocate for victims of natural disasters worldwide.
Fast-forward four years: I started volunteering at the AFYA Foundation. AFYA, meaning good health in Swahili, sends unused medical supplies to the clinics of lesser-developed countries. Much of AFYA's work has been focused on helping victims of Haiti's 2010 earthquake. By creating an AFYA club at my high school I have helped to collect hundreds of crutches, walkers, and blankets to health clinics in Haiti. Our club also sends groups of students to the AFYA warehouse in Yonkers, New York to help sort the donated supplies from the various hospitals. Recently, during our school's midterms week, we hosted a school-wide pen drive where the pens were donated to doctors in Haitian medical clinics. During that single week, we collected approximately 1,000 pens.
Since my first humanitarian trip to Louisiana, I have returned twice to help rebuild the communities and hear the stories of the Gulf Coast. I never cease to be amazed by the extraordinary optimism possessed by people who tirelessly work to rebuild their communities and their lives. They are my constant reminder to never lose hope and never stop helping others.
There is very little in life of which we are in control. We cannot control time, we cannot control the physical world, and we cannot control the actions of others, but we can control our actions to make the world a better place than when we entered it and our outlooks on life. Thanks to the people of the Gulf Coast, I know the potential that each human being possesses to transform his or her reality.
Read more about AFYA from Charlotte's previous points of light blog post.
Charlotte is also a co-chair of J-Teen Leadership, a Jewish, teen-led, community service and advocacy organization. Charlotte is a member of the 2011 PARADE All-America High School Service Team, an award recognizing outstanding young service leaders presented by Parade Magazine in partnership with generationOn, the global youth enterprise of Points of Light.
Share this post