Teaching Was My Turning Point Into Service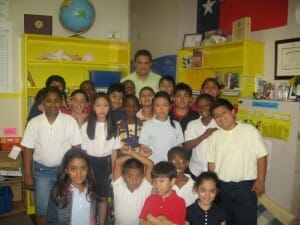 The theme for this year's National Conference on Volunteering and Service is "Turning Point." At Points of Light we are highlighting turning point stories – stories about the moment or moments that inspired your service. Today's Turning Point story comes from Mark Moravits, director of strategic partnerships at generationOn – the youth service enterprise of Points of Light. Mark is a proud Texan transplanted to New York City who travels extensively supporting generationOn's work around the nation–so maybe you'll cross paths one day. He also makes a mean guacamole.
The people I admire most in my life are teachers. But not just any teachers–really effective, really "do everything it takes" type teachers who are turning the tables through innovation combined with old-fashioned dedication. These teachers know that all children deserve a top-quality education regardless of their circumstances at home or where they were born.
I think education is the common denominator among social challenges in our nation. It's the one social issue that has the potential to push other social issues to decline – poverty, crime, hunger and the list goes on. I'll never forget managing a corporate volunteer project at Roger Williams Middle School in Providence, R.I.. On the wall of this 80-year-old school was a quote by recording artist Lauryn Hill,
"In my travels all over the world, I have come to realize that what distinguishes one child from another is not ability, but access. Access to education, access to opportunity, access to love."
In college, I worked hard academically and was en route to a consulting job. However, my heart was in my extracurricular activities. For two consecutive terms, I led the University of Oklahoma's Big Event – one of the largest student-run service programs in the nation bringing more than 5,000 students together to volunteer on one day. I put significantly more time and energy into this than I did into my course work.
I had the "social good" bug and I had it bad. Sitting in an office all day? PowerPoints? Audits? No way. Enter Teach For America. In the back (and front) of my mind I had doubts that I'd be accepted into the program. The letter arrived. The envelope was regular size. It was clearly one page. A rejection letter – it had to be. It wasn't. For the next two years of my life, I'd be teaching English as a Second Language to third graders in Houston, Texas.
I was in Houston, now responsible for the education of 22 students in a school greatly impacted by poverty, immigration issues and crime. Did my students have access to everything they needed to grow up healthy and strong and educated?  No. Did they have the same opportunity as their middle class peers? Absolutely not. Did they deserve equal access and opportunity? They did – they do – and I say this with every shred of assurance I can muster.
Perhaps you're asking yourself, "If you think education is so important, then why did you leave the classroom?" Education extends far beyond the classroom – to the home, to the community and beyond. More than ever, we need to engage children in becoming global citizens. I'm so proud of the work we're doing at generationOn and Points of Light to inspire, equip and mobilize youth (and the caring adults in their lives) to take action that changes the world through service and volunteerism. We're helping communities come together – schools, nonprofits, families and companies – to give kids the access they need and the opportunities they deserve. The work is exhilarating and the results make me thankful to have the job I do. I could've been somewhere very different right now.
Forty-four third graders were my turning point. Have you reached your turning point yet?
Share this post