Three Central Benefits of Volunteering as a College Student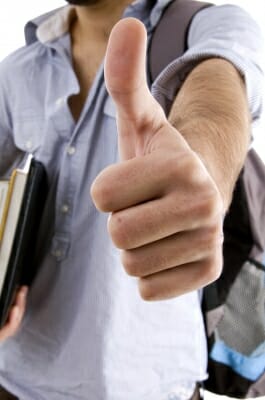 Nadia Jones is an education writer who teaches students how to find affordable online colleges, as well as how to make the most out their experience in school. She welcomes your feedback.
Volunteering simply out of the goodness of your heart should always be your first motive when deciding to feed the hungry, help the homeless or assist a family in need. Yes, you may need to fulfill a certain amount of community service hours each semester in order to qualify for membership in a particular organization on campus, like a fraternity or sorority, but you should really volunteer because you want to improve the quality of humanity and the environment. Those who actually enjoy helping others are the ones who will reap the most benefits from volunteering – and no, building your character isn't the only area volunteering can improve your life. In fact, volunteering can help solve issues that most students are concerned about on a regular basis: post-graduation job placement and debt-forgiveness, for example.
Volunteering Beefs Up Your Resume. Even if there is stiff competition for a job, stating various volunteer projects/and or organizations that you've been affiliated with throughout the course of your college career can help set you apart from other applicants that have the same set of career-related skills and experience as you – especially if you've managed to score a title such as "team leader" or you initiated a volunteer program/initiative on your own (which is strongly encouraged). Through your volunteer experience, you can demonstrate to a potential employer how you can effectively manage, meet deadlines, do great PR work or show that you're good with your hands. Your skills will vary depending on what kind of volunteer work you did specifically.
If your struggle finding a job right of college, volunteering can also help compensate for "lost time." Employers like to hire applicants that stay "active" – simply stating that you lived at home while you searched for a job for a year will not help your employment chances. But saying that you volunteered while job hunting can help your chances substantially.
Volunteering can also help impress admission officers if you're trying to enroll in graduate school, medical school or law school. Admission officers are always on the lookout for well-rounded, three dimensional students and volunteering can demonstrate that.
Volunteerining Increases Network Opportunities. When you volunteer for various organizations, you are thrown into an environment with a mixture of people. Some are successful; others know successful people or have "connections." Depending on who you speak to or work alongside, you may just end up meeting someone who can offer you a job, become a financial backer for your entrepreneurial endeavor or provide you some sound advice.
Volunteering Can Potentially Offer Loan Forgiveness. Lastly (and most importantly for those who have acquired a heavy student loan debt), volunteering may just be able to help you pay back your loans if you sign up with the appropriate volunteer organization. I say "appropriate" only because not all volunteer organizations offer loan forgiveness programs. Larger organizations, specifically the Peace Corps and AmeriCorps, do offer some loan forgiveness if you volunteer for a number of contract hours and meet certain qualifications.
If you haven't already done so, get involved volunteering – join an established organization or create a team of your own.
Share this post