White House Gathering Explores Ways Pro Bono Volunteers Strengthen Nonprofits
Engineers, marketers, software developers and other highly skilled professionals are lending their know-how as pro bono volunteers to help nonprofits achieve their missions – with the blessing of the companies that employ them.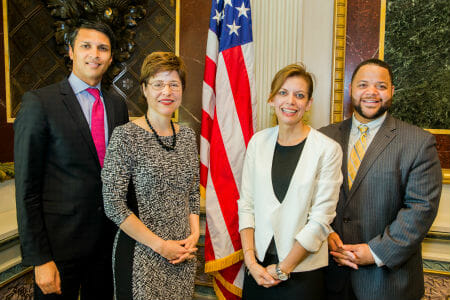 From left: Asim Mishra, chief of staff, Corporation for National and Community Service; Melissa Rogers, special assistant to the president and director, White House Office of Faith-Based and Neighborhood Partnerships; Tracy Hoover, CEO, Points of Light; Michael Smith, special assistant to the president and senior director of cabinet affairs for the My Brother's Keeper Initiative (Photo courtesy JPG Photography)
At the White House today, Points of Light's Billion + Change, the White House and the U.S. Department of Commerce led a dialogue on boosting the capacity of nonprofits and the emerging role companies are playing.
Showcasing the growth and strength of the pro bono movement, companies in attendance – the vanguards of pro bono – shared new tools and partnerships that help nonprofits advance their work and create more sustainable change.
"Today, let's start building a new normal in pro bono service," Points of Light CEO Tracy Hoover told the guests. "Let's build a model that addresses the reality of scarce resources, limited time and increased needs that so many nonprofits feel."
Hoover added that pro bono leaders "are improving this pro bono ecosystem by building resources that allow nonprofits to better leverage pro bono service."
Senior leaders from several companies introduced new resources and programs designed to strengthen nonprofits, including:
The Skills-Based Engagement Tool – Points of Light and the Taproot Foundation, with support from the ConAgra Foundation, developed this tool to help nonprofits determine how prepared they are to bring on skills-based volunteers. The tool provides tangible recommendations for nonprofits about how to proceed.
Value Exchange – Based on years of researching, advising and developing high-quality, public-private partnerships, Deloitte has developed the Value Exchange tool – a simple framework for articulating the kinds of value that a nonprofit offers for-profit partners and what the nonprofit expects in return.
HP Advising – Through this service, nonprofits are matched online with HP employee volunteers who provide advice in particular areas – based on expertise – including branding, IT, business planning, managing staff, recruiting volunteers and other key business areas.
IBM Impact Grants – These grants provide consulting expertise and software designed to support education and nonprofit organizations through an array of capacity-building offerings, including strategic growth advising, business analytics support and security.
For more about skills-based and pro bono service, visit A Billion + Change.
Share this post