Why I'm Partial to the Fifth Promise
This blog post, written by our CEO Tracy Hoover, is part of the #Recommit2Kids campaign, marking the 20th anniversary of America's Promise Alliance and calling the nation to recommit to action on behalf of children and youth. It was originally published on the America's Promise Alliance blog and appears here with permission.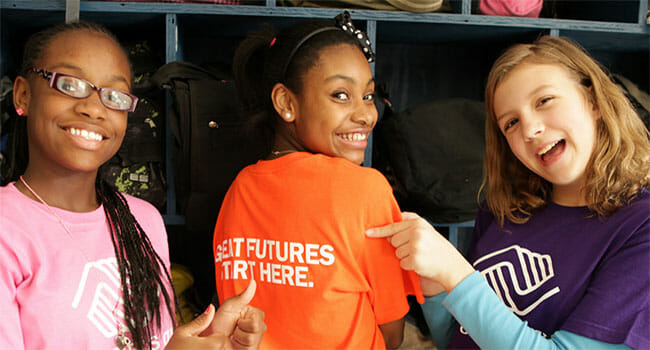 Photo: America's Promise Alliance
Saving the best for last, the five presidents who signed their names in a promise to America's young people nearly 20 years ago, named opportunities to serve the fifth of five promises we must make and keep to all kids.
Through generationOn, Points of Light has been able to bring that fifth promise to scale – engaging three-quarters of a million kids and teens in service in 2016. Through generationOn's network of clubs alone, young people completed 2,023 projects and spent 1.8 million hours volunteering in their communities. They created, donated, and raised $2.7 million worth of goods and money, serving 2.6 million people.
That is a big impact. But just why is it so important for kids and teens to have the opportunity to serve? The first four promises – caring adults, safe places, a healthy start, and effective education – are so clearly needed. And research shows the need for the fifth promise as well.
A 2015 research review – conducted for generationOn, Points of Light's youth division – found that volunteer service supports youth in the development of key social-emotional competencies, including empathy and compassion, communications, collaboration, and critical thinking.
In a survey of generationOn Clubs, 80 percent of club facilitators reported club participants improved these skills by researching different areas, brainstorming ways to address problems and planning service projects. In addition, studies have shown that students who participate in service-learning score higher than nonparticipating students and are more cognitively engaged and motivated to learn.
Volunteer service can also help young people build project management skills, responsibility, and resumes. Yes, resumes. Research shows that when underemployed opportunity youth design and run volunteer projects, they have a much better chance of finding good jobs.
At Points of Light, we're starting our third year of ServiceWorks, a groundbreaking national program that uses volunteer service to help underserved young adults develop the skills they need to prepare for college and careers. The program is powered by the Corporation for National and Community Service, the Citi Foundation and Points of Light.
Raquel Rios was 24 and enrolled in a GED program in the Dorchester neighborhood of Boston when a VISTA member working with ServiceWorks at Points of Light affiliate Boston Cares came to speak to her class. Having long had an interest in volunteering, she enrolled right away.
ServiceWorks Scholars, like Rios, receive training in critical 21st century leadership and workplace skills, the chance to build their networks and connections to their communities, and the opportunity to use their new skills by participating in and leading volunteer service projects.
Rios credits ServiceWorks with helping her gain communications skills – she says she's learned to be "respectfully outspoken." She learned project management skills – she says she can build teams now that can make change in the community.
"If we use our gift to make even a small change," she says, "that's a change that wasn't there before."
And ServiceWorks helped Rios find her purpose. After completing the program, she became a ServiceWorks VISTA, helping to run the program in Boston while getting a step closer to her dream – college and a career working with youth and leading community change.
The opportunity to serve changed Rios's life – and the many lives she has touched and will touch in the future.
That must have been what the presidents had in mind with Promise #5. Through service, every young person has the chance to become "respectfully outspoken," flex their civic muscles, and get on the path to a better life. Through service, they bring others along with them.
As we mark the 20th anniversary of America's Promise, I hope you'll join me in recommitting to all Five Promises (but especially the fifth one) for all our kids.
Share this post