Why Should You Come to Chicago?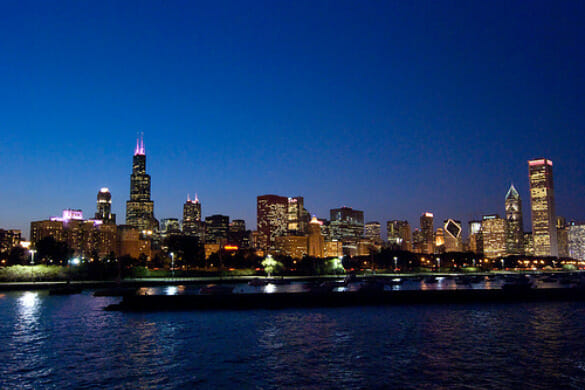 We are excited to be in Chicago this year for our National Conference on Volunteering and Service. The more we learn about this great city, the more we love it. Below are some of the reasons we're looking forward to our time in the "Windy City" and why you should join us there this June.
The city is home to approximately 40 museums, more than 200 theaters, more than 200 independent art galleries, and more than 7,000 restaurants.
The world's longest street is Chicago's Western Avenue.
The Chicago Post Office at 433 W. Van Buren is the only postal facility in the world which you can drive a car through.
Chicago is home to the Lincoln Park Zoo, which is one of the only remaining free zoos.
Chicago is home to the Harold Washington Library, the world's largest public library.
Nabisco, the world's largest cookie and cracker factory, is located in Chicago.
The world's largest ice cream cone factory, Keebler, is also located in Chicago.
Chicago's McCormick Place, our host site, has the largest amount of exhibit space of any convention center in the country at 2.2 million square feet.
The William Wrigley, Jr. Company is the world's largest gum manufacturer, producing more than 20 million packages a day.
The Art Institute of Chicago holds the largest collections of Impressionist paintings in the world outside of the Louvre in Paris.
The Willis Tower (formerly the Sears Tower) is the tallest building in the Western Hemisphere at 110 stories high.
Chicago is home to 11 Fortune 500 companies, while the rest of the metropolitan area hosts an additional 21 Fortune 500 companies.
The term "jazz" was coined in Chicago in 1914. The city's native musicians include band leader Benny Goodman and drummer Gene Krupa.
The largest Latino cultural institution in the nation is Chicago's Mexican Fine Arts Center Museum.
The Chicago Cultural Center is the first free municipal cultural center in the U.S. and home to the world's largest stained glass Tiffany dome.
Chicago's central water filtration plant, located on the lakefront north of Navy Pier, is the largest in the world.
America's highest indoor swimming pool is on the 44th floor of the "John Hancock Center."
Wrigley Field has hosted more professional football games than any other stadium in the nation.
Chicago's Oceanarium is the world's largest indoor marine mammal pavilion and doubles the size of the John G. Shedd Aquarium, which is the largest indoor aquarium in the world.
Deep dish pizza. Need we say more?
Make your travel plans to be in Chicago. Be sure to register for conference soon. This is an event you won't want to miss.
What do you love about Chicago? Let us know in the comments below.
Share this post
---