The Worm Selling, $4.25 an Hour Lessons that Changed My Life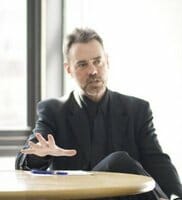 Today's turning point post is written by ShawnAnderson, best-selling author national speaker on "maximizing potential and going the extra mile." Shawn is also the Founder of ExtraMileAmerica.org, a non-profit that led the charge in encouraging 228 U.S. mayors in all 50 states to declare November 1, 2011, as Extra Mile Day…a day to acknowledge the capacity we each have to create positive change in our families, organizations and world.
At my core, I've always been an entrepreneur. At age 10, I started my first business selling nightcrawlers (you know, those jumbo-sized worms) to fishermen. I would flood my Reno, Nev., backyard during the day, and later when the worms would rise to the surface, I would pluck them up one after another. Then on Saturdays and Sundays, I would rise before dawn, sit in my front yard, and sell those worms by the dozens to fisherman who would respond to an ad I had run in the local paper.
That's where it began. That's where I learned that an idea combined with action could buy a whole bunch of baseball cards.
Since then, the "dream it…then do it" attitude has served as the core foundation for everything I have accomplished. From starting a seven-figure business to publishing five books (soon a sixth), the basic realization that I have the power to create has been one of the two biggest turning points in my life. It is that action-oriented mentality that has continually allowed me to get back up, even after life has thrown a few body blows my direction.
But if you noticed, I said it was one of two turning points. And although that experience shaped my understanding that I can translate thoughts into something concrete, the second experience shaped my attitude and carved a mark into my very being.
After graduating from U.C. Berkeley, I had big-time trouble getting a job. I temporarily fell into financial survival mode and after four years of studying, I forgot about the whole "entrepreneurial thing." My situation back then was not pretty. I had moved to San Diego with less than $300 in the bank. I had no car and quickly learned the bus routes all over town. Because I had little money, I could only afford to live in a one-bedroom apartment with two other guys and one million cockroaches. But while I was looking to find my "perfect" job, I was forced to work full-time at a corner 7-11 from 11:00 p.m. until 7:00 a.m. for $4.25 an hour. That allowed me the chance to buy dozens of packs of Top Ramen noodles, and interview during the day for a job more appealing to my pride.
With few customers coming in, it was during that midnight and early morning shift that I started reading every motivational book and biography I could find. And it was there in the quiet of the store that I truly cemented into my brain the power of what having a positive mental attitude can do for elevating one to a higher level of accomplishment. I learned the power of really believing "I Can!" I learned what it meant to never give up. I discovered the secret of going the extra mile. It was all right there in the books written by people whom I never met, but who became guiding lights to enable me to discover myself and my potential.
Those two experiences – the early worm biz and those long, late hours reading at 7-11- have served me in leading a life dedicated to producing results and making things happen. They are the columns in which my now deep-seated confidence began to rise. More importantly, those two experiences have afforded me the luxury to live my passion everyday and dedicate myself to pursuing my personal life mission: To empower 1,000,000 people to lead a more passionate and purposeful existence. 
And once you learn a couple of cool secrets about how to create a life you'll love, you definitely want to share them. Right?
Share this post