Anita Whitehead
Corporate Service Council Chair
President & Chair, KPMG US Foundation
Anita serves as the Chair of the KPMG US Foundation, where she is responsible for the strategy of our firm's philanthropic efforts. After designing a new strategy for the KPMG Foundation in 2021, Anita has led the Foundation with a culture of service. Under Anita's leadership, KPMG and the Foundation committed a total of $125 million to be allocated over five years to support initiatives that advance equity and access among underrepresented groups.
She also serves as the lead for our Social Impact practice, where she supports both our non-profit and corporate clients on their philanthropic strategies.
Anita joined KPMG 22 years ago, bringing to the firm her deep culture of service. Anita's commitment to volunteerism began in college, at Virginia Tech in Blacksburg, Virginia, where she joined Alpha Phi Omega, a national service fraternity based on Leadership, Friendship, Service.
From the start of her professional career in healthcare at George Washington University Medical Center, Anita has cultivated a commitment to service – at KPMG, in her Foundation work, among her teams, with her clients, in boards, and throughout the field of Corporate Social Responsibility.  She continues to share the guiding principles that have shaped her career: Leadership, Friendship, Service. Drawing on the experiences of her professional journey in philanthropy, Anita now helps others bring distinction to their own organizations – non-profit and corporate alike – through the uniqueness of their own individual service journeys.
Anita also brings extensive expertise in board governance. As the current Board chair for Global Impact and a board member of the Center for Disaster Philanthropy, Anita speaks about strengthening boards, creating a board culture, and making boards more accountable.  
She has also served as Chair of the Association for Corporate Citizenship Professionals, a national organization focused on the development of CSR professionals.
She currently serves as the chair of Points of Light's Corporate Service Council.
Anita earned a Bachelor of Science in Psychology from Virginia Tech, a master's in health administration from Indiana University and a Certification in Corporate Responsibility from University of Notre Dame.
With her ongoing interest in education, she is an avid supporter of learning and works to foster access in education at all levels.
Anita and her husband, Jay, have a 14-year old daughter and live in Warrenton, Virginia with their beagle, Bailey.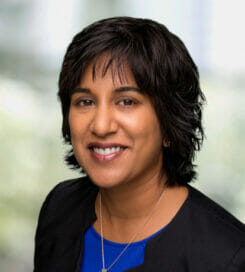 Get Involved & Light the Way