Points of Light Announces New Leadership for the Points of Light Global Network Affiliate Assembly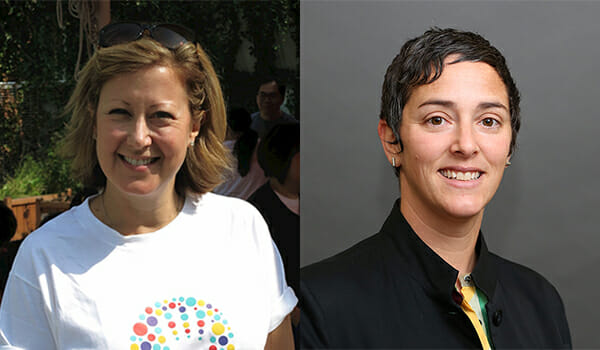 Global nonprofit Points of Light is pleased to announce the appointment of two leadership positions within the Points of Light Global Network Affiliate Assembly. Sue Toomey, executive director of HandsOn Hong Kong, will serve as chair with Vanessa Diamond, senior vice president, civic innovations at Community Foundation for a Greater Richmond, serving as vice-chair.
The Points of Light Global Network is made up of innovative volunteer-mobilizing organizations located in more than 200 cities and 37 countries around the world. The Affiliate Assembly is the representative body of the network, providing a structure of engagement to promote collaboration and support seamless co-creation across critical strategic objectives.
"We are delighted to have Sue and Vanessa serve as chair and vice-chair of the Points of Light Global Network Affiliate Assembly," said Natalye Paquin, president and CEO, Points of Light. "Our affiliates work to solve the most pressing issues of their communities around the world. Their leadership and expertise will help strengthen our network and move our work forward."
Toomey has more than 20 years of experience running businesses and championing global causes. As executive director for HandsOn Hong Kong, her focus is developing the strategic direction and leading the team to mobilize and empower the community to volunteer. In 2017, she oversaw the development and launch of Serve-a-thon, Hong Kong's first community service marathon where thousands of volunteers gave their time to serve more than 15,000 of Hong Kong's most in need.
"I've already gained and learned so much through my involvement on the assembly, just as HandsOn Hong Kong has as a Points of Light Global Network affiliate," said Toomey. "Now I'm looking forward to seeing how I can give back and support this incredible network of global affiliates as we navigate the road ahead, knowing how much stronger we are together."
As senior vice president of civic innovations, Diamond convenes a coalition of community organizations, business leaders, institutions of higher education and government entities to help create a better ecosystem for civic engagement across the region. She also leads the Civic Innovations team in creating opportunities for people to learn about and engage with the Greater Richmond community, empowering individuals to give back with their time and voice in ways that feel meaningful and generate the most impact.
"Points of Light and our Global Network have a unique role in connecting individuals, families, companies and faith-based groups to meaningful ways to engage in their communities," said Diamond. "The power of sharing ideas and resources help each of us support civic action in our own communities that in turn builds a movement across the globe."
Affiliate Assembly members serve a three-year term.
About Points of Light
Points of Light is a global nonprofit organization that inspires, equips and mobilizes millions of people to take action that changes the world. We envision a world in which every individual discovers the power to make a difference, creating healthy communities in vibrant, participatory societies. Through affiliates in 200 cities across 37 countries, and in partnership with thousands of nonprofits and corporations, Points of Light engages 5 million volunteers in 14 million hours of service each year. We bring the power of people to bear where it's needed most. For more information, go to www.pointsoflight.org.
For All Points of Light Media Inquiries