The 2023 Points of Light Conference Unleashes the Collective Power of Positive Change 
Leading Change Together


The Points of Light Conference 2023 will take place from June 14-16, 2023, at the Chicago Marriott Downtown Magnificent Mile. This gathering is an opportunity for CSR and social impact professionals who are passionate about civic engagement to connect with peers and gain insights from renowned speakers. Registration closes June 10. Register now and join the Points of Light Conference 2023 to connect, learn and drive real and sustained change. For more information, visit pointsoflight.org/conference. 
The event offers more than 50 educational workshops, inspirational leadership discussions and networking opportunities, something for every champion of social good. 
The conference will feature 132 speakers, from different industries and sectors, including: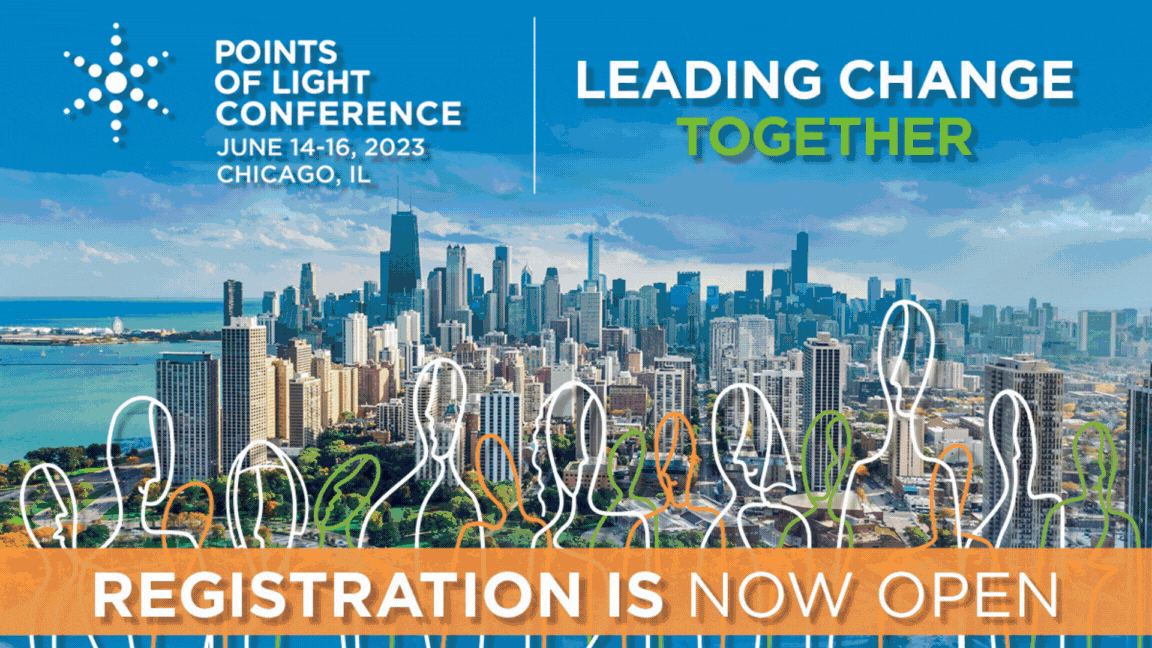 Sessions will offer a diverse range of topics designed to cater to different interests and social impact experts including volunteer and community engagement, service and volunteering, social innovation and change, equity, corporate social responsibility, civic engagement and activism. Here are a few highlights: 
For those unable to attend the conference in person, access the latest ideas and trends in social impact through the on-demand content option. Choose from more than 20 sessions, including exclusive new workshop content and replays of mainstage moments. On-demand content will be available for in-person an on-demand registrants from June 21 – September 30, 2023. 
About Points of Light 
Points of Light is a nonpartisan, global nonprofit organization that inspires, equips and mobilizes millions of people to take action that changes the world. We envision a world in which every individual discovers the power to make a difference, creating healthy communities in vibrant, participatory societies. Through 145 affiliates across 39 countries, and in partnership with thousands of nonprofits and corporations, Points of Light engages 3.7 million people in 16.7 million hours of service each year. We bring the power of people to bear where it's needed most. For more information, visit pointsoflight.org.
"The Points of Light Conference is the place for connecting, idea sharing and inspiration. People from all over the world come together for the opportunity to learn from experts in the social impact sector and peers who are facing the same challenges." — Elizabeth Schwan-Rosenwald, chief program officer, Points of Light
For All Points of Light Media Inquiries