Points of Light to Honor Dr. Ala Stanford with The George H.W. Bush Points of Light Award
Dr. Stanford will be recognized alongside previously announced honorees Hugh Evans, Francine A. LeFrak and Bryan Stevenson During Live Celebration in New York City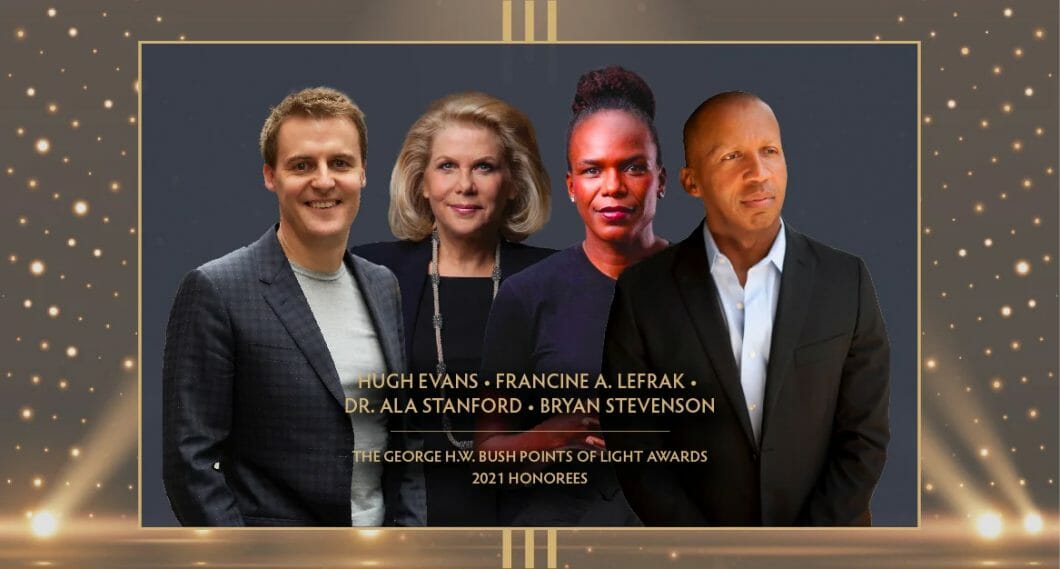 Global nonprofit Points of Light announced the addition of Dr. Ala Stanford, founder of the Black Doctors COVID-19 Consortium, as a recipient of The George H.W. Bush Points of Light Award to honor her commitment to serving Philadelphia's most vulnerable populations during the COVID-19 pandemic. Dr. Stanford will be recognized during a celebration on Sept. 28 in New York City that will feature inspiring stories of volunteer service, celebrity appearances and musical performances. The program will also be livestreamed. 
"Points of Light is honored to recognize the impact of Dr. Ala Stanford, her leadership, vision and tireless efforts to meet the most pressing needs of Philadelphians throughout the global pandemic," said Natalye Paquin, president & CEO, Points of Light. "Her desire to care for people and her actions demonstrate the true power of the human spirit, bringing great light in a time fraught with darkness." 
About Dr. Ala Stanford 
Dr. Ala Stanford, a practicing physician for over 20 years, is board certified by the American Board of Surgery in both pediatric and adult general surgery and a health care advocate. She is the founder of the Black Doctors COVID-19 Consortium. The consortium was formed in response to the disproportionate number of African Americans being diagnosed and dying from coronavirus in Philadelphia and the lack of swift intervention to mitigate disease spread. 
The mission of the consortium is to educate, provide advocacy and offer barrier-free coronavirus testing and vaccination in an effort to decrease the morbidity and mortality associated with the disease. Her research in basic science, clinical research and public health have been published in peer reviewed medical journals. Dr. Stanford also serves as a medical correspondent for local and national news outlets. She serves on the CDC Philadelphia Department of Public Health COVID-19 Vaccine Advisory Committee. 
"When I heard the numbers of people of color dying from coronavirus at rates greater than all others: health care workers, children, rich, poor, with chronic health conditions and without, in that moment I realized I was no longer a novice student, but I had the infrastructure, knowledge and passion to change the narrative," said Dr. Ala Stanford. "We needed to supply the most vulnerable with the tools needed to have a real chance against the pandemic. That was access, education, empathy, testing, contact tracing and vaccinations. Now thousands have been impacted, trust earned and lives saved. We, the Black Doctors COVID-19 Consortium, are improving health outcomes locally and nationally. Points of Light, thank you for acknowledging our work. It is truly a labor of love." 
Additional recipients of this year's award include Hugh Evans, co-founder and CEO of Global Citizen; Francine A. LeFrak, founder of the Francine A. LeFrak Foundation and the Same Sky Foundation Fund; and Bryan Stevenson, founder and executive director of the Equal Justice Initiative. 
Points of Light will announce additional event details including special guests and entertainment. For more information on The George H.W. Bush Points of Light Awards Celebration and to stay up-to-date on future developments, please visit www.pointsoflight.org/bushawardscelebration. 
ABOUT POINTS OF LIGHT 
Points of Light is a nonpartisan, global nonprofit organization that inspires, equips and mobilizes millions of people to take action that changes the world. We envision a world in which every individual discovers the power to make a difference, creating healthy communities in vibrant, participatory societies. Through 177 affiliates across 38 countries, and in partnership with thousands of nonprofits and corporations, Points of Light engages 5 million volunteers in 16 million hours of service each year. We bring the power of people to bear where it's needed most. 
For All Points of Light Media Inquiries