ONE OF THE MOST POWERFUL FORCES ON EARTH
CHANGE LED BY
THE POWER OF PEOPLE
At the heart of Points of Light is the idea that even in the darkness, the smallest point of light helps guide us and gives us hope. We recognize that everyone has the power to shine their own light to drive change in their community. Together, we shine brighter, changing the world, one act of kindness at a time. And that ideal is what we strive for through our work, every day.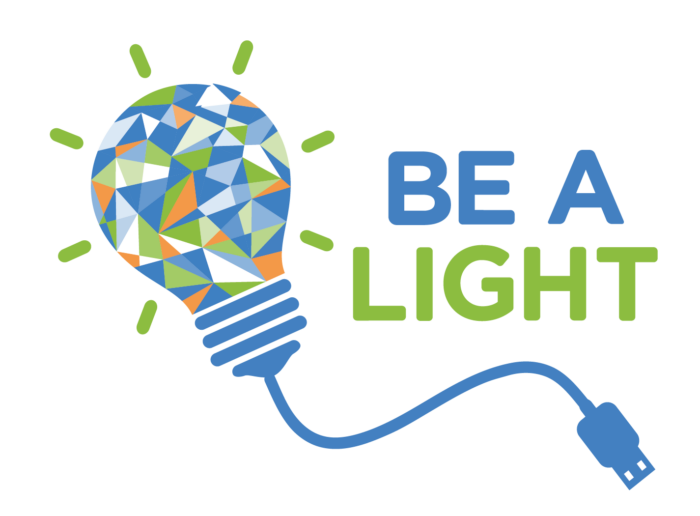 SOCIAL GOOD:
OUR 10-YEAR JOURNEY
Throughout 2022, we continued to deliver our mission to inspire, equip and mobilize people to take action that changes the world. This past year, we moved into a new phase of our 10-year vision, which will culminate in 2030, when it will be simple for every individual to accelerate change. We moved into our first year of "Connect," the current three-year phase bringing the "equip" part of our mission to life.
We are heartened by our collaboration with companies, nonprofit organizations and everyday people, all living examples of the difference we can make when we work together. Looking back, it's clear that by placing the power of change in the hands of each and every individual, we are seeing real change.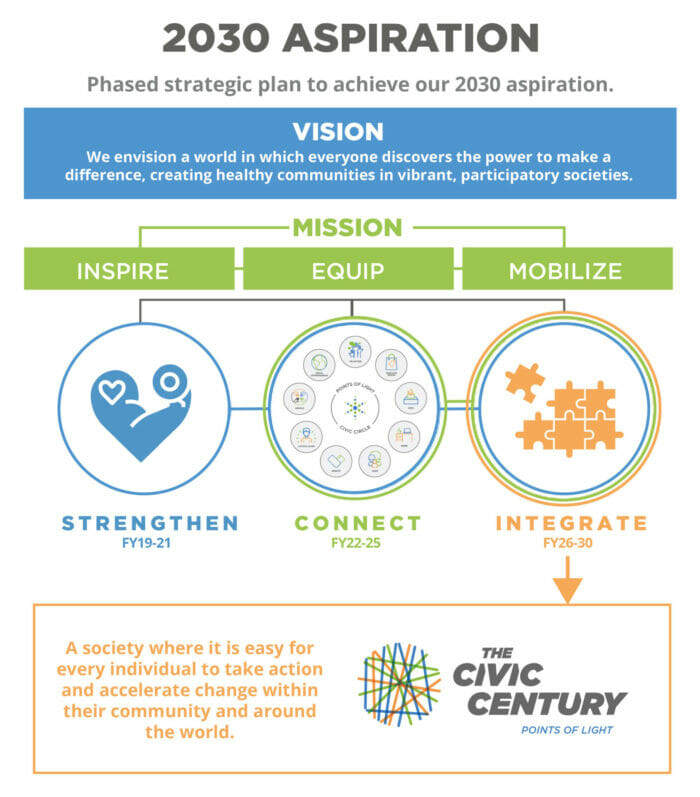 A LETTER FROM OUR INTERIM PRESIDENT & CEO
Resiliency, drive and energy best describe Points of Light's fiscal year 2022. Stepping into the role of Interim President & CEO has given me a unique vantage point into just how much the team accomplished.
We're proud of the work we're doing to create a world where no one sits on the sidelines of change, and we are grateful to all of our partners and supporters who made our goals a reality this past year.
Read More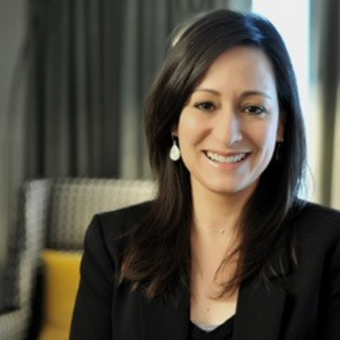 A LETTER FROM OUR BOARD CHAIR
I couldn't be more proud of everything we accomplished at Points of Light this year. While each year seems to bring transition and uncertainties, globally, our team at Points of Light rises to the challenge to meet the needs of each new moment. From the war in Ukraine to continuing to navigate the effects of the pandemic, Points of Light and our Global Network of affiliates brought the power of people to bear where it was needed most.
Read More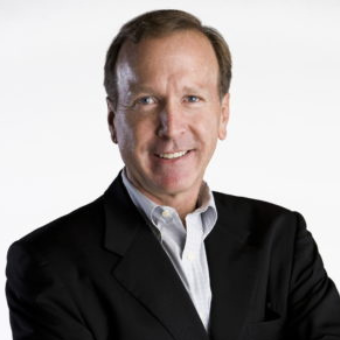 OUR IMPACT
In FY22 Points of Light's ecosystem mobilized 3.7M people in 16.7M hours of service contributing $498.7M of value in people power into communities around the world.

Additionally, Points of Light equipped over 7,500 social impact leaders and individual change makers with virtual and in-person training, learning experiences and opportunities for peer-to-peer knowledge sharing increasing their ability to make impact within their organizations and communities.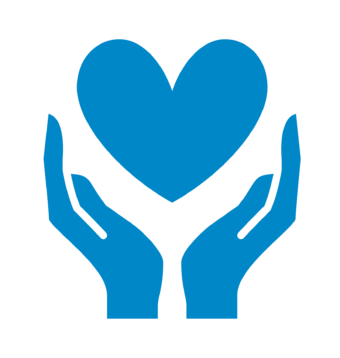 145 Affiliates
36 States
39 Countries
1.3M+ Volunteers Engaged
56,316 Local Community Partners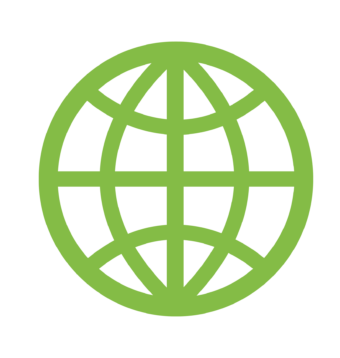 105 CSC Members
17 CSC Members on Newsweek's America's Most Responsible Companies
73 CSC Members in the Fortune 500
2.3M+ Volunteers Engaged
3,945 Local Community Partners
212 Companies Engaged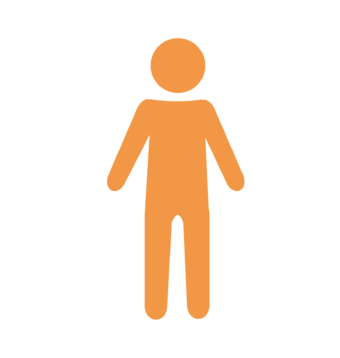 7.4K+ DPOL
2M President's Volunteer Service Awards
Nonprofits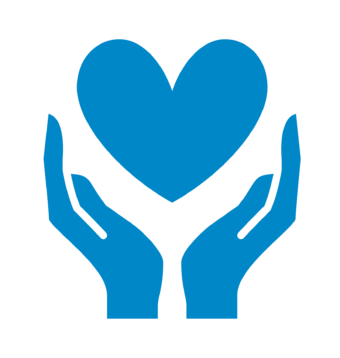 145 Affiliates
36 States
39 Countries
1.3M+ Volunteers Engaged
56,316 Local Community Partners
Corporations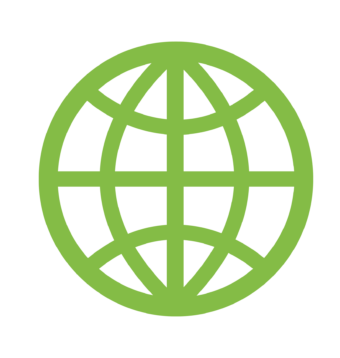 105 CSC Members
17 CSC Members on Newsweek's America's Most Responsible Companies
73 CSC Members in the Fortune 500
2.3M+ Volunteers Engaged
3,945 Local Community Partners
212 Companies Engaged
Individuals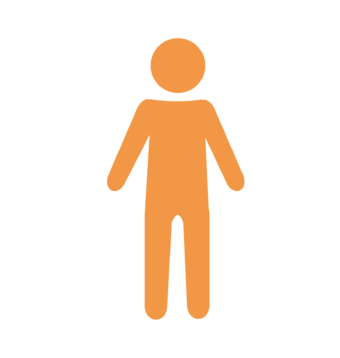 7.4K+ DPOL
2M President's Volunteer Service Awards
GLOBAL VOLUNTEER MONTH
BRINGING OUR MISSION TO LIFE: ACTIVATING THE CIVIC CIRCLE
2022 saw a renewed sense of energy for civic engagement as people around the world used their voices and actions to address the causes and issues that mean the most to them. Our third annual Global Volunteer Month provided an opportunity to shine a light on the individuals and organizations making a difference in their communities. Our 2022 campaign, led by support from sponsors Phillips 66 and The UPS Foundation, was joined by 62 activation partners across the nonprofit, corporate and government sectors who helped amplify our messages to celebrate the impact of volunteers. In addition, our efforts totaled more than 416 million total media, web and social media impressions, inspiring individuals around the world to volunteer and engage with their communities.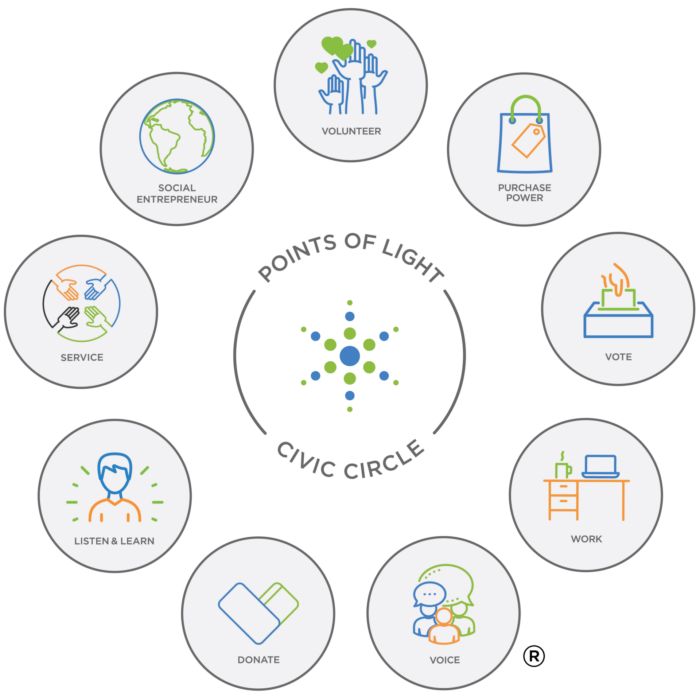 SHINING A LIGHT ON THE POINTS OF LIGHT GLOBAL NETWORK
Our Global Network of 145 innovative volunteer-mobilizing organizations operate in 39 countries across the world. Together we are inspiring, equipping and mobilizing more people to use their time, talent, voice and resources to create positive change in their communities.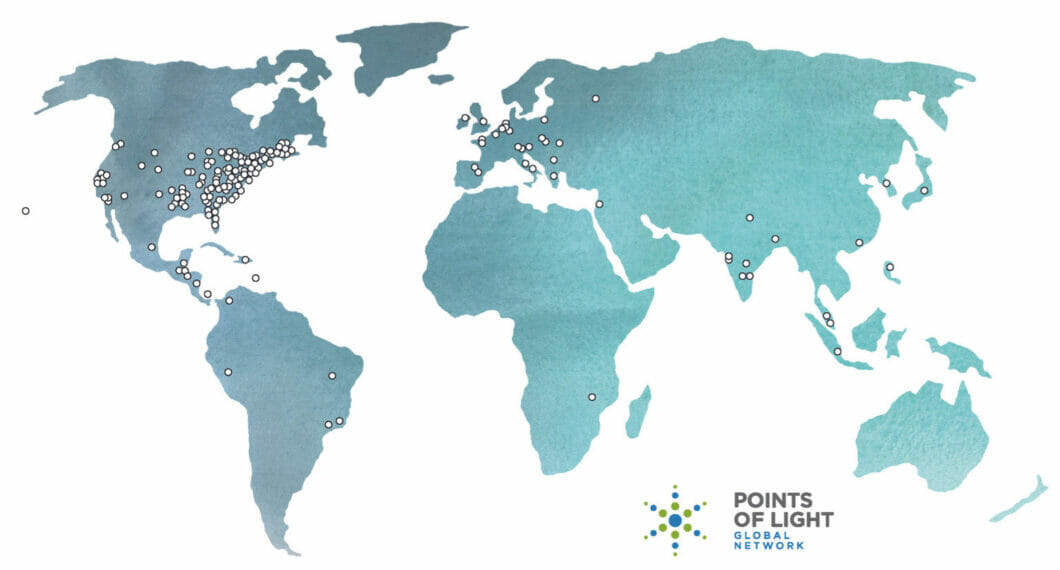 SUPPORTING OUR GLOBAL NETWORK:
LEADERSHIP AND ENGAGEMENT
Since 2020, together with the Points of Light Affiliate Assembly, we began to create and are continuing to develop a structure to allow increased affiliate engagement and participation by creating leadership positions and opportunities for affiliates to be heard. This structure was put in place with the objective to engage leaders who will represent the diversity of the network in size, geographic location, business structure, race and gender.

As a result, the structure of the Affiliate Assembly, which is a representative body of the network, grew with the creation of five functional subcommittees bringing together more than 60 leaders. The group has been implementing strategies in the areas of collaborative fundraising, marketing and communications, knowledge sharing, disaster management and research. In addition, the CEO roundtables, implemented across seven geographic areas in the U.S. and around the globe, were added to this existing structure as a platform for engagement, knowledge and innovation sharing. We currently have roughly 50 affiliates joining those monthly conversations.
LISTEN. LEARN. ACT TO END RACISM
Created in response to the country's ongoing battles with racial inequity and systemic racism in 2020, Points of Light's Listen. Learn. Act to End Racism initiative, in partnership with Morehouse College, came to end in 2022. The series brought together leading social justice experts and community leaders for engaging conversations on a diverse set of topics ranging from race in volunteering and preventing gun violence to Black economic empowerment, playspace equity and more.
ACCELERATING CORPORATE SOCIAL IMPACT
HIGHLIGHTING CIVIC OPPORTUNITIES THROUGH RESEARCH
Civic Life Today:
The State of Global
Civic Engagement

Thanks to the generous support of AT&T, Points of Light partnered with research firm Influence|SG to field a survey that ultimately became Civic Life Today: The State of Global Civic Engagement. Spanning four global markets, this research report evaluates civic engagement in the U.S., the U.K.,
Brazil and India and provides actionable takeaways for businesses, nonprofits and individuals.

Literature Review

In thinking about Points of Light's future research, we felt it was essential to first explore the current knowledge landscape. We believe our research should have added value for the social sector rather than duplicate efforts that are already underway. With that in mind, Points of Light commissioned Data Shine, an independent evaluation consulting firm, to conduct a literature review that helped inform a multi-year research agenda that will guide our efforts moving forward.
Globally, individuals share most interest in supporting education, environment and healthcare.
Finances remain one of the largest barriers to engagement.
Nontraditional forms of engagement are the new normal.
CONVENING CHANGEMAKERS
POINTS OF LIGHT CONFERENCE
The Points of Light Conference is a global convening of nonprofit, government, business and civic leaders who connect and uncover meaningful ways to drive transformative change. The conference is designed to strengthen the social sector by providing innovative ideas and resources that make it easier for people in communities across the globe to find opportunities to do good in new and meaningful ways.
CONVENING CHANGEMAKERS
THE GEORGE H.W. BUSH POINTS OF LIGHT AWARDS CELEBRATION
On October 24, 2022, Points of Light honored José Andrés and Maurice R. "Hank" Greenberg at the fourth annual celebration of The George H.W. Bush Points of Light Awards. This year's honorees were recognized for their humanitarian efforts creating significant and transformative impact in communities near and far. They demonstrate the transformative power of service and light the way of civic engagement for others to follow.
SHINING A LIGHT ON INSPIRING INDIVIDUALS
DAILY POINT OF LIGHT AWARD
The Daily Point of Light Award recognizes extraordinary volunteers every weekday for donating their time and talent for giving back to their communities. In 2022, Points of Light recognized 259 honorees.
INSPIRATION HONOR ROLL & INSPIRATION SPOTLIGHTS
The Points of Light Inspiration Honor Roll celebrates individuals around the world who are engaging with their community through the Points of Light Civic Circle® framework, demonstrating that every action can make a difference.
PVSA
In 2003, the President's Council on Service and Civic Participation founded the President's Volunteer Service Award to recognize the important role of volunteers in America's strength and national identity.
THE CIVIC 50
Celebrating the 10th anniversary of The Civic 50, Points of Light recognized the 2021 honorees based on four dimensions of their community engagement – investment, integration, institutionalization through policies and impact measurement.
RAISING POINTS OF LIGHT TO NEW LEVELS
Our generous donors help us amplify the impact of civic engagement in communities around the world. We are grateful for their commitment to our mission and asked a few of them to share why Points of Light is an important part of their philanthropy.
"...Points of Light identifies examples of Americans who care, and care deeply, about making America a better place. It is a splendid program, and that is why we support it."

EDWINA AND TOM JOHNSON, ATLANTA, GA

"I support Points of Light because we need to keep the vision of "serving others" at the forefront of our community life for the current generation and all those in the future..."

KYLE CALDWELL, ROCKFORD, MI

"Points of Light's mission resonates with us because it is 100% positive, affirmative and shines a bright light on just plain good works around the globe..."

BELINDA AND DWAYNE MAJORS, ATLANTA, GA
A LETTER FROM OUR CHIEF FINANCIAL OFFICER
Our financials show that we are rooted in a solid strategy, while being able to be responsive to an ever-evolving world. There will continue to be unprecedented challenges, but with the generous commitments from our partners, funders and donors, we will continue to deliver on our mission and create a more just and equitable society where everyone can be a point of light.
Read More
Financial Report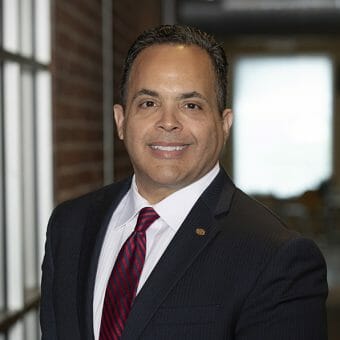 Thanks to Our Donors
Points of Light recognizes the critical role of partnership with donors when it comes to bringing our mission to life. We'd like to thank each and every one for their support in elevating civic engagement in communities across the globe.