12-Year-Old Volunteer Recycles Batteries to Protect the Earth
Meet Daily Point of Light Award honoree Saadhana Dara. Read her story and nominate an outstanding volunteer or family as a Daily Point of Light.  
Seventh grader Saadhana Dara may be young, but she has big and ambitious goals to protect her planet. Saadhana didn't always know what recycling batteries even mattered or that batteries can't be disposed of like ordinary trash, but in 2019, she joined forces with Recycle My Battery, a national youth-led campaign to make the Earth a better place.  
Saadhana helped grow Recycle My Battery's small team to hundreds of volunteers. Together, they've placed more than 450 battery recycle bins and collected over 200,000 batteries safely nationwide.  
Describe your volunteer role with
Recycle My Battery
? 
In my childhood, I didn't realize that there would just be trash everywhere. It seemed to not be that big of a deal because at that time I thought it was normal. People were minding their own business and doing their own thing. When I heard about Recycle My Battery in 2019, I realized just how much batteries would affect you. That's when I realized that batteries and trash are really harmful to the Earth. They can harm our ecosystem and affect the food and water that we eat. It could be dangerous to the human body. So that's when I started researching Recycle My Battery even more. It's been a lot of fun. It's educated me and helped me educate others.  
We partnered up with another organization called Call2Recycle, the nation's largest battery recycling organization, which does the actual recycling and makes them as other products. They also provide us with battery bins, which we place around our community for battery collections. Then we send them back to Call2Recycle. We also educate people with videos and spread awareness at different markets.  
How has Recycle My Battery grown?
When I joined, the Recycle My Battery campaign was a small campaign, maybe like four to five people. But now, more than 300 people have joined the organization and we've helped educate an estimate of 5 million people about the importance of recycling batteries.  
We were a little affected by the COVID-19 pandemic because we couldn't really interact with the people, but we still met virtually. The team and I used social media to connect more with our community. It really helped us out. 
Describe the kids mobile app that you're developing.
In my coding class, we had to make a project that benefitted something we do at home. At first I thought of a recipe book app, but I knew a lot of other people doing that too and I wanted to do something meaningful. I thought, what could I do that's unique? So I thought that I should use Recycle My Battery as content for my app. My app has all of the battery recycling information on it. I wanted it to be cool and something people will keep going back to. I also added resources where people can continue learning. I'm still working on the app, I want to continue making some modifications.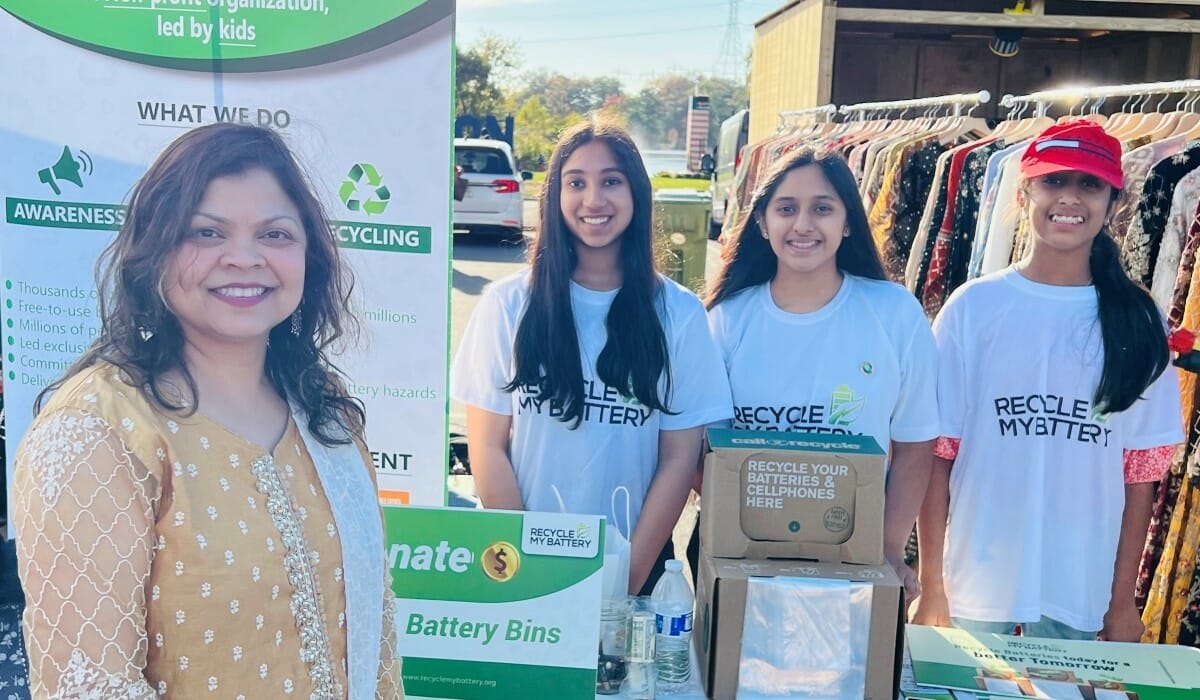 Do you have a favorite memory from your volunteerism? 
It's a pretty recent memory, but I will say it's probably one of my favorite memories. Some Recycle My Battery members and I went to market stands outside to try out different foods and had our own stand where people would come up and we would tell them about recycling batteries. I have lots of other colleagues there spreading information to others and it was fun just to talk about recycling together.  
What inspires you to volunteer?
To be honest, it's a straightforward answer. Many people say it but it's true: we need to save our mother Earth. Recycling batteries is a unique way to do that, which not many people understand. But with Recycle My Battery, I'm really lucky to get the chance to teach others.  
What have you learned through your experience as a volunteer?
I've learned a lot about recycling batteries, because if you were to ask me anything about batteries before joining the organization, my answer would be that I didn't know. But another thing I learned about is just talking more to others and most importantly, leadership.  
Why is it important for others to give back?  
Because mother Earth has provided us with so much like water, land, shelter and food. And the least that we can do is recycle. It's also important to keep in mind because you can also get involved in something you had no idea about, like me with recycling batteries.  
Are there any events, partnerships or programs coming up with Recycle My Battery that you're excited about?
We're really excited to keep growing our school campuses, but one of the most important things for us as an organization is that we want to partner more with businesses and companies. We also want to continue educating our citizens.  
Do you want to make a difference in your community like Saadhana? Find local volunteer opportunities. 
Share this post