Teenage Martial Artist Helps Seniors Strengthen Their Fitness and Confidence
Meet Daily Point of Light Award honoree Jeffrey Wall. Read his story and nominate an outstanding volunteer or family as a Daily Point of Light. 
With his kicks that shoot straight into the sky and jumps that seem to defy gravity, there's no doubt that 17-year-old Jeffrey Wall is a skilled martial artist. Since first stepping into the dojo at the young age of 6, Jeffrey has been mastering the Korean martial art of Tang Soo Do and was even inducted into the Martial Arts Hall of Fame at age 10. But what makes his talent shine even brighter is his heart for service because he teaches karate to an unexpected group of students – senior citizens.  
Once a month, Jeffrey visits local nursing homes in his city of Dayton, Ohio, and teaches the residents basic karate skills through his nonprofit organization called Golden Age Karate.  
"We first go through the basics stances and then the bow, which is a sign of respect. Then we get into their favorite part, which is the punching and kicking. Then they beat me up at the end of class," Jeffrey said.  
With the ages of these seniors ranging from 70 to 102, many of them come into class stiff and nervous about the forthcoming physical activity, Jeffrey said. But soon enough, they're kicking and punching with a smile on their face.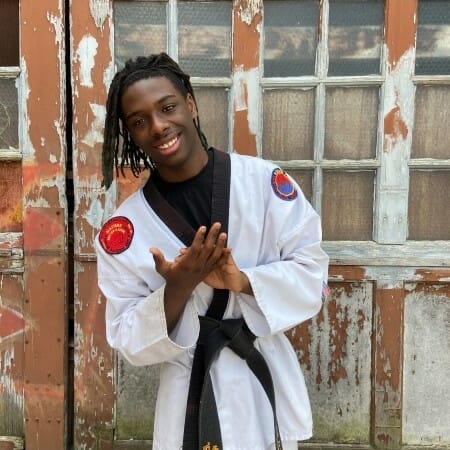 Jeffrey refers to all his students as "Super Nanas" and "Super Grandpas" as what they can do at their age is remarkable. But something one "Super Nana" did during one of his classes when he first started Golden Age Karate four years ago still shocks him to this day. While he did real push-ups on the ground, his students pretended to do push-ups as they pushed their arms forward and back while standing up.  
"But then one of my students got on the ground and started doing real push-ups with me. She was keeping up with me too," Jeffrey said. "I asked, 'May I ask how old you are?' because I was thinking she was in her 50s. But she said she was 95. I was shocked."  
While the karate lessons Jeffrey teaches his students enables them to become more active and have fun, it also helps them gain the confidence to go about their daily lives without feeling as vulnerable as they did before.  
"A lot of times when I went shopping and it started getting dark, I would be so frightened that I had to get home immediately, whether I was finished shopping or not," said 70-year-old Sandy Campbell, who has been learning karate from Jeffrey since 2019. "But with the knowledge Jeffrey gave me, I'm much more confident."  
"I have a hard time calling him a boy even though he's at such a young age because to me, he has achieved a mark in manhood that a lot of grown men will never achieve. I've never known such a selfless, caring young man in my life," Sandy added.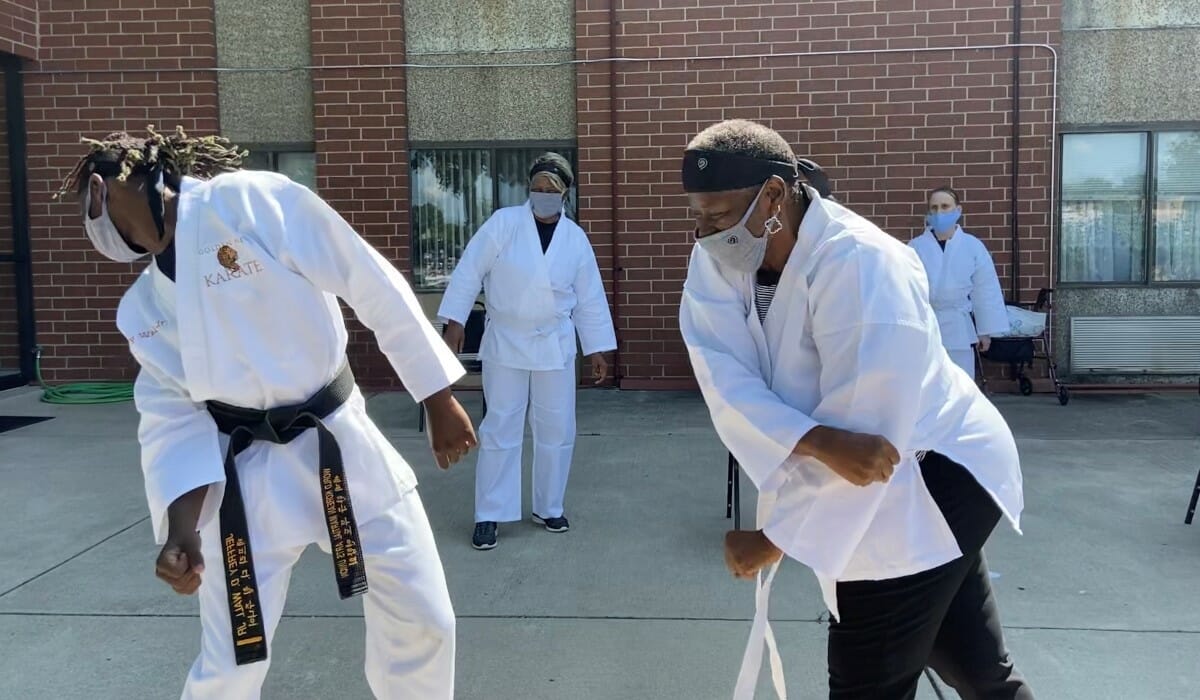 On top of maintaining excellent grades in school, Jeffrey is a star football player and track athlete. And while that alone would tire most people out and cause them to take a break from volunteering, Jeffrey is relentless. Not even the COVID pandemic could stop him. When nursing homes had to be locked down at the height of the pandemic, Jeffrey kept his students active by posting videos of his karate lessons on YouTube so they could follow along while stuck in their rooms.  
"One of my students watched them every day until I came back," he said.  
Being a senior in high school, Jeffrey will go off to college next year, but he hopes to keep his karate classes going.  
"Because if we want change, we have to be the change." Jeffrey said. "So, if we all work to make someone else happy, everyone's going to be happy. It's as easy as that."  
Do you want to make a difference in your community like Jeffrey? Find local volunteer opportunities. 
Share this post