150 Volunteers Bag 37,000 Pounds of Potatoes to Help Hungry Families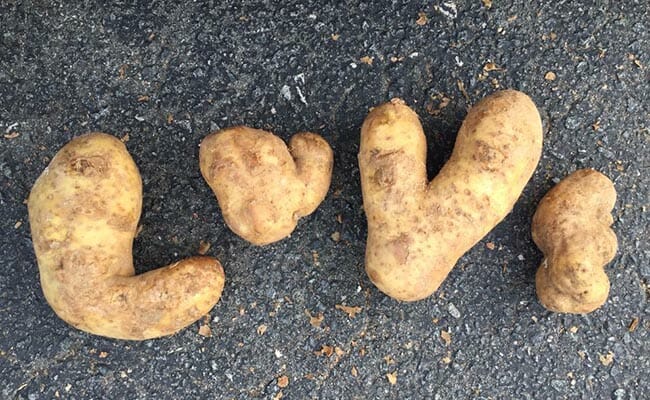 The Pineville United Methodist Church is today's Daily Point of Light Award honoree, and one of the winners of the 2016 Make A Difference Day Awards. Each year, TEGNA recognizes 14 outstanding leaders of Make A Difference Day projects, awarding $140,000 in grants that are donated to the charities related to the winning projects. Learn more about Make A Difference Day and register a 2017 project at www.makeadifferenceday.com.
On a Saturday morning in October, in a church parking lot in Pineville, North Carolina – a small town where nearly 30 percent of families live below the poverty line – a tractor trailer dumped 37,000 pounds of potatoes. The Pineville United Methodist Church had partnered with the local chapter of Society of St. Andrew, a national program that collects excess produce from American farms to help feed the hungry, to glean the potatoes from the fields of local farms the week before. And on that Saturday – Make A Difference Day 2016 – 150 community volunteers of all ages came together in that parking lot to bag the spuds in 10-pound sacks and deliver them to local families, area schools, food banks and soup kitchens.
The Pineville United Methodist Church was awarded a $10,000 grant recognizing its efforts on Make A Difference Day, which they donated to Pineville Neighbors Place – a little extra money to do a lot more good for the community. We asked Jane Shutt, the new executive director of Pineville Neighbors Place, to tell us more about the potato project and how it has made a difference for the community.
What was the inspiration behind the Pineville Potato Drop?
The focus for Pineville UMC in 2016 was feeding the hungry. We had signed up with the Society of St. Andrew to do some gleaning projects during the summer, but those projects had unfortunately been rained out or the produce was not ready for picking. But, they did have potatoes that needed to be bagged and distributed.
Tell us a little more about what your volunteers did on Make A Difference Day 2016.
We had about 150 volunteers, ranging in age from 2 to 85 years. They tied plastic netting into the bags we needed; sorted the potatoes to remove any bad ones; bagged and distributed potatoes to two local schools, where families picked them up, and also to local food pantries and soup kitchens.
What was the most rewarding part of the experience? A favorite memory?
The most obvious reward was the opportunity to distribute donated potatoes to the people who needed them the most. A side benefit was the unity of our churches and community to work on this project. A month earlier, Charlotte had experienced some serious racial conflicts following the shooting of a black man by a white police officer. This event brought together people of different colors and faiths to help our community.
Why do you think it's important for others to get involved and make a difference in their community?
First, it's important to us to build awareness of the hungry who live in our neighborhood. We have a great diversity of people, from the very rich to the homeless. Once we build that awareness of the needs, then we want to give people the opportunity to act upon those needs. As Christians, it is part of our faith that we help our neighbors. But for all of us who live in Pineville, it has always been important that we reach out to all who live in our community. Together we can make it better!
As a 2016 Make A Difference Day Award Winner, you were awarded a $10,000 grant to donate to a charity of your choice. What will that money go toward?
We donated the money to a new nonprofit, Pineville Neighbors Place, which works with the poor and homeless in the Pineville community. The money has helped people who are facing financial crises with rent and utilities, bought beds for children sleeping on the floor, given backpacks with school supplies to children who needed them, and so much more!
What do you want people to learn from your story?
When people join together, they can change the lives of their neighbors for the good. But it also changes our own hearts and fills them with love and understanding. It was a wonderful way to build bridges in the community for a common cause.
What are your plans for Make A Difference Day 2017?
We are hosting our second annual Pineville Potato Drop! We hope to have more volunteers, and more potatoes to share with more people. We've already invited our local TEGNA station to volunteer with us and to film the event live. We are also going to invite our local Arby's to partner with us, to provide some volunteers and snacks for the volunteers.
Volunteers across the nation will come together again on Saturday, Oct. 28, to improve their communities for Make A Difference Day. Project organizers are encouraged to register at www.makeadifferenceday.com to be eligible to win a $10,000 grant to donate to a charity related to their Make A Difference Day project.
Share this post