5,000 Hours of Education and Service: School Volunteer Teaches Children with Patience and Kindness
Meet Daily Point of Light Award honoree Debbie Tyson. Read her story and nominate an outstanding volunteer or family as a Daily Point of Light.
The secret behind Debbie Tyson's more than 20 years of volunteerism with the Linn-Mar Community School District? The hugs and smiles from students, the 64-year-old Marion, Iowa resident says.
Volunteering since she was a student herself, Debbie says service is ingrained in her lifestyle, and since 1996, has served the youngest in her community, volunteering with students from kindergarten through middle and high school across many Linn-Mar schools. Working one-on-one with students in need of extra help, serving as a reading partner and being a consistent and kind presence in the lives of many hundreds of students, Debbie has volunteered more than 4,900 hours thus far.
What inspires you to volunteer?
I am inspired by the joy that volunteering gives me and hopefully, the person I serve. It makes me feel good knowing I can help struggling children who sometimes need the extra attention, because you can give them a little extra individual time when the teacher can't.
Describe your role with the Linn-Mar Community School District.
As a volunteer, I'm paired with students who need extra attention or help. I have recently volunteered in seven different kindergarten classrooms, and I'll work with groups in literacy centers and also help teachers with classroom skills testing.
You're also an "Encourage A Reader" (EAR) volunteer. Explain.
Yes, Encourage A Reader is so, so awesome. I volunteer with students K-5th grade who are struggling with reading, and sometimes they just need a little one-on-one time. I was a bad reader as a kid, so EAR is one of my favorite programs. I hope I help these children learn to love to read because it is so important to get those basics down and also to enjoy reading. Kids learn at different levels, and anything I can do to get them past any hurdle they are experiencing is important.
Share one personal story with me from your volunteerism.
I was assigned to work with a high school student who was Korean, her mother had passed away and her father sent her to live in the U.S. with her uncle and aunt. She was taking Spanish but she barely understood English. I sat in Spanish class with her every day that year to make sure she understood the English directions given in class. At first, she was extremely shy. She finally got to the point where she'd let me know if she didn't understand. At the end of the year I asked permission to take her out for ice cream, and she thanked me for my help. She's grown now and we're connected on Facebook. I love seeing what she's up to. I really hope that my volunteerism gave her confidence to ask people for help in other classes, and that she realized we were there to help her.
Why do you think it's important for others to give back?
Any talent you have, whatever it is, be it a foreign language, art, or building houses if you're good with your hands, share anything you can and give back to the community to make it a better place.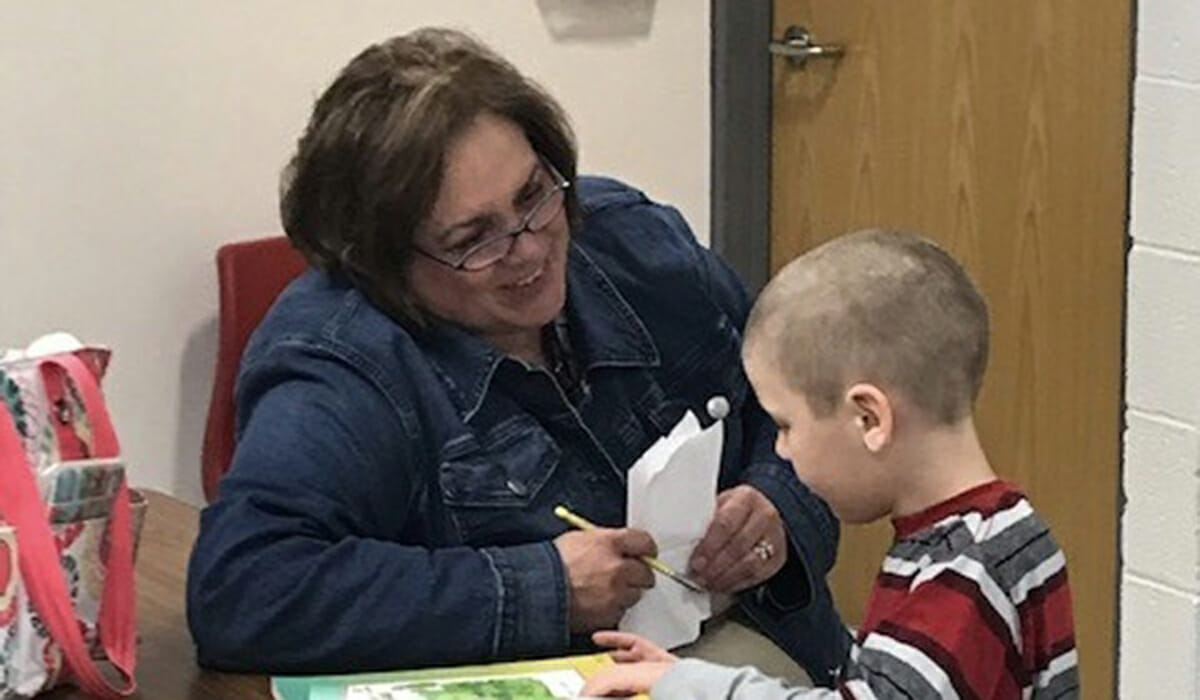 What's been the most rewarding part of your service?
The hugs I get (laughs). I'll grade papers and whatever the students are working on out in the hallway, and I'll get a hug from a lot of my students who walk by in the halls. The smiles from students help a lot too. I love those smiles and I love the kids.
In one word, what does volunteering mean to you?
Caring.
How can readers help?
Please visit the Linn-Mar Community School District website for more information about how you can help. I'm hoping to get back into the classroom once there is a Covid-19 vaccine.
Do you want to make a difference in your community like Debbie Tyson? Find local volunteer opportunities.
Share this post