5,000 University of Pittsburgh Volunteers Make A Difference in the Surrounding Community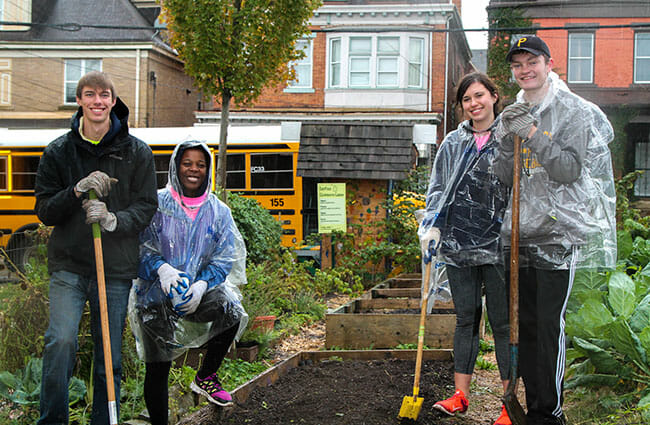 PittServes at the University of Pittsburgh is today's Daily Point of Light Award honoree, and one of the winners of the 2016 Make A Difference Day Awards. Each year, TEGNA recognizes 14 outstanding leaders of Make A Difference Day projects, awarding $140,000 in grants that are donated to the charities related to the winning projects. Learn more about Make A Difference Day and register a 2017 project at www.makeadifferenceday.com.
Steady rain couldn't dampen the spirits of more than 5,000 volunteers at the University of Pittsburgh, who came together on Make A Difference Day 2016 to engage in service projects across the ethnically and economically diverse city of Pittsburgh. What started as a small student-run project nearly a decade ago has grown into an annual, multi-campus event coordinated by PittServes – a university-wide initiative that each year engages students in hundreds of thousands of hours of service to the surrounding communities. On Pitt Make A Difference Day, or PMADD, PittServes organizes a variety projects aimed at improving the lives and neighborhoods of some of the most vulnerable residents in this iconic city, long associated with the once flourishing steel industry. In 2016, students, staff and faculty participated in more than 100 projects, dedicating more than 20,000 combined hours of service that benefitted the local community and more than 1,000 residents.
PittServes was awarded a $10,000 grant for its community-wide effort on Make A Difference Day – a little extra money to do a lot more good as they make plans for PMADD 2017. We asked Misti McKeehen, director of the Office of PittServes, to tell us more about last year's projects and what to expect for the 10th Annual PMADD event this year.
What was the inspiration behind the PittServes 2016 Make A Difference Day project?
PMADD has become part of the Pitt student experience! Focusing on community needs, the student committee rallied around a focus on sustainability and enhancing the long-term impact we could have on communities served.
Tell us a little more about what your volunteers did that day.
With more than 100 projects, student, staff and faculty volunteers served in a variety of ways, ranging from painting murals, coordinating 5K races, community clean ups, maintaining miles of our riverfront trails, building a chicken coop, and much, much more! With more than 20,000 hours of service dedicated, our community partners were able to achieve their goals through the person-power of our Pitt volunteers.
What was the most rewarding part of the experience? A favorite memory?
My favorite memory was looking out at the William Pitt Union lawn filled with thousands of Pitt students standing in the rain waiting to load buses to go serve. On a cold, rainy, October day, I wasn't sure many people would show up – but looking out from our "command central" space I saw students laughing and student leaders cheering people on to get ready for a great day of service.
Why do you think it's important for others to get involved and make a difference in their community?
Nonprofit agencies contribute to our ability to have a more liveable community for all – by supporting those agencies' missions and the community members who request support on PMADD, we have the ability to directly impact our neighbors and our community. With our incredible students, faculty, staff, and alumni, our large institution has the ability to make a meaningful impact by serving on PMADD and year round.
As a 2016 Make A Difference Day Award Winner, you were awarded a $10,000 grant for this effort. What will that money go toward?
This money is funding projects in the community for PMADD 2017. We were able to identify three major projects in the Pittsburgh region that will create long-term community impact. Working closely with the community members, students will build bio-swells, revamp community activity space, build a community gazebo, and paint murals – all thanks to the funding we received from our Make A Difference Day Award!
What do you want people to learn from your story?
Ten years ago, a small group of students decided to take on the task of planning a campus-wide community service event. In this short amount of time, we have grown to engage thousands of people, all over the globe, to inspire additional investment into the community through PMADD. I hope that people will learn that even the smallest acts on Make A Difference Day can have a lasting impact on the community and on those who are serving.
What are your plans for Make A Difference Day 2017?
We are currently planning for 5,000 volunteers to serve worldwide this year, for our 10th Annual PMADD. We will engage students, faculty and staff from all five Pitt campuses, as well as alumni and students who are located across the country and across the globe. All Pitt Panthers are invited to gather in whatever community they call home to make a difference on PMADD!
Volunteers across the nation will come together again on Saturday, Oct. 28, to improve their communities for Make A Difference Day. Project organizers are encouraged to register at www.makeadifferenceday.com to be eligible to win a $10,000 grant to donate to a charity related to their Make A Difference Day project.
Share this post