Houston Resident Uses Volunteer Coordination Experience, Tech Skills to Help After Hurricane Harvey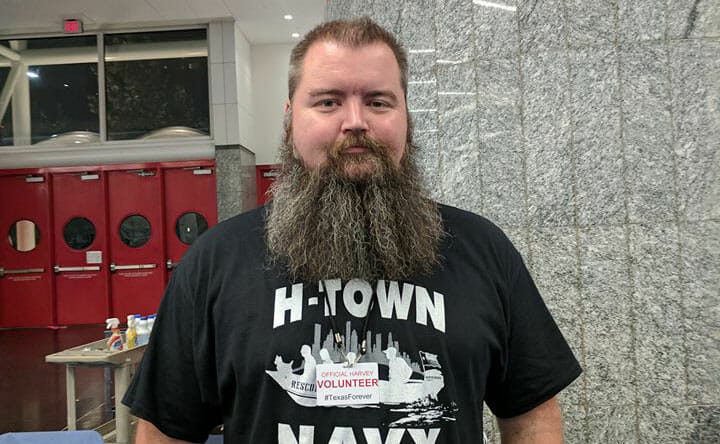 When Ronnie Devries realized how many Houston residents were in need following the devastation of Hurricane Harvey, he knew he could help. With experience as the volunteer coordinator for TXRX Labs, a local nonprofit "hackerspace," Ronnie helped create a makeshift command center at Houston's George R. Brown Convention Center – which quickly became a shelter for thousands of residents displaced by the storm. Working overnight, he helped set up a system for volunteer coordination to ensure volunteers were matched with all aspects of shelter operations.
Ronnie also developed a hurricane relief curriculum, offering seminars and resources to help guide victims and volunteers through the process of disaster recovery. The curriculum covers everything from sheltering in place to flood damage and home repair, with resources available in English, Spanish and Vietnamese to reach as much of the Houston population as possible.
We spoke with Ronnie to learn more about his experience as a Harvey volunteer and his efforts to help people affected by the storm.
What inspired you to volunteer in response to Hurricane Harvey?
Honestly, I knew there was work to be done and that I could help. I think we have an obligation to help each other when we can!
Describe your volunteer role during Hurricane Harvey.
Initially I volunteered at the George R. Brown Convention Center shelter, helping to organize volunteers and provide on-the-fly solutions to unique challenges that arose from the urgent needs and unprecedented scale of the relief efforts at that location. I managed hundreds of volunteers for a few overnight shifts, and helped to coordinate between various agencies and groups working at the shelter.
After the volunteer coordination was handed off to Volunteer Houston, I switched to doing educational outreach around Harvey-related issues, creating harveyseminars.org and conducting free seminars/workshops around information for people affected by the storm, or for people who wanted to help others. I also put together a hands-on DIY class for repairing insulation, drywall and trim work, which I teach weekly.
What has been the most rewarding part of the experience so far?
Seeing people come together, being inspired by the sacrifices and camaraderie of my fellow Texans, and learning that I was capable of doing a lot more than I thought I could.
What have you learned through your experiences as a volunteer?
Not only can everyone make a difference in the lives of others, but that we can actually make more of a difference than we think, and that it is more rewarding than we might have expected.
Why do you think it's important for others to get involved and make a difference in their community?
First off, we need to help each other; cooperation is the key to mankind's success! Second, we need to help others in order to reconnect with what it means to be human, to remember that we are all in this together, and to be reminded that it's purely chance that separates us from being the person in need next time.
Are there any future partnerships, programs, or events that you are excited about?
Too many to list. I am working on hardware and software solutions to provide early warnings about street flooding, creating resources for rebuilding with flood resiliency (wet-floodproofing), and programs to train people in flood repairs to facilitate job placement as well as speed up rebuilding.
What do you want people to learn from your story?
Don't wait for permission, if you see something that needs doing, just get started. And don't worry if it's too much for you to do on your own, once you start to lead, others will follow.
Share this post