Habitat for Humanity Volunteers Come Together to Repair Homes, Build Community Spirit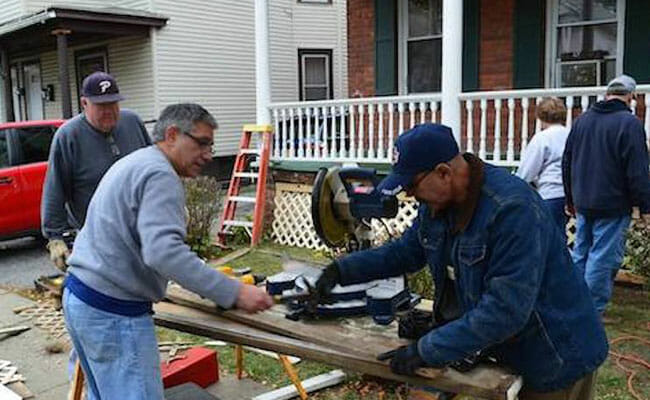 Habitat for Humanity of Dutchess County is today's Daily Point of Light Award honoree, and one of the winners of the 2016 Make A Difference Day Awards. Each year, TEGNA recognizes 14 outstanding leaders of Make A Difference Day projects, awarding $140,000 in grants that are donated to the charities related to the winning projects. Learn more about Make A Difference Day and register a 2017 project at www.makeadifferenceday.com.
Volunteers with Habitat for Humanity are driven by the belief that everyone deserves – and needs – a decent, affordable place to live. On Make A Difference Day 2016, the Dutchess County Habitat for Humanity team partnered with Thrivent Financial to recruit 160 community volunteers who tackled 20 much-needed home repair projects in neighborhoods in need. Despite the cold and rainy weather, volunteers worked on tasks ranging from simple yard cleanup and fence and porch repair, to rebuilding the entire front porch and stairs of one home. "The tangible differences in the neighborhoods are extraordinary," said longtime Habitat volunteer Barb Adams. Afterwards, neighbors and volunteers joined together for a community lunch donated by local restaurants.
Habitat for Humanity of Dutchess County was awarded a $10,000 grant for its community-building effort on Make A Difference Day – a little extra money to do a lot more good in their efforts to eliminate substandard housing in their communities. We asked Maureen Lashlee, executive director of Habitat for Humanity of Dutchess County, to tell us more about the organization's history with Make A Difference Day, and how their important work is continuing today.
What was the inspiration behind your Make A Difference Day 2016 project?
As you know, Habitat for Humanity's mission is to partner with the community to build or improve a place that families can call home. Thrivent Financial offered Habitat for Humanity of Dutchess County a grant partnership to assist low- to moderate-income homeowners make health and safety repairs to their homes. At the same time, Habitat for Humanity took on a model of community improvement called Neighborhood Revitalization, or NRI. We were building new homes and gut rehabbing others, but these new homeowners were sprinkled throughout a fragile neighborhood. Seniors who were holding onto their homes by a thread, and low- to moderate-income homeowners who, through reduced wages and increased taxes, were having difficulty making even the smallest of repairs, were beginning to live in substandard conditions. Through conversations with neighbors, it became apparent that a repair program that was affordable and could help build community was critically needed. We met with the community at a Thrivent-hosted event and asked them what they needed and wanted. That became our first Make A Difference Day.
Make A Difference Day 2016 was, as some like to call it, "MDDAY on vitamins." As a result of the work done previously, another struggling community asked for our help – we added the Village of Wappingers Falls to our program. Using the same method, we met with the community and are in the process of surveying the entire village to determine what they need in order to live in safe affordable housing. The village is our newest NRI and we will begin home building in the near future. Our work will help identify Zombie properties and assist longtime resident with both home ownership and housing assistance.
Tell us a little more about what your volunteers did that day.
Led by an incredible volunteer, Barb Adams, and her team leaders, our volunteers and homeowners came together in two locations to create a community spirit of generosity and to better understand each other. Our first activity was to introduce everyone and to introduce the partners that made the day possible. At the close of breakfast, each team of volunteers was sent to their respective home. Volunteers had previously set each home up with the materials needed to complete the project in one day. The homeowners participated in the repair work to the best of their ability and prepared a dish to share at our luncheons, at First Lutheran Church in Poughkeepsie and First Presbyterian in Wappingers Falls.
Repairs included painting ramps, porches, yard work, addressing safety issues, and more. Perhaps most the important opportunity of the day was the relationships begun with people who may never have met under any other circumstances.
What was the most rewarding part of the experience? A favorite memory?
As you can imagine, the gratitude of the families is heartwarming. But aside from that, seeing a hundred or more people gathered together giving of their time and talent is overwhelming. The shared luncheon is beyond my capacity to explain. Watching families break bread with volunteers, and listening to the conversations honestly brings tears of joy to my eyes.
Over the years, friendships have been forged and sometimes the current Make A Difference Day is the first time volunteers see each other since the previous year. It's heartwarming to hear them pick up where they left off. Because this is a multi-year program, I am most touched by the families that were helped in previous years now coming on board as volunteers.
Why do you think it's important for others to get involved and make a difference in their community?
We at Habitat firmly believe that there is enough in our communities that everyone can live in a safe and decent home surrounded by a secure community. Living generously will make this possible. Working side by side, the Habitat for Humanity model breaks down communication barriers and promotes self-reliance. We are strong, determined and confident. We are not afraid to dig in and get dirty, and we know that in doing so we not only lift others up but we improve our own lives. We could offer a class on the benefits of volunteering, but it's important to recognize and acknowledge the recipients' willingness to accept help. In particular, Habitat assists with home repairs. The home probably represents the single largest asset of the family, and they trust us to get the job done. We have to honor that trust.
As a 2016 Make A Difference Day Award Winner, you were awarded a $10,000 grant for this effort. What will that money go toward?
The award was used as part of the construction budget of a new Habitat for Humanity home that we are building in the 2016 Make A Difference Day Community, scheduled for dedication in the spring of 2018.
What do you want people to learn from your story?
Families who partner with Habitat for Humanity are extremely grateful for your help. A decent home gives them the strength, stability and independence they need to create a better life for themselves, which in turn will make them stronger community members. When families are stronger, we are all stronger. And probably something we all know, but may forget at times – action speaks louder than words. Just roll up your sleeves and do it.
Volunteers across the nation will come together again on Saturday, Oct. 28, to improve their communities for Make A Difference Day. Project organizers are encouraged to register at www.makeadifferenceday.com to be eligible to win a $10,000 grant to donate to a charity related to their Make A Difference Day project.
Share this post