7-Year-Old Bookworm Shares Love for Reading and Promotes Literacy with 'Beckham's Bookshelf'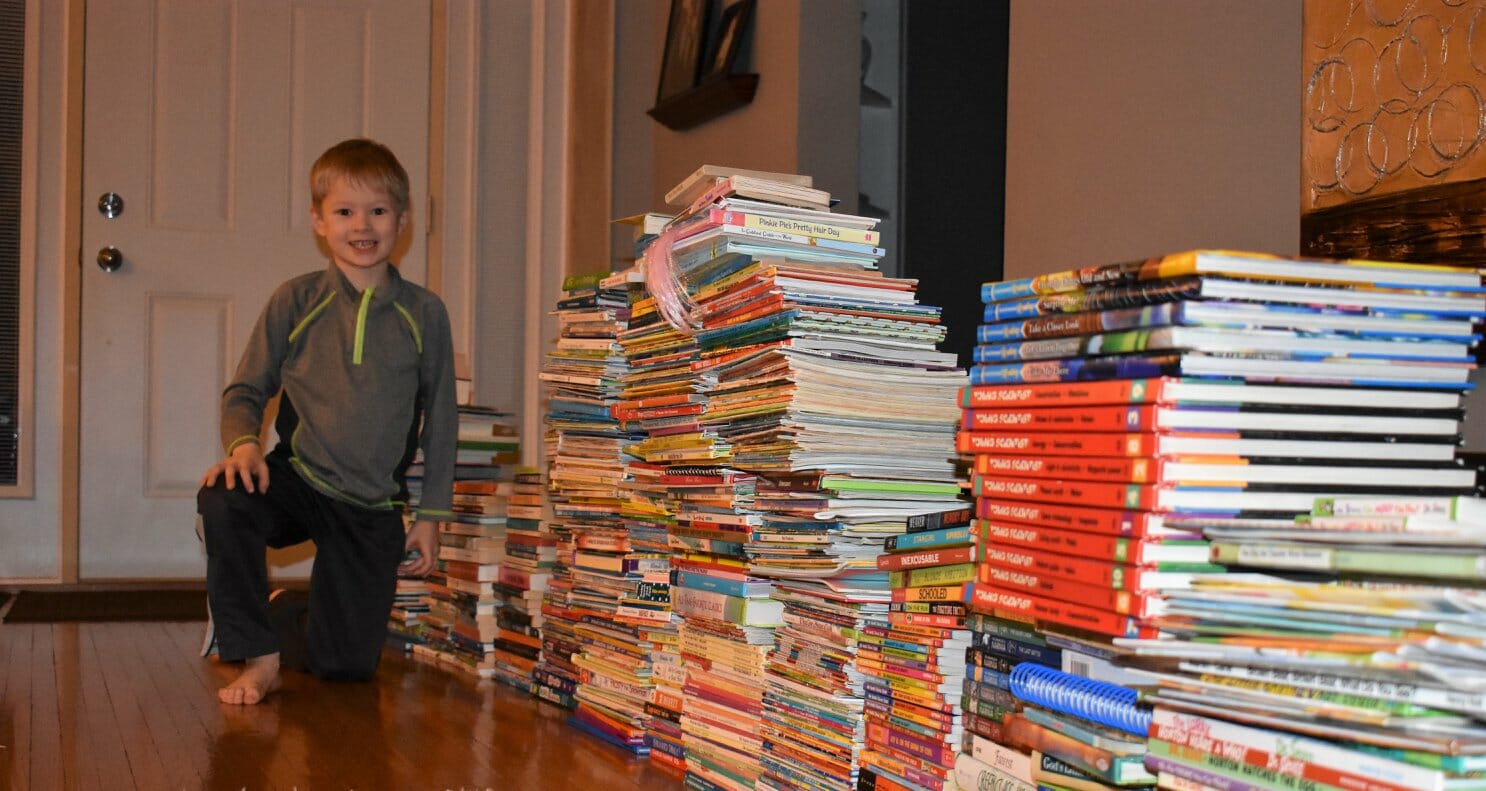 As a toddler, Beckham Oldenettel would watch from the hallway as donations poured into the Oldenettel household in Jacksonville, Illinois. Beckham's older brother collects socks for people in need, and boxes and boxes of socks carried by people who wanted to give back would show up at the front door. Without fail, 3-year-old Beckham would ask the do-gooders where their donated books were, as he was collecting books for kids! The problem? Beckham's mom, Lori, would be laughing and shaking her head behind her youngest, saying that no, the family had not launched an organization for donated books. Until Beckham changed that.
Now a 7-year-old, the youngest of four boys in the Oldenettel family has collected over 7,000 books since launching Beckham's Bookshelf, an organization that collects donated books and distributes them to children who do not have books in their home. Connecting with local businesses and schools, Beckham solicits and then sorts, organizes, boxes and delivers donated books to various sites to ensure they are placed in the hands of children in need.
Promoting literacy and putting the power of stories into the hands of children who most need them, Beckham is today's Daily Point of Light award honoree. Points of Light spoke to Beckham and his mom, Lori, to learn more about his work with Beckham's Bookshelf.
Describe your volunteer role with Beckham's Bookshelf:
Beckham: We put out collection boxes, but we also get boxes and boxes of books at our front door. We want to make sure the books get into the hands of kids, and not sit on bookshelves. My family helps me to sort, organize, box and deliver books to the places we donate to.
Lori: At the age of 3, Beckham knew we had lots of books in our household and lots of books to share, and knew there were other children not as fortunate. He wanted to give back and help those children.
What are some of the organizations you've worked with?
Beckham & Lori: We've donated books to area schools, local daycares, various church mission groups, and have partnered with other organizations including: Morgan County Health Department, Faith Lutheran Church – Prison Ministry Program, New Directions Warming & Cooling Shelter, St. John's Children's Hospital, Springfield, Ronald McDonald House, Springfield, Spirit of Faith After School Program, Jacksonville Public Library – Mobile Summer Library. For the mission groups, we gave them small books in backpacks they are able to travel with.
Beckham, what's your favorite book?
Beckham: Diary of a Wimpy Kid, by Jeff Kinney. I just started the series. I always read chapter books with my mom and dad. I like reading because it feels like I'm learning.
Lori: We read every night before bed. The boys have also gotten into books on tape.
What inspires Beckham to volunteer?
Lori: As a family, we volunteer together. It's what we do in our free time. On a recent Saturday, I asked the boys if they wanted to go to St. Louis for an adventure, and they said, 'we should go pick up trash, we haven't done that recently.' We all embrace the spirit of volunteerism.
Lori, explain why getting children involved in service at a young age is important to you:
Lori: It's contagious. Their friends live to do what they're doing. We've been able to get their friends and parents involved with volunteering as a result. Believe it or not, children have great ideas about how to engage in volunteerism because they're unlimited by their imagination.
In today's world, how do you discuss community and service with your young children?
Lori: We talk about community and the need to get involved all the time with our kids. We tell them, if you see a need, fill a need. Don't always assume someone else is going to do it. It can be simple – when we go to the park, we each have to pick up three pieces of trash. We live our lives being courteous, kind and helpful.
How are these donated books helping kids?
Lori: We work with one principal who uses the books as incentives when she catches the kids in her hallways practicing good behavior, or being a positive role model. Some of the children that have the greatest need really need positive reinforcement, and those are the kids she is able to identify and connect with. An English language specialist has given us lots of feedback about how kids are excited to know they have their very own book, especially if there's impoverishment or low literacy in the home.
What's one thing you want readers to take away from your service?
Beckham: You have to get focused on something where you see a need, and get started on it.
Lori: We started out pretty small. Beckham's older brother Kellon received 10,000 socks in five years through his organization, Kellon's Sock Drawer. Our approach: Start little, make your service manageable and meaningful. From our experience, people will embrace your good work, and support you. Our success is due to community support, and people believing in kids and wanting to support and nurture their service efforts.
Describe a special event you've hosted that really made an impact in children's lives.
Lori: In the past, we've partnered with a local college and hosted a "Read across Jacksonville" day on Dr. Seuss' birthday in March. Each child involved is read a book by a college student, and every child gets to pick a book and keep it to take home. We can distribute up to 700 books just on that one day.
What future events do you have coming up that you're excited about?
For information about future events and how you can help, please email us at: [email protected].
Do you want to make a difference in your community like Beckham Oldenettel? Visit All For Good for local volunteer opportunities.
Post written by Marlena Militana.
Share this post